Caring for a Three Legged Dog or Cat
Tripawds is your home to learn how to care for a three legged dog or cat, with answers about dog leg amputation, and cat amputation recovery from many years of member experiences.
Learn how to help three legged dogs and cats in the forums below. Browse and search as a guest or register for free and get full member benefits:
Instant post approval.
Private messages to members.
Subscribe to favorite topics.
Live Chat and much more!


Tripawds Take Over Colorado Dog Park

Read the original blog post
Add Reply
Add Topic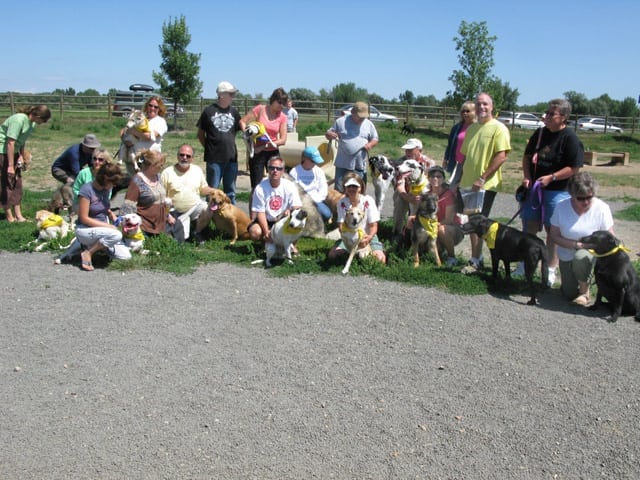 Today is a day that will go down in the history books as the largest Tripawd gathering ever!
What an amazing day it was at our first ever Tripawds gathering in Longmont, Colorado. When we planned this party, we figured we'd be really fortunate if a dozen Tripawds showed up. What an incredible sight it was to see Tripawd after Tripawd coming through the dog park gates!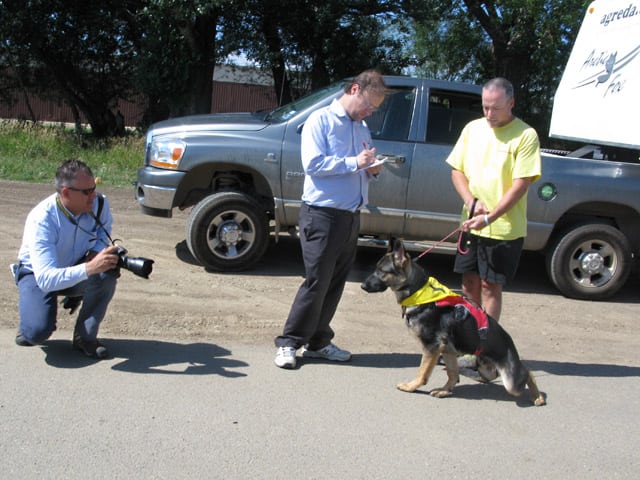 We believe we had 30 Tripawds attend, but my silly pawrents forgot to bring a guest book so we'll never know for sure. There were so many incredible pawrents and Tripawds of all sizes stopping by all day, we wish that we had more time to get to know each and every one better.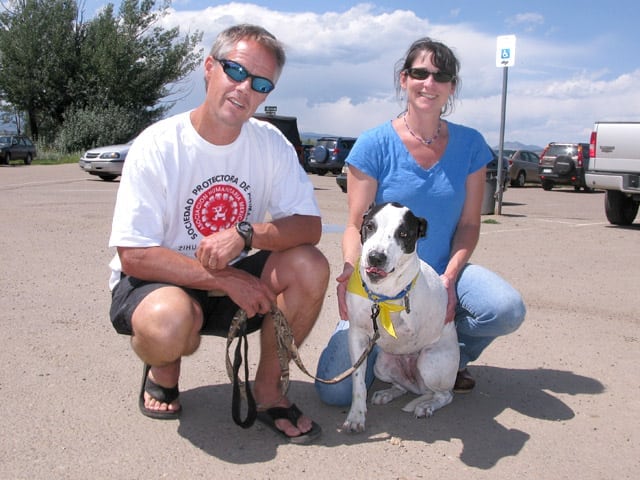 We should have some great local newspaper coverage out of this, thanks to Tripawd Lily and her pawrents Clay and Jody, who handled public relations for the event. And our hero Tika gets the award for traveling the farthest for the pawty, all the way from eastern Kansas, an eight hour drive!
We can't thank everyone enough for taking time out to gather with us today. We hope that more of you can come out for our next one sometime in the future.
Better yet, how about planning a Tripawd Pawty in your town?
More pictures are posted on our Tripawds Facebook Page.

My heart lives at Rainbow Bridge
Member Since:
28 November 2008
Offline
Shanna & Spirit Trouble ~ Trouble gained her wings 3/16/2011, a 27 1/2 month cancer survivor, tail wagging. RIP sweetheart, you are my heart and soul.  Run free at Rainbow Bridge.
The November Five - Spirits Max, Cherry, Tika, Trouble & Nova. 11/2008 - 3/2013 An era ends as Queen Nova crossed the Bridge.


Oaktown
Member Since:
16 July 2009
Offline

Winnipeg
Member Since:
13 July 2009
Offline

Here's an excerpt from the Longmont Daily Times reporter who covered the Tripawds Pawty! ...
"Most people don't even notice it right away," said Jan Lund as he watched his three-legged dog explore the park Sunday. "Except my mother, who's 93. She saw him and said, 'How come he limps?'"
Check out the whole article here ...
Three paws, all heart
Owners of 'tripawd' dogs come together at local park
By Scott Rochat
Publish Date: 8/17/2009
And, here's a snippet from the Daily Camera article covering this fabulous event ...
Esther Beck, of Fort Collins, said she was "devastated" when her 3-year-old Great Dane, Athena, was diagnosed with bone cancer. Because Athena was so young, Beck said, she decided to have the affected leg amputated 11 weeks ago.

"We just wanted to give her the best chance we could," Beck said. "The amputation doesn't seem to be slowing her down much."
Read more here ...
'They're awesome': Loving 'tripawd' dogs in Longmont
Three-legged canines get around just fine, owners says
By Amy Bounds
Sunday, August 16, 2009
Hi everybody:
Tika here. I just wanted to let everybody know that I had the GRANDEST time. Sister Caya thought that Wyatt Dawg was a a cutie! However, I WILL have to talk to my agent, because they got my name wrong in the paper! Have you ever! However, they did take a good picture of me, so I forgive

.
We spent another day in Estes Park and then went to see my momma's family and her grandma. I got to play around off leash (finally) and torment my 'cousin' a terrier mix about the size of my head.
Mom says if we go to another TriPawd party I am gonig to have to behave myself a bit better around the water dish and that other doggies get to drink water also. We'll see about that, I LIKE being bossy!
Saturday I'm off to Bark for Life, I can hardly wait to meet even MORE friends. I was so happy to meet the TriPawds gang, they have made my mom feel so much better since I got sick!
Talk to you all soon, I'll get mom to get her pictures off the camera soon!
--Tika and pack
Those darn reporters! How on earth can they get such an original name wrong? Duuuhh!
Tika, it was sooooo great meeting you, your sissy and your Mom and Dad. We are incredibly honored that you came out to see us all. Thank you so so much. Next time will you come stay with us at our house? We could have a real dog pawty then!
You guys rock. We love you!!!!!

Kirkland, WA
Member Since:
2 June 2009
Offline
Hah!
Tim (dad) says it's her stage name......
You know these celebs. No living with them once fame goes to their heads.
We need to get a Midwest Tripawd convention going!

Linden, MI
Member Since:
11 November 2008
Offline
A Midwest Tripawd Convention! Yay! What a great idea. Let's come up with something.
Sue and Nova
Dane Mom Sue at nova.tripawds.com and Mom to Beautiful Great Dane Queen Nova, a Blind Tripawd, who kicked cancer's butt from 11/08-03/13. The Queen is Spirit Nova now, but her legacy lives on here at Tripawds!
Tikaani said:

Tika here. I just wanted to let everybody know that I had the GRANDEST time.
---
Tika, we keep forgetting to ask: can we get the recipe for those awesome salmon treats you made? I ate all mine up, they're great!
Member Since:
28 January 2009
Offline
Forum Timezone:
America/Denver
Most Users Ever Online:
946
Currently Browsing this Page:
1
Guest(s)
Member Stats:
Guest Posters: 1225
Members: 16206
Moderators: 2
Admins: 3
Forum Stats:
Groups: 4
Forums: 23
Topics: 17945
Posts: 248810
©
Simple:Press
—