Join The Discussion
Learn about life on three legs in the forums below. Browse and search as a guest or register for free to take advantage of member benefits:
Instant post approval.
Private messages to members.
Subscribe to favorite topics.
Join the Live Chat and more!
Best Dog Beds for Tripawds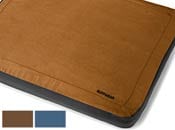 Give Tripawds the comfort they deserve! See which dog beds are best and why.
byquist said:

The only other thing I worry about is the diet and supplement thing, so much information to take in. How do really know whats right? It all seems very confusing and complicated. If you don't have a Dr. that's up on all of it, or a believer that it can help, your really on your own.
---
Hey, it sounds like you are mentally on the right track, and Wrigley is on the right healing track! Little by little, pawstep by pawstep, you are almost there. Keep the faith.
As far as supplements, you're right. It takes a lot of work to find a doc who's up on the latest nutritional needs and supplements. When I was diagnosed, my Mom was overwhelmed at all of the information out there, some of which conflicted with one another (for example, some people say never give a dog with a compromised immune system raw food, others say it's fine).
My Mom and Dad decided that they didn't want my life to be all about pills and supplements, so they chose to stick with one type of feeding regimen, instead of trying new ones all of the time. I loved that diet! I'm not saying that it is the miracle cure, but I believe that it did help me stay healthy for a long time.
Focus on what you and Wrigley comfortable with, and take it from there. You'll find out what works after a little trial and error. Good luck!

Forum Posts: 173
Member Since:
17 December 2008

Offline

YAY WRIG!!!! Sounds like you are starting to come around. Its a slow but steady process and its exhausting (for everyopne!) but so worth it! I remember the day Max came to the fridge…I cried I was so happy!!
Last night I went to pick Max up at my husbands office. We have an Explorer and he rides in the back. Typically we pick him up and put him in…but last night, my husband and I were talking and all of a sudden Max jumped into the back! I almost had a heart attack! We wont let him continue that of course, but it just goes to show you that things do get back to normal…it just takes awhile.
Give Wrig some hugs for us and dont forget to take care of yourself too! Soon you will be back out playing with toys and going on walks!

Paula
Wrigley 2 sounds like he's doing well and just doing it in his own time. I remember reading the net (whilst Darcy was in surgery) about all these dogs who were doing normal things (eating, drinking, toileting, walking, climbing on the furniture etc etc) within a couple of days of being home and then when Darcy got home, she was just awful (and very stubborn) and she did none of the things the other dogs had done and I was devastated! I wanted my dog to be the first to do this and the first to do that when in reality she was the 'worst' one I'd ever come across! But I'm writing this, 15 months and one week since her surgery and she's happily snoozing on the settee nearby, so I can assure you that the fact that Wrigley 2 is not doing all that much right now is absolutely fine

(hug)
As far as diet and supplements goes – I didn't give supplements but I fed Darcy a high fat, low carb diet as recommended by many because they say that carbs can feed cancer whereas fat….doesn't (I'm not very technical, am I? LOL). I used to get the most revolting looking minced lamb from the supermarket (the stuff you'd not feed your worst human enemy because of how gross and fatty it looks) and I cooked that for her along with a lot of green leafy things (dark green is what you want apparently). She had this mixed with chicken to begin with and then I found a ready prepared food here in the UK called Wainwrights (for UK peeps – this is Pets at Home's own make and I used the trays of wet food, not the dry stuff in bags) and she had that, with some of my home prepared stuff added in.
After 12 months, Darcy went back to a normal diet because she is not the worlds most active creature (she was like this when she had 4 legs so it's nothing to do with her surgery) and she was gaining weight, which I didn't want.
Kisses to Wrigley 2!
Darcy – tripawd since 16th October 2007.
***Darcy would love to be your friend on Facebook - just search for Darcy Deerhound***
Forum Posts: 19
Member Since:
5 January 2009

Offline
All your stories make me smile and hopeful. Since Wrigley is getting less Tramadol his perkiness is coming back. I don't think he needs it today. He was very happy to get out of the house and go to the Dr. lasy night. Looks like he needs to be on a anitbotic-his count was 1200. His chemo will probably be pushed back a week, but I guess that's not so bad since at week three was when he was going to feel better. I got him to eat some smelly canned dog food this morning, yuck

I laughed and squealed when I was in the kitchen getting him water when he hopped by to go outside! I never even heard him, so stealth!

He's really gettin' the hang of this 3 leg thing.
Oh he does sound like he's getting back to normal. Your instincts are probably right about the Tramadol. If you think he's spunky and getting around, it's probably OK to back off of it (well, that's what my Mom would do, but she's no vet so take that with a grain of salt).
Glad to hear that life is getting back to a new-normal again. You're making US smile now!

Northern CA
Forum Posts: 314
Member Since:
23 December 2008

Offline

Hi Wrigley ll
CA Wrigley was on the Tramadol for 2 weeks post amp for 3x a day ( 50 mg). After that they said I could give her 2x a day as needed.
We did one day and stopped after that. She never needed it at all. And she definitely was much more energetic off the meds.
Hang in there- you are getting closer and closer –
Seanne and CA Wrigley sending a big hug your way.

Forum Posts: 729
Member Since:
28 May 2008

Offline
Hi Wrigley II – so hoppy to hear that you're coming along. You have been in our thoughts and our prayers. Tell mom to make sure she takes is easy too – we know how difficult it is…it really just SUCKS (for lack of a better word at the moment!)
Sending lots of love your way.
High paw!
Zeus and Mom
Heather and Spirit Zeus - Our life changing journey…from the earth to the heavens…one day at a time…always together

My heart lives at Rainbow Bridge
Forum Posts: 3754
Member Since:
28 November 2008

Offline
Way to go Wrigley II. Sounds like you are on your way to a speedy recovery.
Shanna & Spirit Trouble ~ Trouble gained her wings 3/16/2011, a 27 1/2 month cancer survivor, tail wagging. RIP sweetheart, you are my heart and soul.  Run free at Rainbow Bridge.
The November Five - Spirits Max, Cherry, Tika, Trouble & Nova. 11/2008 - 3/2013 An era ends as Queen Nova crossed the Bridge.

Forum Timezone:
America/Denver
Most Users Ever Online:
597
Currently Browsing this Page:
1
Guest(s)
Member Stats:
Guest Posters: 1029
Members: 9019
Moderators: 2
Admins: 3
Forum Stats:
Groups: 4
Forums: 23
Topics: 15416
Posts: 216355
©
Simple:Press
—