Join The Discussion
Learn about life on three legs in the forums below. Browse and search as a guest or register for free to take advantage of member benefits:
Instant post approval.
Private messages to members.
Subscribe to favorite topics.
Join the Live Chat and more!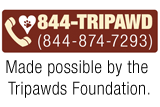 Want to talk with a friend who understands? Call the toll-free
Tripawds Helpline
!
A
A
A



New Diagnosis of Osteosarcoma- overwhelmed and not sure what treatment is going to be best

Add Reply

Add Topic

Forum Posts: 1
Member Since:
19 July 2018

Offline
New to this site and new to Osteo. My 165lb, 9yo male Great Dane began limping on July 6th. Radiographs confirmed Osteosarcoma of front right carpal area. He has has a chest x Ray which came back clear. Lab work all normal. He is eating and drinking and still going to the bathroom. Biggest issue is pain and mobility. He's on 300mg gabapentin 3xdaily, 20mg of Peroxicam daily and maxed out on 350mg Tramadol every 6-8 hours. I have a consult an hour away next Wednesday at two different locations. Vet I saw here yesterday suggested amputation with Chemotherapy. My biggest concern is that he still is using that front leg for balance and I feel that if he was able to not use it he would keep it off the ground bc of the pain. So I'm unclear of what he is actually capable of.   He also, for the past year, has gotten weaker in his rear legs. During walks he would drag  his foot periodically or sometimes stumble a little or even buckle. The back right is worse than left. Started him on continuous Meloxicam instead of PRN and gabapentin 3 months ago and his rear legs seemed to approve but now since his recent Osteo diagnosis I'm concerned that he won't compensate on 3 limbs. He is a stubborn dog, full of determination and I think mentally he could handle the amputation but I don't want to create a situation where he physically can't compensate. Next week they plan to do an orthopedic exam to see if he is a candidate.  I don't know what questions I should be asking or what realistic expectations I should be setting.  I just want to be a good advocate for him so any recommendations, advice, encouragement would be greatly appreciated!!

Here and Now

Forum Posts: 11459
Member Since:
25 April 2007

Offline
ashm84 said
I don't know what questions I should be asking or what realistic expectations I should be setting.  I just want to be a good advocate for him so any recommendations, advice, encouragement would be greatly appreciated!!  
Welcome and best wishes for…what is your dogs name?
You've come to the right place for both answers, and questions! Be sure to read the FAQs and search the Tripawds News blog for questions to ask your vet, and to ask your oncologist. While you wait for comments from others, use the Advanced Search above to refine your forum search results with specific phrases, and you're sure to find lots of helpful feedback. You can also search all blogs here . Or, consider downloading the Tripawds e-books for fast answers to common concerns and feel free to call the toll-free Tripawds Helpline anytime!
Also, when it comes to osteo, please remember two things: 1. Dogs are very good at hiding their pain, and they are very resilient creatures. 2. The pain will only get worse resulting in a traumatic pathological fracture.
Please keep us posted. Your future forum posts will not require moderation.
Meanwhile, start here for help finding all the helpful Tripawds resources and assistance programs.

Latham, NY
Forum Posts: 115
Member Since:
1 October 2017

Offline

Welcome–so sorry you had to find this place, but it's the most amazing source of information and support for folks who have gotten the unfortunate news you have.
You'll find tons of very large dog information here, and I am sure the very large dog people will weigh in soon.  My girl Fallon is about 100 pounds less than your big boy (what is his name?), was 11 when she had her amputation (still is–her birthday is next month) ad she had some mobility issues due to arthritis in her back end (she is a front amp also).  We went through the tough decision-making time you're currently in, and fell on the side of amputation.  We also checked with a couple of other docs, as our primary vet saw amputation as a losing proposition.  However, our surgeon was 100% positive, and we also checked with a greyhound cancer expert who said if nothing else, amputation is the only was to get rid of the pain…which dogs are great at hiding, so surely she had pain preceding the limp that caused us to take action. You're getting lots of input, which is good.  
From hanging out here since last September, I have found dogs are much more resilient than we give them credit for.  My Fallon sure is, and she's faced every hurdle to totally impress me.  I do think your boy will also surprise you with what he is capable of. 
Our cancer expert had told us that Fallon was probably compensating on 3 legs due to the pain more than we saw or realized, which was another point that helped us along.  I hope your experts will be able to give you similar feedback.
We went back and forth for awhile, but amputation was 100% the right decision for us.  Know you're not alone in this tough place and you have tons of folks who have been in a similar predicament to weigh in.  Once we made the amputation decision, everything else seemed easier.
Fallon (Tripawd) and Maggie (quadpawd), Greyhounds.  Dawn and Paul, 2 leggers.
Fallon's left front leg was amputated due to osteosarcoma on 10/11/17.
Nothing But Love in Her Heart - dawn3g.tripawds.com

Forum Posts: 6476
Member Since:
21 May 2016

Offline
Hi sweetie 🌻
I am very sorry you find yourself here but this is the best place to be with your sweet pup as we've all been where you are …
First thing I'd like to say is generally older dogs are more resilient fighting osteo than younger pups so you are both ahead of the game …
And, as Fallon's Mom and Renee quite rightfully pointed out, dogs are experts at hiding pain from their beloved pawrents …
We've had many cases here of dogs with problems on their remaining legs, Hazel, the Great Dane being one of them (if my memory is not failing me she had hip displasia) and that did not stop them recovering and enjoying their lives on three.
Getting the opinion of an orthopaedist is, of course, a very good move so please do keep us posted on what she/he says. 
Even if your baby is still using his leg that doesn't mean it doesn't hurt.
And soon he will get to the point where he will try not to put pressure on it.
Amputation and chemo is the "traditional" route for osteo, the route I followed.
We were offered the option of radiation but I declined because there was always the risk of a pathological fracture happening at any moment (which never heals) and also it requires anaesthesia each time which is to be avoided with giant breeds. 
If you decide to follow the chemo route I would suggest you get a VAP (venous access port) inserted during amputation surgery. 
VAP's allow administration of chemo and blood samples to be collected with zero pain for our babies.
And, equally as important, their legs' veins will not be used!
Very often after a few sessions vets find it hard to find veins they can stil "use" and apart from painful it all becomes very stressful for our dogs.
I am only mentioning this now because if you decide to have this done it should be done during his main surgery to avoid going through another anaesthesia for that procedure. 
The fact your boy is stubborn and focused is excellent, those are qualities that help enormously during recovery. 
He may need longer than smaller dogs to adjust to his new normal (my Eurydice did) and he may also need lots of help from you in the beginning but once he learns what to do, he will surprise you for sure.
And don't forget we are all here to help and advise you along the way, you are family now so never hesitate to ask any questions, big or small. 
I'll be holding you in my thoughts and will look out for your updates, sweetie.
Sending you hugs and cuddles 😘🐮💫✨🌟🌹
Eurydice 77kg/170lb Great Dane limping end of April 2016, amputation (right front leg/osteosarcoma) 4 May 2016 6 courses of carboplatin followed by metronomic therapy, lung mets found 30 Nov 2016. 3 courses of doxorubicin, PET scan 26 Jan 2017 showed more mets so stopped chemo. Holistic route April 2017. Lung X-ray 5 May 2017 showed several tennis ball size mets, started cortisone and diuretics. Miss Cow earned her XXL silver wings 12 June 2017, 13 months and 1 week after amputation and 6 1/2 months after lung mets, she was the goofiest dawg ever and is now happily flying from cloud to cloud woof woofing away :-) 

Michigan
Forum Posts: 1409
Member Since:
2 April 2013

Offline
Murphy was originally misdiagnosed on his x-rays – for about 5 months he took pain medications .. and as long as he took them, he was walking, sometimes even running.  But the minute he didn't take them, he was totally different.  He wouldn't eat, he wouldn't go outside, he would yelp very easily – he was in a lot of pain.  Bone cancer is a very painful disease, and dogs can be very stoic.  They hide their pain so that they aren't targets and become prey.  Once we got better x-rays, an inconclusive biopsy and even more x-rays, we could see that the tumor was actually eating away at the bone.  It was only a matter of time before that bone would have broken.
Dogs really don't think about things the way that we do.  If he wakes up without a leg, he's just going to think, Huh, that painful thing is gone!  And he's going to figure out how to get around without it.  You'd be surprised!
Donna
Donna, Glenn & Murphy  http://murphyh......pawds.com/
Murphy had his right front leg amputated due to histiocytic sarcoma at 7 years old.  He survived 4 years, 2 months & 1 week, only to be taken by hemangiosarcoma at 11 1/2 years 6/12/17  
Forum Timezone:
America/Denver
Most Users Ever Online: 597
Currently Online: bunnut, jerseyherles
48 Guest(s)
Currently Browsing this Page:
1 Guest(s)
Devices Used: Desktop (44), Phone (6)
Member Stats:
Guest Posters: 1005
Members: 12755
Moderators: 2
Admins: 3
Forum Stats:
Groups: 4
Forums: 23
Topics: 15021
Posts: 211513