Caring for a Three Legged Dog or Cat
Tripawds is your home to learn how to care for a three legged dog or cat, with answers about dog leg amputation, and cat amputation recovery from many years of member experiences.
Learn how to help three legged dogs and cats in the forums below. Browse and search as a guest or register for free and get full member benefits:
Instant post approval.
Private messages to members.
Subscribe to favorite topics.
Live Chat and much more!
Hello everyone,
I have a neutered male big long haired German Shepherd dog named Draco (got him from a GS breeder when he was 8 weeks old, looks mixed because he's blonde colored. People ask if he is a Golden Retriever or Collie mix, but doesn't matter to me.) He is currently around 125 pounds and is 7 years and 11 months old, his birthday is coming up soon August 2nd! He has lost about 5 pounds in the past month and a half due to a strict diet change for him to lose some weight. Vets have said he should ideally be in the 110 pounds range. He's eating and drinking fine, no vomiting or diarrhea, goes to the bathroom fine, still has the same personality. The only thing different is his limping pain. Draco is also my ESA.
He was officially diagnosed with osteosarcoma from a biopsy a few days, on his front right leg near the shoulder.
Here's the long story of when this journey started:
He started limping the last week of May this year, took him to the vet beginning of June for the limping. The vet said it could be an elbow issue because his movements were resisting in that area when the vet was checking his joints. We went home with a couple of different medications, Tramadol and Carprofen (Rimadyl/Rovera). I was giving Draco buffered aspirin until we were able to get an appointment in with the vet, but thought it was strange the buffered aspirin wasn't working like it had quickly in the past. After a couple of weeks with the vet's prescribed medication (stopped buffered aspirin), Draco's limping didn't get any better. So I took him to the vet and they did xrays on his leg and chest, they saw a small lesion in the xrays but wanted to send them over to a radiologist for a second opinion. Update came back on the xrays confirming they didn't see anything in the chest area but something seen with the leg xrays. Waited a week for the results of the xrays. The vet then recommended a biopsy and we had that done, about a week and a half later, final results were bone bone cancer/osteosarcoma, on Tuesday July 11th. All during this time Draco was still limping and in pain, his medications were increased and a 3rd medication was prescribed, Gabapentin, and eventually that one was increased as well. The vet recommended to make an appointment with an Oncologist, got that taken care of the next day.
Draco and I went to see the Oncologist and she explained the treatment options and expectations of each, things I already read about. I told her that I'm willing to do whatever treatment is needed, whether it is amputation and/or combination of therapies.
Since Draco was a big dog, she wanted to have an orthopedic vet examine him to see if Draco is a good candidate for amputation. We set up the date for this coming Monday July 17th the earliest they could fit him in. And was given the good to go for amputation that day if the orthopedic vet said Draco was a good candidate for it. At the end of our consultation with the Oncologist, I pointed out that I had mentioned a small half pea sized lump in Draco's skin just behind his right armpit area. I noticed he had that lump several months ago and had brought it up to vets when we visited, but they didn't see it as a concern at the time, or they forgot about it when focused on other main reasons why we were there for the visit. Anyways, this was several months ago before Draco started limping. The Oncologist thought it was just compacted blood and said she'd aspirate it and check it out under the microscope. She came back and said it doesn't look good and thinks it could be spindle cells, that it could be metastasis from the bone cancer. And if that were the case, she would not recommend amputation at that point and would recommend doing radiation therapy instead. She said the reason she would not recommend amputation is because if it is metastasis, then Draco wouldn't have long to live anyways and the quality of life wouldn't be as great, compared to radiation therapy, due to the 2-3 weeks recovery of amputation and the prognosis after that being so short. She sent that sample to a pathologist for a 2nd opinion and will get results to me within a couple of days.
I know that amputation will get rid of the pain and where the main cancer is at, and I understand that there could already be microscopic spread into the lungs or other parts of the body that xrays won't show. But I feel like keeping that leg is ruling out one of my options of keeping my dog alive. The oncologist said prognosis for radiation therapy without amputation is usually a few to 6 months while amputation could be up to a year or more with chemo. What's going on in my mind right now is that if he doesn't go under amputation and goes with palliative treatments in radiation therapy, his pain might be reduced but the limping could still be there and given the short prognosis of this course of treatment. This doesn't sound like a great quality of life to me. I've read many stories from owners with their decision on treatments and I liked reading stories of how their dogs lived way past the short prognosis that was given to them. I guess I'm wondering if it's possible for me to go against recommendation of not having amputation, to have them do the amputation anyways even if they did find that little half pea sized mass to be cancerous? Should I get a second opinion elsewhere? Draco is still limping, basically already carrying himself on 3 legs with the 3 high dosage of medications he's on: 300 mg of Tramadol 3 times a day, 800 mg of Gabapentin twice a day, and 100 mg of Carprofen twice a day. 
Being just new to this site/community, I'm doing my best in getting more informed and reading through the forums.
Thank you for reading my long post, I'm really having a hard time with all of this. Any suggestions and encouragements etc. are greatly appreciated! 
-RJ
Hi RJ and Draco, welcome to the club nopawdy wants to join, but we're glad you found us. The diagnosis and treatment recommendations are a ruff time for us humans but you are doing great with all your research and the questions you are asking. Also, I do like that Draco is getting such great pain management right now. Sounds like you are working with a great vet team. With that kind of help, anything is possible.
My recommendation would be to get another opinion from an oncologist outside the practice, just to put your mind at ease. But I would wait until the pathology report comes back on the armpit lump. The results could change everything. So for now, try to find your Plan B oncologist opinion and make an appointment if they have a long waiting list. But hopefully the results will be nothing too serious and you can go ahead with the amputation as planned.
If radiation therapy is recommended, there is definitely hope that it can extend quality of life. I don't know if you saw Hazel's story but it's a great example of how well palliative care can work nowadays.
I'm so sorry you're in this place. Draco sounds like an exceptional dog and you sound like an equally great owner. If you'd like to share photos of your handsome boy (we'd love to see 'em!) here are instructions for adding images to the forums.
Hi and welcome!  Draco is a beautiful boy!
Our boy Zato has done palliative radiation AND amputation!  We're too soon after the amputation to give much info on that yet, other than we're glad we did it, however much time we have.
Zato started palliative radiation and monthly Zoledronate 5 months after he started limping.  It took us this long to get a correct diagnosis, because he kept acting like it was his paw and he would get a little better and then get worse, etc...
His first radiation treatment was in November of last year, and the pain relief was immediate.  He was not putting any weight on his leg when he started the treatments, and within a couple of months he had regained the use of his leg.  At his best, he only had a slight limp.  Of course, all the while the tumor continued to destroy the bone, and there is always a risk of fracture.  Fortunately for Zato, his leg did not fracture.  The positive effects of the radiation began wearing off in June, and at that time the bone was almost completely destroyed.  But he was still feeling well otherwise, so we just couldn't say goodbye. 
I'm glad we did the radiation and I'm glad we did the amputation.  Every dog is different, but if you end up going the radiation route, in our case I certainly feel it was worthwhile, and he was still with us 8 months out!
Whatever you decide to do, it is your call and yours alone.  I agree that a second opinion is a good idea.  And whatever we choose, without a crystal ball, we don't know what will happen - we just have to make the best call we can.
Please let us know how Draco does!
Tracy & Zatoichi

Tracy & Warrior Angel Zatoichi 💓
Zato was diagnosed with osteosarcoma in October 2016. He triumphed through radiation and amputation with dignity and grace. After living a life of love and happiness, Zato earned his angel wings on February 19, 2018.  Read his story here.
WOW Draco, you are an original my friend. What a handsome doggy! I can't wait to see more photos. And Fez, you are quite the looker too!
Thanks for sharing Zato's story, Tracy.
Yes, we did!  It was his front left leg (tumor in the proximal humerus).  We, like many people initially, did not want to amputate and based on what we were told, thought by the time the pain relieving effects of the radiation had worn off, the cancer would have most likely spread.  But Zato had other ideas and when his lungs were clear at that point, we either had to amputate or let him go.  He was too full of life to let go, so he had the surgery.
They did find some cancer cells in a lymph node during surgery, which usually isn't good, BUT we'll see because he has already defied the odds once!  Whatever happens, I'm so grateful he's here tonight, and as long as he's happy, we'll keep going.
I do feel that the Zoledronate helped him a lot, too.
Tracy & Zatoichi

Tracy & Warrior Angel Zatoichi 💓
Zato was diagnosed with osteosarcoma in October 2016. He triumphed through radiation and amputation with dignity and grace. After living a life of love and happiness, Zato earned his angel wings on February 19, 2018.  Read his story here.

Member Since:
31 May 2016
Offline
Draco is beautiful! And so is Fez! I don't have anything to offer on the choice you are facing. But you mentioned that you liked reading stories about dogs living beyond their prognosis, and my guy Clyde has lived well beyond his. Diagnosed with osteosarcoma Memorial Day weekend 2016, amputation on June 2, 2016 (or maybe it was the third). No chemo. And he's still going. So, there is hope - statistics are what they are, and certainly are something to consider. But, in the end, you will make the best decision you can based on all of your research, and any decision you make is made out of love. What more can we do? Draco is super lucky to have you in his corner!
UPDATE!
Yesterday, Monday July 17th, after taking Draco to the orthopedic vet specialist to have his other legs/joints etc evaluated to make sure his other legs will be good enough to still support him if he were to undergo amputation, I got a phone call from the vet saying he should be fine for amputation. They retook xrays of his chest to check on the lungs and did not see anything. So we decided on amputation for Draco.
Earlier today Tuesday July 18th, I took Draco to be dropped off for amputation. I took a bunch of pictures at home before leaving and at the vet hospital waiting to drop him off: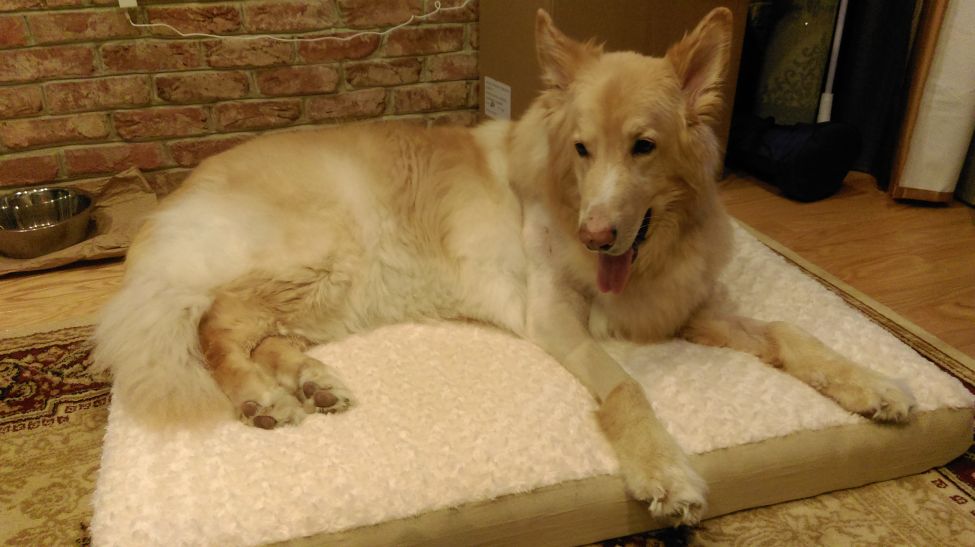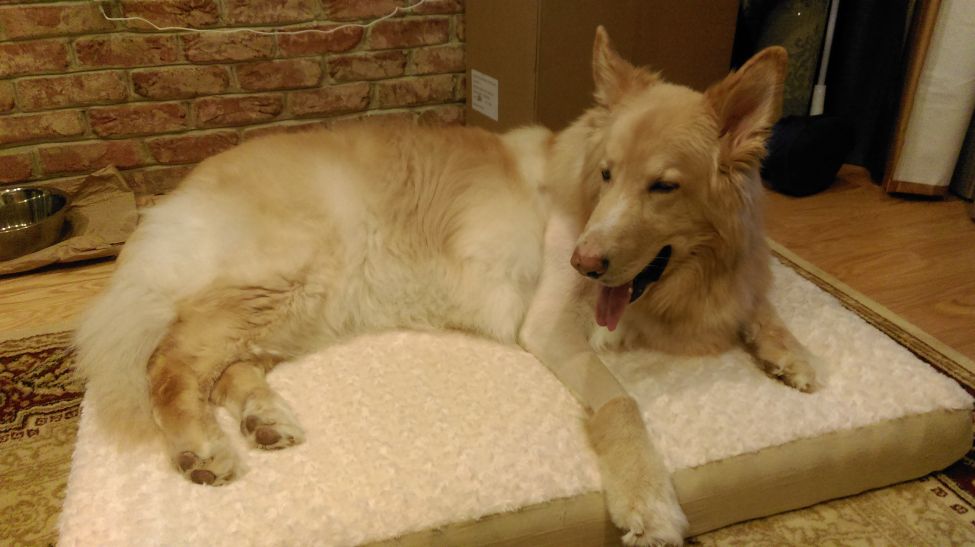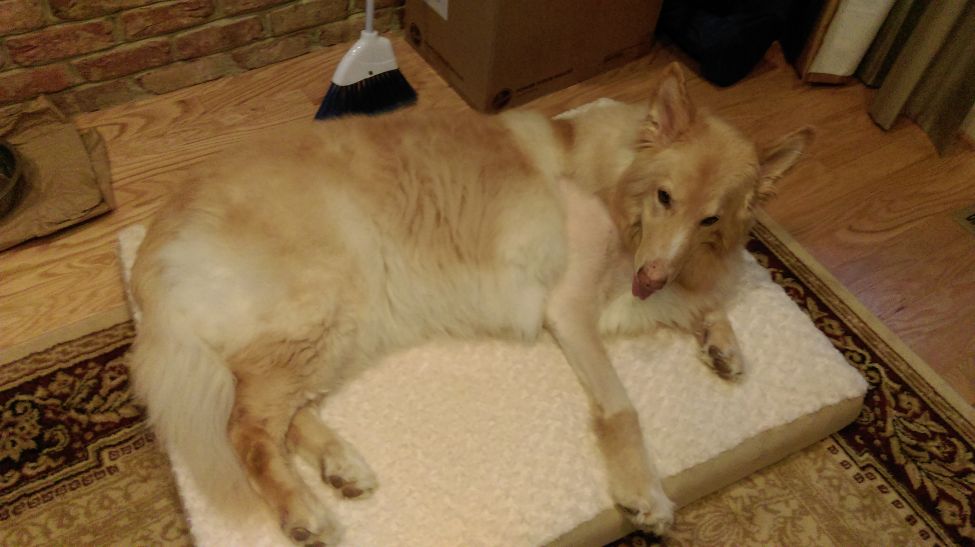 Got a call around 7pm from the vet and they said his surgery was done and everything went really well and that Draco was already awake trying to get up/move around. Draco will be staying overnight at the hospital, they have 24 hour care to monitor him and work with him to see how he does the next day. If everything looks go, I'll be able to get him by tomorrow evening (Wednesday July 19th). Today was my birthday also so I prayed for Draco's surgery to go well and hoped my bday luck would turn out for the best. I was happy to hear about Draco's surgery going well. Hopefully the next few days and weeks won't be too bad!
-RJ

Virginia


Member Since:
22 February 2013
Offline
Just catching up and.WOW!!!! WOW!!!! SOOOO MANY THINGS TO CELEBRATE!!!
DRACO IS OUT OF SURGERY YAAAAAAAAAY!!!! 🙂
AND MOM HAS A BIRTHDAY!!! 🙂 🙂 🙂 HAPPY BIRTHDAY!!! 🙂
Having Draco on the road to recovery is THE best birthday present EVVVVER!!! 🙂
The pictures of Draco.....soooooooo BEAUTIFUL!!! OOOMMMDDD!!! DRACO IS SOOOOO HANDSOME! 🙂 🙂 And FEZ is absolutely!!! 🙂 QUITE THE PAIR!! 🙂
Remember, Draco does NOT have a timeframe stamped anywhere on his beautiful butt! He doesn't give squat about days on a calendar! Draco DOES care about being by yiur side pain free soaking up all that loving and spoiling!! 🙂 🙂
Get some good sleep tonight! You have have a few sleepless nights ahead kf you!
And when you go tomoick Draco up, don't even pay attention to his incision. Just look into his druggy eyes and tell him what a good boy he is!! Give him kisses and hugs snd tell him he's going home!!! 🙂 🙂
And eat lots of CHOCOLATE!! It helps!
Hugs!
Sally and Alumni Happy Hannah and Merry Myrtle and Frankie too!
Happy Hannah had a glorious additional bonus time of over one yr & two months after amp for osteo! She made me laugh everyday! Joined April's Angels after send off meal of steak, ice cream, M&Ms & deer poop!
Awww what a great birthday present! And Happy birthday to you. I'm so hoppy for you and Draco, this is terrific news! Thanks for sharing the pics, he's sooooo handsome.
I hope he gets to come home today so you can give him extra hugs and kisses from all of us

Holler if you have any questions.

Member Since:
2 December 2016
Offline
You know your dog better than anyone. So...as to maybe two cancers? Does not make a whit. It is true that cancer does what cancer wants to do but even then, there are options. I have a 15 year old with a brain stem tumor, thyroid cancer, a heart mass, and now heartworms. She was never sick a day in her life until this January past when she was 14 1/2. Guess what?!?!? She is STILL working on the farm, out in the pasture, and beating all the odds. So having a second cancer does NOT rule out more time together. Your vet does sound amazing and, honestly, I would appreciate such a clear voice and opinion. But, even then, YOU know your dog BETTER than anyone. The quality of life scale helps: as does this community. Best wishes, huge hugs, and PyrPaws all around! And, btw, Draco is HANDSOME!!!!!!!!
I'm so glad things went well, and I LOVE the pictures!  He has the sweetest, kindest face 🙂
Keep us posted!
Tracy & Zatoichi

Tracy & Warrior Angel Zatoichi 💓
Zato was diagnosed with osteosarcoma in October 2016. He triumphed through radiation and amputation with dignity and grace. After living a life of love and happiness, Zato earned his angel wings on February 19, 2018.  Read his story here.
I was able to pick Draco up from the vet around 11pm Wednesday night! One of the things that concerned me was that the vet and technicians/assistants would tell me how Draco was doing really well in their care and that he's getting up and walking some especially to go out for potty. But I have not seen him walking very well on his own. When they brought Draco out to me at the vets to take him home, he was on a rolling table and brought him to my car and helped put him in, so I didn't get to see him walk. When we got home, he would barely walk until he would sit down or lay on the ground/grass. I purchased the "Help 'em up" harness from the vets and they fitted it on him the day of pickup. It was a little easier using that harness to get him off the ground and helping him take a few steps until we reached getting inside the house. He's a big dog probably now around 120 pounds and I'm not a very strong person. I wish I could just carry him! My arms, legs, feet, and back are all sore from helping Draco move around. I hope I can physically handle this until he is able to have better mobility on his own! 
I read other peoples posts that after surgery sometimes dogs will hold in #1 and #2 for days due to the medicine. So far Draco was able to do #1 the morning after he got home, he didn't do anything the day before. Since Draco got home, he has not done #2, which has me a little concerned because Draco has been on the same pain medications for over a month now and he's been able to do #2 twice a day before his amputation. I don't know how he can hold #2 in for so long when he normally unloads a huge pile when he goes. It's like, do I continue to feed him his usual amount of dog food or feed him less so he doesn't get too stocked up inside?
Half of my suspicion of him not doing #2 and not wanting to move around much on his own is probably due to the "Help em up" harness. I remember when he had on one of the Ruffwear Front-range harnesses that I got him, he would move very little when it was on. Then one day I didn't use that harness and just a slip lead, he walked better.I tried removing the "Help em up" harness outside to see if he'll move around better in hopes of him doing #2. Since half of the "help em up" harness attaches to his back end. But nope, he just sat then laid on the grass for a while and I'm standing there sweating from being so humid outside. And of course I can't get him up without the harness because he'll just lay there not wanting to get up. So it took me a while to get the "help em up" harness back on him to be able to get him back up and start heaving back through the yard and into the house.
The "help em up" harness does have plenty of space where it's not going to touch his stapled incision area. But I'm wondering if the Ruffwear Webmaster harnesses would be good to use while the staples are on still? Or do most people wait until that area is all healed? Because it looks like the Ruffwear webmaster harness does cover a lot of area, which I would be concerned about it rubbing against Draco's stapled incision? I'm going to attach some pictures of him with his stapled incision areas. 
I also have an inflatable donut ecollar as well as a soft e collar for him when I can't monitor him. I used to feel bad putting them on him and leaving him with them on, but after he pulled the staples off overnight after his biopsy surgery some weeks ago, the emergency vet bill from having him stitched back up wasn't nice!
I'm thinking about buying a shirt for him to wear to cover up that exposed area, which would be better? A tank top or t shirt?
Also I am planning on looking more into some supplements like the K9 Immunity , any others I should look into? The vet hasn't mentioned about starting chemo yet, how long do they normally get started on chemo after surgery? When the site is all healed up first? 
Thank you all for the support and answering my questions! Btw I'm Draco's dad, although my mom's bday is coming up in a couple of days so hopefully Draco will get some of her bday luck! She is always texting me asking how Draco is doing.
-RJ

Schofield, WI
Member Since:
13 August 2015
Offline
Our big very long legged GSD Max was also not one of those who happily saw us and hopped out to the car.  It took him 3-4 days to get his "sea legs".  So give it time for beautiful Drago to figure it out.  He will!  Right now he's pretty drugged up and feeling it.  We were able to use the webmaster harness because Max was a rear legged amp but yes I believe that one would be harder for a front amp to use now.  Just keep trying the harness you are using im sure it will become his new normal and he will get used to it.  Once he's got his sea legs you will find it's easier to just stay close to grab him but let him hop himself to do his business.  At least that's what worked for us. 😀.  Don't worry too much about no poop.  Pain pills can be quite constipating and it can take a while.  Adding to that they aren't moving around much it's normal not to see poop for 3-4 days.   Definitely keep feeding him he needs that food to heal.  Many of us have added a tablespoon or two of pure pumkin purée to their food to aid them.   Helps get things moving.  Sounds like things are going quite well, you're doing a great job give yourself a huge pat on the back!  Drago is beautiful and a lucky pup to have such a great doggie dad!
Forum Timezone:
America/Denver
Most Users Ever Online:
946
Currently Browsing this Page:
2
Guest(s)
Member Stats:
Guest Posters: 1234
Members: 16477
Moderators: 2
Admins: 3
Forum Stats:
Groups: 4
Forums: 23
Topics: 18053
Posts: 249807
©
Simple:Press
—