Join The Discussion
Learn about life on three legs in the forums below. Browse and search as a guest or register for free to take advantage of member benefits:
Instant post approval.
Private messages to members.
Subscribe to favorite topics.
Join the Live Chat and more!
T-shirts, Cards & Gifts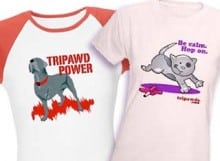 Visit the Tripawds Gift Shop for fun three legged dog/cat t-shirts & more! Browse all designs.
A
A
A
simon will get a ct scan tomorrow..  6 months from diagnosis . My question…   How often do you repeat a scan if this one is negative.?  I want to be a bit more proactive bec Simon cant get the vaccine  and I'm lucky that my insurance pays 90 % of the bill. ( the risk of anesthesia concerns me very little) I use a specialty hospital to hopefully lessen staff errors.. etc..
luke4275 said
How often do you repeat a scan if this one is negative.?
That's a great question when it comes to CT scans. Most oncologists recommend 4-6 months for traditional radiographs, but I have no idea what they'd recommend for CTs since they're far more sensitive at picking up mets. That's something to ask your onco, let us know what they say.
Good job having pet insurance, by the way!
Simon had his Ct scan on Friday.  I asked for the radiologist report today , Saturday. because my regular onco vet was off friday and returns monday.
Findings:  No evidence of pulmonary metastatic disease. 
Very pleased. This Ct was taken exactly 6 months post diagnosis.. When I asked my onco vet how long he thinks the osteo was "brewing" before Simon got treatment,, he thinks maybe 2 months,  ( Maybe I was lucky that I brought Simon to the vet the very first day he lifted his paw,, 1/31/18 and lucky that my general vet did an x ray? )
The reason I did a ct now was to influence the drugs chosen for metronomics .  When I mentioned all the different options to my onco vet,, cyc/lasix, cyc/nsaid,. etc,, he said they are all crapshoots.  I got the impression that he's not so sure these meds do much.
My plan:  I will continue the monthly zolendronate,.. ( it is supposed to build some mass that the radiation kills  and has been mentioned in having some anti cancer properties)
              I assume I will do the popular metronomics regimen.. every other day cyc and an nsaid.. ( Simon has never had an nsaid so I wonder if I should test this before doing the chemo or just go for it)
            My herbs are in place..   armor up, turkey tail. artemisinin , artemix.
            My nutrition isn't in place yet.. I have my integrative vet looking into 2 new keto kibbles , which are very low carb. If either of these are ok.. I will add low fat turkey, etc… in addition to some sardine,. egg, liver , etc..  I wont do full keto or do raw… When I cook the meat I do sautee at lower temps. 
I will ask my onco when he wants to repeat the ct… Because Simon does will with the anesthesia, because this is a speicailty hospital that is hopefully more skilled than a regular vet practice and because my cost of the $2000 ct is only $200. I'd rather do this more frequently than not because a medicine change might be in order?    
Just a reminder,, Simon cant get the vaccine.. because no formal diagnosis was done in February. Because of the lack of the vaccine. I want to be a bit more attentive to things like ct. etc..
Let me know if I am missing anything,.. thanks for all the help with the herbs, time to do the ct at 6 months bec that is when lung mets typically spread etc.
I know that a clear ct 6 months out is a good thing.. I think I also know that next week the ct could show lung met..? Is there a pattern  from the forum, that i can learn from in knowing progression ,etc? 
YAY! 

Great news from Team Simon, that's wonderful! Take time to celebrate and cherish this pawesome report card, try not to get bogged down with signs of metastasis, right now, it's time to pawty!
You certainly have a great regimen in place and all the care that Simon needs to live a long, healthy hoppy life. Good job!
By the way, what pet insurance company covers Simon? Sounds like a great plan.

Virginia


Forum Posts: 16378
Member Since:
22 February 2013

Offline
YAAAAAAAAY!!!  SPECTACULAR  NEWS!!   Grinning  ear to ear😁😁
As far as a "pattern", I really don't  think there is.  Some progress  slowly, some quickly, some remain "stable", some shrink, some don't.   I'm  not being flip when I say that.  They are just that unpredictable .  ECERY SINGLE CASE IS DIFFERENT.   
What you DO know is you have GREAT news today…and TODAY is all that matters!  You have the strength  and determination  and resoirceful mind to face any challenge  that comes your way.  You'll figure out any future steps as needed, if needed.    And they may not even be needed!  So make sure you don't  waste today worrying  about your tomorrows.  
jerry said
YAY!  Take time to celebrate and cherish this pawesome report card, try not to get bogged down with signs of metastasis, right now, it's time to pawty!

You certainly have a great regimen in place and all the care that Simon needs to live a long, healthy hoppy life. Good job!
Ditto Jerry!!   Make sure you continue  to celebrate every  moment!!   The NOW is all we have!  As hard as we try, and with all the preparation  in the world, there will  always  be things out of our control…out of our realm of knowledge.  There is one thing that we have absolute "control" over and that is our ability  to master the art of living  in the now.
Does Simon get a scoop of ice cream….just one small scoop…for having  such a good report???   Would love ro see a picture of that!!😎  And you should get a scoop too for being  such a good  advocate  for Simon!😁
Hugs
Sally and Alumni Happy Hannah and Merry Myrtle and Frankie too!
Happy Hannah had a glorious additional bonus time of over one yr & two months after amp for osteo! She made me laugh everyday! Joined April's Angels after send off meal of steak, ice cream, M&Ms & deer poop!
Good to know. We had them for a while and also had a great experience. But last year their rate increase went up so much we went elsewhere. I'm glad it's working for you and Simon!
It is true about the rate increase, this past year.. my premium was 1,000 for a 5 yr old ger shep at 200  yearly ded and 90% repayment.. I thought about looking elsewhere.. but didnt.. others were similarly priced and some.. like vpi.. pay usual and customary.. which can be quite a surprise when you dont get much back…   cats are much cheaper to insure.. fyi..

Forum Posts: 6444
Member Since:
21 May 2016

Offline
Hi Simon and Luke 🐾
Just adding my experience here.
Eurydice had her CT at 6 months, at that time she was doing metronomics .
As we found lung mets, we stopped metronomics and switched to doxorubicin.
We repeated CT just before the 5th chemo session to check whether that treatment was working.
My oncologist in the UK pointed out CT should be done at 6 months as, as you were told, this is the "moment" to check for mets. 
After that, he told me (and in Eurydice's case) I should get them done at key moments when pursuing other treatments, to check if they were working or not.
He said, by doing so, we had the chance to stop and change treatments and not continue with something that wasn't helping. 
Hugs and cuddles, I am SO happy to hear Simon is met free 😁🐮💫✨🌟🌹
Eurydice 77kg/170lb Great Dane limping end of April 2016, amputation (right front leg/osteosarcoma) 4 May 2016 6 courses of carboplatin followed by metronomic therapy, lung mets found 30 Nov 2016. 3 courses of doxorubicin, PET scan 26 Jan 2017 showed more mets so stopped chemo. Holistic route April 2017. Lung X-ray 5 May 2017 showed several tennis ball size mets, started cortisone and diuretics. Miss Cow earned her XXL silver wings 12 June 2017, 13 months and 1 week after amputation and 6 1/2 months after lung mets, she was the goofiest dawg ever and is now happily flying from cloud to cloud woof woofing away :-) 
Forum Timezone:
America/Denver
Most Users Ever Online: 597
Currently Online: kbp0419, kbart1107, joni
60 Guest(s)
Currently Browsing this Page:
1 Guest(s)
Devices Used: Desktop (52), Phone (10), Tablet (1)
Member Stats:
Guest Posters: 1005
Members: 12590
Moderators: 2
Admins: 3
Forum Stats:
Groups: 4
Forums: 23
Topics: 14970
Posts: 210768