Caring for a Three Legged Dog or Cat
Tripawds is your home to learn how to care for a three legged dog or cat, with answers about dog leg amputation, and cat amputation recovery from many years of member experiences.
Learn how to help three legged dogs and cats in the forums below. Browse and search as a guest or register for free and get full member benefits:
Instant post approval.
Private messages to members.
Subscribe to favorite topics.
Live Chat and much more!
FINAL CALENDAR PHOTO SUBMISSIONS
OK folks, here is a complete list of Tripawds members' dogs & cats that we have photos for. And below that is a list of Tripawds whose people who valiantly tried to submit but couldn't so we just sent you an email asking you to send the pics to us that way.
Please confirm your name is on this list no later than Sunday at 6pm
so we know we have everyone for this project. Thank you!
Photos Received:
Angel
Antony Mater
Atlas
Barret
Bowie
Brendol & Adelaide
Bud
Buddy Golden
Butchey
Cadence
Capone
Carly
Carter
Chance
Charlie Sato
Chloe
Chuck
Clover
Codie Rae
Cookie
Cooper
Cora
Daisy
Destiny
Elgin
Fancy
Fang
Franklin
Gerry
Griffey
Hannah B. Dawg
Happy Hannah
Indy Wind
Jackson
Jill
Jiro
Kiki
Kwala
Leo
Luna
Maggie
Maggie
Monte
Murphy
Nesta
Oliver
Peda
Rosco P. Colpayne
Roxy
Sampson
Sasha
Sassy
Shooter
Tahoe
Tallboy Bowser
Travis Ray
Trio
TriPod
Yoda
Contacted for Pic:
Daisy Duke
TJ
Truckdobe
Please confirm your name is on this list no later than Sunday at 6pm
so we know we have everyone for this project. Thank you!
Calling all Tripawds members, it's time for the 2014 Tripawds Calendar Contest!
Starting this Friday your Tripawd can be considered for the 2014 calendar when you share your one very best Tripawd photo here in the Forums.
Who's Eligible?
All registered Tripawds.com members with living or angel Tripawds, are eligible. Honorary Tripawds (quadpawds undergoing palliative care, those with a limb deformity, etc.) are also welcome to enter. Packs with multiple Tripawds are also eligible.
Photo Requirements:
Only one "Print-Ready" Photo per nominee will be Considered. This means that the one image you share here must be of good enough resolution/size to be printed in a paper calendar. Your original source image must be at least 2300 x 1800 minimum size.
Here's how to tell if your one photo is the right quality:
On a Mac, you'll find the resolution when view the photo and "Get Info" by typing " + i" (Command+I)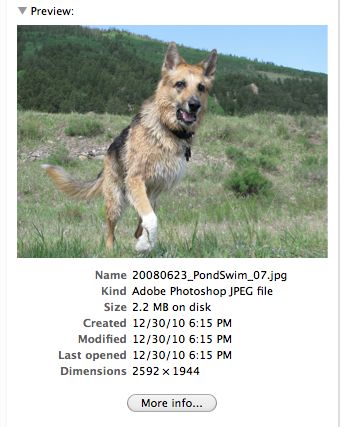 On Windows, you can see the photo size when you hover your mouse over it in your Library or image viewer.
Clear as mud? Ask any questions you'd like so we can help you find one great photo.
Here's How the Calendar Voting Will Work:
Round 1:
Between Friday 10/4 and Friday 10/11, all registered Tripawds.com members can nominate themselves and/or another member here in individual posts within

this

discussion. Each nominee must have

one

photo upload accompanying it.
Not sure how to upload your

one

photo in the Forums? Read these forum photo upload instructions. If you still need help, contact us, we're happy to assist. Keep in mind that when you post your pic here it will automatically be resized. That's OK. As long as you have your original you're in business.
Round 2:
Voting will happen between 10/12 and 10/20. Admin and I will start sharing all eligible nominees and their

one

photo on the Tripawds Facebook page wall on 10/12, spreading them throughout the day. We'll do our best to get them all up on that day so everyone has equal voting time, but it depends on how many nominations are received here.
Nominees will then ask as friends and family members to "like" their photo. Each "like" = one vote. Tripawds members can vote for each other too!
The 12 nominees with the most "likes" (votes) received between 10/12 and 10/20 will be in the calendar.
Winners will be announced the week of 10/21.
We hope this makes sense. Please ask any questions if something's unclear or you need help, then start digging for that one perfect photo!
Thanks so much for your participation. A portion of calendar proceeds help keep the Tripawds.com community online.

New York, NY
Member Since:
3 December 2012
Offline

Jill is a 9-year-old tuxedo kitty. She was diagnosed with Osteosarcoma in June 2012 on her toe in her right hind leg. Her leg was amputated on 12/12/12 and she completed four rounds of chemo (2 of Carbo, 2 of Doxy) in April 2013. "Like" Jill's facebook page: https://www.fac.....tty?ref=hl Proud member of the WINTER WARRIORS!!!! Her blog can be read at http://jillsjou.....ipawds.com. xoxo


Member Since:
16 October 2012
Offline
Here is mine & Angel Sassy's submission 
file not found
Sassy is a proud member of the Winter Warriors. Live long, & strong Winter Warriors.
sassysugarbear.tripawds.com
07/26/2006 - Sassy earned her wings 08/20/2013
05/04/2006 -  Bosch, Sassy's pal, earned his wings 03/29/19  fought cancer for 4 months.
"You aren't doing it TO her, you are doing it FOR her. Give her a chance at life."

Atlanta, GA
Member Since:
12 February 2013
Offline
Adelaide is a young tripawd Husky, from an injury.  Her amp was on 10/1/12.  She has 4 sisters, Aissa (a senior border collie/chow), Maggie May (a puppy Great Pyrenees), Mathilde and Morrigan and 1 baby brother, Bagheera.  We are all watched over by our angel Brendol, who was dx with OSA 1/30/13, amp on 2/6/13, and left us on 8/20/13.
 You can read their stories at http://adelaide.tripawds.com and http://brendol.tripawds.com

Member Since:
10 June 2013
Offline

Twin Cities, Minnesota
Member Since:
6 March 2013
Offline
We were so much prettier in our hirsute youth.
but pretty is as pretty does, and we have some good recent shots... Will have to decide by the 4th.
"Let us think the unthinkable, let us do the undoable, let us prepare to grapple with the ineffable itself, and see if we may not eff it after all."
-Douglas Adams, Dirk Gently's Holistic Detective Agency
"May I recommend serenity to you? A life that is burdened with expectations is a heavy life. Its fruit is sorrow and disappointment. Learn to be one with the joy of the moment."
-Douglas Adams, The Long Dark Tea-Time of the Soul

Oakland, CA
Member Since:
20 December 2008
Offline
What if there are 3 tripawds in our pack, can we submit a photo for each one of them? Ooops, saw in the instructions that packs with multiple tripawds are eligible but question still stands.Or are we limited to one photo, in which case a collage ala Brendol and Adelaide or a single photo with all 3 would be appropriate.
Woohoo! Tripawds Rule!
Regulator of the Oaktown Pack, Sheriff of the Oaktown Pawsse, Founding member and President of the Tripawd Girldogs With 2 Names ROCK Club, and ... Tripawd Girldog Extraordinaire!

Member Since:
30 May 2013
Offline
tjm we totally understand. If your friends and family are on FB we can still put your pic up. Then you can just email them all to let them know his pic is up, and they can vote as usual. Or you can have them email us directly and we'll tally them up.
Okay TJ's dad-------you weren't very clear....soooooo...you're saying you LIKE facebook, right?

JUST KIDDING!!
You actuallyhave a great point (in my 2¢worth)! Not everyone here uses facebook ....well...maybe there are just two ofus!
If you'll add one vote for everyone who enters from Happy Hannah and myself, that would be great!

Happy Hannah had a glorious additional bonus time of over one yr & two months after amp for osteo! She made me laugh everyday! Joined April's Angels after send off meal of steak, ice cream, M&Ms & deer poop!
Sooooo, of course...just as I hit my reply button..."On top of everything at lightening speed Jerry" has already responded about the facebook stuff!
Happy Hannah had a glorious additional bonus time of over one yr & two months after amp for osteo! She made me laugh everyday! Joined April's Angels after send off meal of steak, ice cream, M&Ms & deer poop!
Sally you're not on the Faceborg either? Well you HAVE to enter her pic! So do my suggestions for TJ's dad work? What do you think? Any ideas for the non-assimilated humans out there are appreciated.

Portage Lake, Maine
Member Since:
8 December 2009
Offline
Maggie was amputated for soft tissue sarcoma 10-20-09
Maggie lost her battle with kidney disease on 8-24-13
Forum Timezone:
America/Denver
Most Users Ever Online:
946
Currently Browsing this Page:
1
Guest(s)
Member Stats:
Guest Posters: 1224
Members: 16163
Moderators: 2
Admins: 3
Forum Stats:
Groups: 4
Forums: 23
Topics: 17934
Posts: 248660
©
Simple:Press
—