Caring for a Three Legged Dog or Cat
Tripawds is your home to learn how to care for a three legged dog or cat, with answers about dog leg amputation, and cat amputation recovery from many years of member experiences.
Learn how to help three legged dogs and cats in the forums below. Browse and search as a guest or register for free and get full member benefits:
Instant post approval.
Private messages to members.
Subscribe to favorite topics.
Live Chat and much more!


Down the Rabbit Hole: Remembering my Ampuversary

Read the original blog post
Add Reply
Add Topic
On November 22, 2006, I flew down the rabbit hole.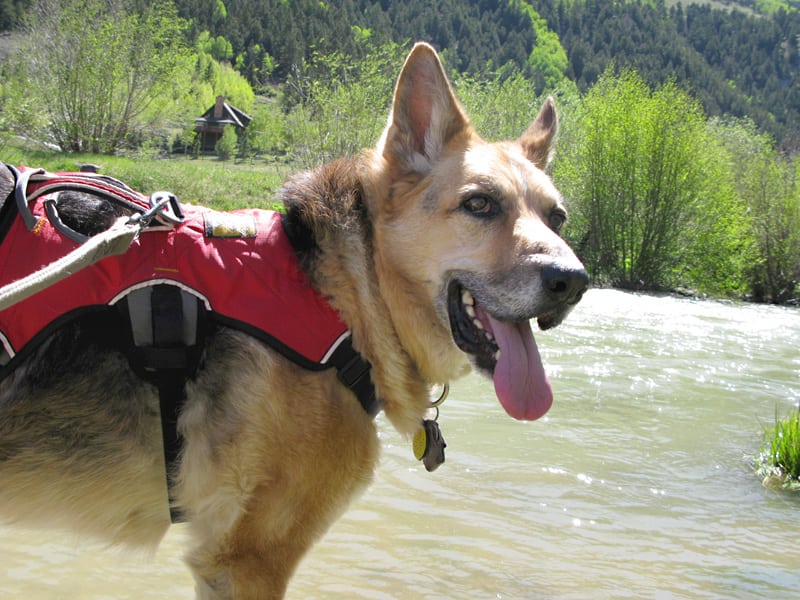 When I woke up, I felt so much better.
My leg was missing, but my pack was complete. We were together and that's all that mattered. The doctor said something about "cancer" and I knew it was bad when Mom and Dad started crying a lot.
But did I let that cancer thing get me down? Nooooo way!
Who knew that in the next four years, my pack and I would travel all over the place, meet lots of cool people and dawgs, and gather a community made up of the most loving, caring, kind and funny humans in the world?
Who knew that my pawrents would find their passion from such a sad thing, and turn it into something more uplifting and pawsitive for them...and so many other people all over the world? Wow!
To my Tripawds family, thank you for creating one of the most beautiful communities on this planet. For you continue to spread the lesson I was born to share, which was that even in our darkest hour, we can all find something hoppy to celebrate and take comfort from.
Cheers to you, Tripawds family! Thank you for making my ampuversary remembrance something to celebrate!

My heart lives at Rainbow Bridge
Member Since:
28 November 2008
Offline
Oh, Jerry!  Our beautiful icon.  You have given us all such a wonderful place to come and be with the folks who really know what we feel. You've introduced us to some of the most wonderful people, no doubt some will be lifetime friends.
Your pawrents have come a long, long way since you left them.  They have taken the lessons they learned from to you a whole new level and guide the rest of us to do the same.
Thank you, Jerry for being who you are.  A shining hero was born the day of your surgery.
Happy Ampuversary!
Shanna & Spirit Trouble ~ Trouble gained her wings 3/16/2011, a 27 1/2 month cancer survivor, tail wagging. RIP sweetheart, you are my heart and soul.  Run free at Rainbow Bridge.
The November Five - Spirits Max, Cherry, Tika, Trouble & Nova. 11/2008 - 3/2013 An era ends as Queen Nova crossed the Bridge.


Golden Girls

Houston Texas
Member Since:
27 September 2010
Offline

Thank you so much for this forum, i can not express my gratitude enough.
Who knew there was a forum to go to when my big one got cancer and died, and the little one got trampled (because there is no big one to protect her) and lost her leg. But even with my strange set of circumstances, there is a place i can go to and know that everyone understands.
The quest for world domination continues on three legs. Comply minions!
http://ritables.....ipawds.com
Read about my big sister Shelli who just passed away to the lymphnode sarcoma
http://bellesgo.....press.com/

Arizona
Member Since:
28 September 2009
Offline
 Jerry we thank you and honor your memory. That terrible day for you and your peeps, the day you must have thought the world was ending became through it such a miracle. You are my shinning star, you have guided us through one of our darkest days and showed me there is such a bright star ahead of us , not just sorrow. We followed your lead and now know, yes life is different but that doesn't mean it's a bad thing. We celebrate you and everything you have become to us. Thank You.
 Jo Ann & Tasha
Tasha 8 years old, First cancer diagnosis 6/26/09, Last cancer diagnosis 9/26/09, Amputation 10/01/09, Loving our girl moment by moment.
Tasha lost her battle and became my Angel on May 4 2011. Forever in my heart….

Member Since:
26 November 2008
Offline
Jerry, Jim, Rene, and Wyatt,
From your devistating diagnosis came the courage, strength, will, and sense of adventure that is now defining an entire community. You have led the way for us to realize that we need to live in the today and enjoy life for what it gives us. We can never fully express just how grateful we are that you have led the way, created the framework for this community, and have remained its strongest advocate. A mere thank you seems so trivial to the real thanks that is felt, but we also know that you can read how much this means to so very many each and every day. The spirit of our precious Jerry will live within this community and the hearts of all its members.
As the second amputation in the November 2008 Five, Charites salutes you Jerry, another November (2006) amputee.
Always trying to live upto the standard that you have set,
Spirit Cherry's Dad

Las Vegas, Nevada
Member Since:
14 August 2009
Offline
Spirit Jerry has got a big ol' smile on his face right now while looking down on us!  Not only did he make two people very happy, but he made a whole community of dog lovers unit to lend support to each other!
That's cause for a "red party hat" celebration! 
Comet - 1999 to 2011

She departed us unexpectedly  January 23, 2011 at the age of 12 1/2.

She was born with a deformed front leg and a tripawd all of her life.

Red pawty hats indeed!
Thank you everypawdy, you are so very sweet.

10711

Member Since:
1 January 2010
Offline

Thanks, Jerry!  We will definitely have treats in our house in your honor.  You and your pawrents have shown us how to take this awful disease and see the light shining still.  For this gift, we are so very thankful!
Hugs,
Holly, Zuzu and Susan 
Holly joined the world of tripawds on 12/29/2009. She has a big little sister, Zuzu, who idolizes Holly and tries to make all of her toys into tripawds in Holly's honor. And she's enjoying life one hop at a time!
http://anyemery.....ipawds.com

Los Angeles
Member Since:
2 November 2009
Offline

We will always be forever grateful for the inspirawation and hope you have given us.  This is such a wonderful and loving community and I'm so proud to be a part of it.  Jerry, our fearless leader, will always hold a very special place in our hearts.  And thank you Jim and Rene for carrying on the message of love, support and community for all of our tripawd heroes.  
Kami, Mackenzie & Kobe
My sweet golden Mackenzie.  She became my angel on Dec 29, 2010 at the age of 8 1/2  although she was always my angel from the time we brought her home.  She was diagnosed with osteosarcoma in Sept 2009 and officially became a tripawd (front leg) on Nov 5, 2009.  She will be forever in my heart and now she's running free with all of our other tripawd heroes.  I love you Mackenzie!

Mount Pleasant, Ia
Member Since:
27 October 2010
Offline

Cooper is wearing his red pawty hat in honor of Jerry, we would have been so absolutely lost without Jerry and the group, there are no resources around here, you all are life savers!
Coopsdad/ Kenneth Blackburn
http://cooper.t.....ipawds.com
the monkeydogs only THINK they have invaded the tripawd state
Forum Timezone:
America/Denver
Most Users Ever Online:
946
Currently Browsing this Page:
1
Guest(s)
Member Stats:
Guest Posters: 1234
Members: 16461
Moderators: 2
Admins: 3
Forum Stats:
Groups: 4
Forums: 23
Topics: 18047
Posts: 249715
©
Simple:Press
—