Caring for a Three Legged Dog or Cat
Tripawds is the place to learn how to care for a three legged dog or cat, with answers about dog leg amputation, and cat amputation recovery from many years of member experiences.
JUMP TO FORUMS ↓
Join The Tripawds Community
Learn how to help three legged dogs and cats in the forums below. Browse and search as a guest or register for free and get full member benefits:
Instant post approval.
Private messages to members.
Subscribe to favorite topics.
Live Chat and much more!

Sandra Thomas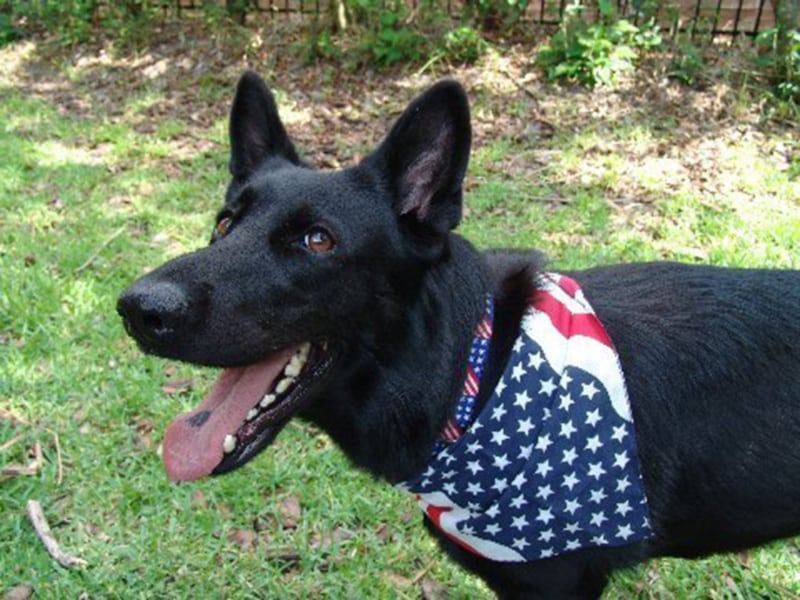 Jerry's web site has helped us so much with our dog, "Luna". The following is a recent message which I left for Jerry and his pawrents:
Dear Jerry:
Even though you say not to feel sad, we humans do that alot, especially at times like these, but your pawrents are awesome and you are very lucky to have such wonderful humans by your side. As always, you look great in your photo, and you can bet you will be treated like the king that you are.
I know that your pawrents probably told you that I lost my dear, precious "Luna" last Tuesday, September 16th. Luna was a black German Shepherd Dog and was only 3 years 4 months old. She had lung mets too but continued to play and have a good time. Then, last Tuesday, she had a seizure and the vet at the University of Florida in Gainesville did an MRI of her brain. My boyfriend, Dave, and I had already discussed with the vet that if they found a brain tumor where the hemangiosarcoma had spread from her right hind leg which they had amputated last March 6th, 2008, that we would let her remain under general anesthesia and then help her make the transition to the Rainbow Bridge . Unfortunately, they found brain tumors in her head and we made the difficult decision to let her go to the Rainbow Bridge . I want you to know that is was peaceful and easy for her. Before she headed for the bridge, I told her how much I loved her and a lot of other special things, but I wanted you to know that I also told her to be on the lookout in the future for a dog named, "Jerry", the same one that had inspired me so much when I read about him the first time, the one who had given me hope that Luna could live a full and happy life as a tripawd.
Now, this isn't saying that you're going to be seeing her anytime soon, but just wanted you to know that when you do decide to head that way, that she will be one of the ones waiting for you and part of the greeting committee so to speak. I know that you have helped so many tripawds live fuller lives and helped their pawrents tremendously, too. We found out about the book, "Without Regret" on your site, along with lots of other cool stuff.
Like you, Luna's initial prognosis on October 5, 2007, was not good. They told us that she had two weeks to two months to live. Because this prognosis was so dismal, we decided not to put her through the amputation and chemo. But, she surprised everyone by continuing to live and love and have a great time. By March, we decided she deserved more of a chance to beat this disease, and she had her right hind leg amputated and a hemipelvectomy followed by six courses of chemotherapy, followed by metronomics protocol for two months. Instead of having only two weeks to two months, she lived almost another year. She defied all of the predictions.
So, although my heart is breaking today, I can honestly say that I am "without regret" and that if I had it to do again, that I would take the same path. Like you, Luna fought her battle well, so strong and full of life. I wish you lots of time with your pawrents and lots of time to play and enjoy everything around you. Thank you for everything that you have done and will continue to do in the future.
Love,
Sandra and "Luna"
Member Since:
28 July 2008

Offline
Sandra
Those are beautiful and brave words. Luna was a fighter and that is why she beat the odds. Your family and Luna are in our thoughts and prayers.
Jerry you and your pawrents have inspired so many of us and I hope you know how much we ALL appreciate you and your support.
Love
Heidi and Titan
Sandra,
Thank you so much for sharing your story. My deepest condolences to you and your family over your loss of Luna.
I agree with Heidi & Titan that Jerry and his pawrents ARE such a wonderful inspiration for anyone who has gone through cancer and amputation with their dogs. You have always been there with excellent advice for worried pawrents from pre-surgery to post-surgery and even when a beloved tripawd has lost the battle.
I feel honored to be able to post on this site.
Love, Vicki, Blazer & Kimber
Sandra - I am so very sorry to hear about your loss. I am so glad to hear that Luna was at peace and I know she knew how loved she was... and wow, what a fighter! Luna is definitely an inspiration.
I also agree with all of the above - I don't think I would have made the decision to amputate Smokey's leg if it weren't for this website and all the support I found on it and was able to learn from reading everyone's stories.
Our thoughts are with you during this time... if you ever need an ear or a virtual shoulder, we're here for you...
Sandra, your baby Luna was such a fighter, and a true inspawration for all who are faced with cancer. I know that your hearts must be breaking right now, but hope that you can take some comfort in knowing that you did everything you could, and then some, and her example will give hope to so many others for years to come.
With love,
Jerry, Rene & Jim
Member Since:
30 March 2008

Offline

Sandra what beautiful words and inspawrational story about Luna. Our prayers are with you and I hope that the day I have to travel to the Rainbow Bridge I have the honor of meeting up with her, Jerry and all my tripawds friend I have made through the months in this site. Like all the above comments Jerry, Rene and Jim have been more than an inspawration for all of us. He has been the light at the end of the tunnel when we are in our darkest times. He gives us hope and courage to go on facing our ups and downs and our challenges. I don't think that my pawrents would have been able to face this obstacle in our lives if it wasn't for this site, Jerry and his pawrents and all the support from everyone. God bless all of you and we love you lots.!!!

Sandra Thomas
Thanks to everyone for their kind comments and thanks to Jerry and his pawrents for putting my special picture of Luna on this forum. My office assistant, Kenny, thought of the idea of putting a huge full moon behind Luna's head. He found a stock photo of the moon on the Internet and used PhotoShop to create this photo. I was really stunned when I saw it for the first time as it fit her name perfectly. We also noted that she went to the Rainbow Bridge during the full moon period this month.
This picture is going to be put on a black piece of marble as a "marble memorial", a circular piece of marble on which you can put any photo you wish of a pet. You can find this type of memorial item on many web sites on the net. The marble memorial can be circular/round, rectangular, or oval. The shape of the moon was perfect for the circular, round shape. I am planning on ordering this for the lady who works in my kennel and who was so very attached to Luna and did so much to help her survive so long through her loving care and attention. She has seen the proof and was very moved by it. It turned out so well, that I think I'm going to get a marble memorial as well.
I spoke with the pet funeral director, Beau Crevasse, in Gainesville last week and the little memorial box for Luna's ashes has been ordered. (If anyone reading this post is in the Gainesville area, I would highly recommend him for this type of situation. He has done everything I have asked of him and been a man of his word.) The box is to be in walnut with a black German Shepherd dog lying with his head up and alert on the top with a name plate on the side that will have Luna's name, dates of birth and death: April 29, 2005 to September 16, 2008, and on the 3rd line, "Our precious little girl". I asked my boyfriend, Dave, what he thought we should put on that 3rd line, and that is what he told me. I completely agreed.
It is hard to believe that two weeks ago today, we were getting ready to leave for Gainesville from Orlando with Luna because she was staggering around. Two weeks ago tonight, she was hospitalized, and it was the last time that I would see her conscious, as they walked her away from me, with her looking back at me. The time has passed in such an odd way, surreal and disjointed. I felt so guilty leaving her there but I had to do that because she was getting worse and we didn't know what else to do. We knew the experts were at the Univ. of Florida and that they would have the technology that the local vets didn't have and that would hopefully help us to help Luna survive and get better. Although it didn't turn out that way, at least we tried, and that is all we could have done. We could have stayed home and hoped for the best, but as the vets at UF told us, she probably would have just gotten worse, had the seizure at home, and it could have been even more unsettling in how it unfolded.
I have spent a lot of time since Luna's passing with my other dogs. They have been a comfort, just petting them and telling them that I love them. Of course, they don't take the place of Luna, for she will always have her own special place in my heart where she will shine on forever.
Sandra
Oh, Sandra, you are breaking my heart. Please, please don't beat yourself up over Luna's death and the decisions that you had to make. You are a wonderful Mom and Luna always knew that and still knows that from the "Bridge". I understand your terrible pain and I wish I could just hold you and tell you that you did the right thing. Love, Vicki, Blazer & Kitty Kimber
Member Since:
13 May 2008

Offline

Member Since:
26 January 2008

Offline


Sandra Thomas
It's hard to believe that it has been 3 weeks ago today that we lost Luna. We continue to wind down the road of grief, having some days that are less filled with pain, and then others, like today, where the pain rises to the surface again. Of course, sitting at my computer and looking at pictures of Luna, especially those final weeks of her life, and especially the ones I took after leaving her off at the hospital in Gainesville, were particularly hard to review again. So, why did I do it? I don't know. I was just compelled to do it. Sure, I cried again, but maybe I needed to cry again. I'm going to allow myself that.
I got Luna's ashes back last week, too, but have not been able to open the shipping package that they came in. The ashes are actually in a walnut box with a black german shepherd figurine on top of it. I should open the shipping package to make sure the walnut box inside is all right and not damaged, but just am not ready to do that right now.
We've had some very nice notes, letters, and emails of sympathy from Luna's vets as well as our friends. And, now, we have our new friends here on these forums, which is so nice, and the nice messages that they have left for us concerning our Luna. I really appreciate all of the kind words from everyone here. Thank you so much.
Sandra
Sandra Thomas said:

So, why did I do it? I don't know....
---
Because you need to. There will never be enough pictures or videos once the bundle of furry joy is gone, but it's all we have. And they help stir the fond memories which is what we need to remember, especially now.
One trick my people are trying, is to say "Remember when..." every time the start to feel sad. They then fill in the blank with memories of joy.
So cry all you want, then re-channel that energy. Because if Luna was anything like me, she hated to see you upset.
Thanks for sharing.
Forum Timezone:
America/Denver
Most Users Ever Online:
946
Currently Browsing this Page:
1
Guest(s)
Member Stats:
Guest Posters: 1218
Members: 15997
Moderators: 2
Admins: 3
Forum Stats:
Groups: 4
Forums: 23
Topics: 17861
Posts: 247902
©
Simple:Press
—