Join The Discussion
Learn about life on three legs in the forums below. Browse and search as a guest or register for free to take advantage of member benefits:
Instant post approval.
Private messages to members.
Subscribe to favorite topics.
Join the Live Chat and more!
Looking For A Harness?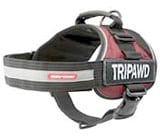 Shop Tripawds Gear for the best harnesses for three legged dogs!
A
A
A

lovejake
It has been a while since I have been on tripawds.com.  It was very difficult for me after Jake's sudden death. As many of you know, Jake and I were a team. He was by my side as a parent, at work, as a Therapy Dog Team, as my best friend.  His death on December 19, 2012 came less than four months after his amputation. He lived every moment of his life 100%.
How different my home feels without him. In fact, not like home at all. I wish, as most who have lost a dog do, I could bring him back. Instead I began to think about having another dog. I began to look, even fostered an Anatolian Shepard for a month, but it was not the right fit for my family. I had a feeling in the pit of my stomach that I wanted another golden. That turned out to be easier said than done.
Then a friend, who I met here (tripawds.com), posted a photo of a dog in Southern California. He was in rough shape. Having been neglected to the point where a huge fibrosarcoma tumor on his front right leg had erupted and was infected. His fur was tangled and matted. He was dehydrated. It was estimated that his owners had neglected his health and care for almost a year, leaving him in their yard and ignoring the problem.  Finally surrendering him when he was rescued by the Southern California Golden Retriever Rescue. Amputation was immediate and invasive.  They took the leg and the shoulder blade.
Then my friend, Carrie Madrid, who many of you know is the foster mom for Buddy Golden, told me to put in an application to adopt "Woodley". I reminded her that I had already tried to adopt from a rescue, but was told I was out of their adoption area. She said "Then what have you got to loose."
The response to my application was as expected "Thank you, but you are out of our adoption area." The next day, Southern California Golden Retriever Rescue announced that they "might have found the most wonderful home" for Woodley. I was happy for him, a little sad for me, it was a long shot anyway. But 6 minutes later, I got an email. It said that I "would make a wonderful mom for Woodley"!
For the next few days, updates on Woodley's recuperation came in, then in one conversation with Barbara with SCGRR she started talking about other Goldens who were recently rescued needing medical attention.  How odd to have two needing amputations just days apart! She mentioned a female who had a botched surgery on her hind leg after an accident.  Because of this, "Heather" was undergoing an amputation of her left hind leg.
Crazy as this may sound, I couldn't get it out of my head that there were these two beautiful Goldens in need of forever homes. I bet you know where this is going…


Forum Posts: 3350
Member Since:
16 October 2012

Offline
Lori,
As you know I have been following all of this on Jake's site and I am so very happy for you.  This is the best news for you & your family.  I know I can't wait for more & more updates about Finley & Julia

   Jake has been a great inspiration to Sassy & I.  I thank you for sharing his story in the chatroom that night. 
God Bless you for saving these 2  



Sassy is a proud member of the Winter Warriors. Live long, & strong Winter Warriors.
sassysugarbear.tripawds.com
07/26/2006 - Sassy earned her wings 08/20/2013
"You aren't doing it TO her, you are doing it FOR her. Give her a chance at life."

The Rainbow Bridge

Forum Posts: 23924
Member Since:
25 April 2007

Offline
Lori, we understand why it can be difficult to return here after such great loss, but it is so good to hear from you now.
It was so cool to meet Carrie this weekend and to learn about how you are giving Finley and Julia a furever home, thank you so much! Congratulations! We know you are going to make an amazing trio.
As you can probably tell my Mom isn't good about keeping current on Facebook so thank you for this wonderful update. It's great to hear from you


New York, NY
Forum Posts: 1412
Member Since:
3 December 2012

Offline

Lori,
What an amazing inspiration you are!  We haven't chatted before, but I've heard through Michelle what a special person you are and I'm sure your Jake was an incredible pup and lucky to have you for a mom.
Have so much fun with your new additions – you are going to make an amazing trio!!!

New Haven, CT
Forum Posts: 1193
Member Since:
27 December 2012

Offline
I, too, have been following this story and I just think it's so wonderful.  You are a kind heart to take these 2 in.  Finley certainly needed someone caring and compassionate.  I'm also so excited these are the 2 that came after Jake.  They'll keep you very busy!  Welcome home, Finley and Julia!
ACL tear in right hind leg 12/5/12 and scheduled ACL repair surgery 12/21/12. Pre-op xrays revealed osteosarcoma. Amputation 12/28/12.  Chemo (carboplatin) started Jan 10, 2013 and ended on April 5, for a total of 5 doses. He handled carbo like a champ!  No side effects.  We started metronomic therapy at his third chemo and have been also doing some holistic treatments.  He's a lively, playful 10 year old huskie-boarder collie and a very proud member of the Winter Warriors!  Our love. Our funny little guy!

Sydney, Australia
Forum Posts: 628
Member Since:
13 September 2011

Offline
If we go with our hearts we will be led to where we are meant to be.  This is such wonderful news.  Woodley and Julia are going to reward you one hundred fold.
Karen and Spirit Magnum
Magnum: 30th May 2002 to 5th May 2012. Lost her back left leg to osteosarcoma on 5th Sep 2011. Lung mets found on 20th Mar 2012 but it was bone mets in the hip that ended her brave battle. Magnum's motto - "Dream as if you'll live for ever, live as if you'll die today" (James Dean). Loyal, loving, courageous and spirited to the end. My beloved heart dog, see her memoirs from Rainbow Bridge ...... http://princess.....pawds.com/

lovejake
Thank you all for the kind words.  I am humbled to find out that you have been following our story on facebook, for without all of you I would have been lost. Once again, this community has the best support system!
Our family is very excited for this Saturday when Finley (Woodley) and Julia (Heather) arrive in Reno. This absolutely wouldn't have been possible without Carrie Madrid who I met here.
Last Saturday Carrie met with Rene and Wyatt at the Southern California Pet Expo!
Carrie will be driving the 8.5 hours from LA to Reno with Finley and Julia.  Adding two tripawds to the family is going to be a challenge, and a wonderful one at that.

Peoria, IL
Forum Posts: 297
Member Since:
8 November 2010

Offline
Lori,
I am so happy for you (and, of course, Finley and Julia). I suspect that in rescuing them, you are rescuing yourselves by opening your hearts and home to your new furbabies.
After we lost our Sammy we didn't know if we could take loving and losing another dog. Like you, we wanted another golden — but we worried about the cancer stats that accompany those amazing creatures. We even worried if we could love another the way we loved Sammy. And, like you, we did it anyway.
While we will always hold Sammy in our hearts, Wrigley brought us joy and laughter. We love him with all our hearts and I know you will experience the same. Beautiful Jake, in true golden fashion, is probably prancing with joy for you. Goldens love to see their families happy. Congratulations — and bless you for rescuing those special goldens.
I can't wait to see photos and follow their stories. Have fun!
Beth and MB Wiggly Wrigley
Smilin' Sammy, March 16, 2004 – Dec. 5, 2011
Golden retriever, diagnosed with osteosarcoma in September 2010 — right front leg amputated November 2010. He fought valiantly to stay with us; but a second diagnosis of osteosarcoma, this time in his left front leg, was more than our golden warrior could overcome. He loved his pack — and everyone else he met.

We loved him even more.
Thanks for the pennies, Sammy. They helped.

lovejake
Beth,
You hit the nail on the head! Our family feels un-whole since Jake's passing. It is difficult to be golden-less when they have been a part of you for so long.  Jake was my fourth Golden. I feel so blessed expecting Finley and Julia.  I believe that Jake did this, he lead us to these two beautiful dogs.
We will share our new journey with our new additions on Jake's FB.
Best to you and your family,
Lori
Forum Timezone:
America/Denver
Most Users Ever Online: 597
Currently Online:
49 Guest(s)
Currently Browsing this Page:
1 Guest(s)
Devices Used: Desktop (43), Phone (5), Tablet (1)
Member Stats:
Guest Posters: 1005
Members: 12755
Moderators: 2
Admins: 3
Forum Stats:
Groups: 4
Forums: 23
Topics: 15022
Posts: 211515