Join The Discussion
Learn about life on three legs in the forums below. Browse and search as a guest or register for free to take advantage of member benefits:
Instant post approval.
Private messages to members.
Subscribe to favorite topics.
Join the Live Chat and more!
Dog Cancer Survival Kit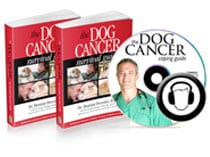 Dr. Dressler's Dog Cancer Kit includes everything to help your dog fight cancer!
A
A
A
My 10 year old boy, Jack, has a bone tumor in the middle of his tibia, left rear leg, no evidence of metastasis yet.  We know, the best treatment is amputation with chemo.  I am super concerned about leaving him with a right rear leg with hip dysplyasia.  Jack's range of motion in limited in the remaining leg.  I am so terrified on how mobile he will be.  Does anyone have experience with this?  Jack was diagnosed with hip dysplasia at 2.  I have kept him on Omega 3s and Glucosamine since then.  I am lucky to live down the street from Colorado State University Veterinarian Teaching hospital and they are taking care of him.  The best treatment option due to his hip dysplasia is SRT Radiation with CT scan but truthfully, I can't afford it.  Also, I afraid if he got the radiation, his leg will eventually fracture from the tumor and he will need amputation anyway.  Ugh.  My dad died of cancer and that happened to him…his femur snapped one night due to cancer in his bone, he never walked again.  One of my fears with not doing the amputation is that the same thing will happen to Jack.  I could really use some encouragement and advice from some pet parents faced with same situation.  Jack is 70 lbs, long legged, German Shepard/Poodle mix.  I found Jack at a kill shelter where someone dumped him as a puppy.  He is so much more than my best friend and baby boy.  I'm really struggling.  Our appointment with the Clinical Trial team at CSU for amputation in Tuesday morning.  Any advice or encouragement is much appreciated!

The Rainbow Bridge

Forum Posts: 23924
Member Since:
25 April 2007

Offline
Hi and welcome. I'm on my phone now and will write more later but wanted to get your post approved so others can chime in. 
For now I will say that Jack is in the best hands at CSU and they will be straight up front about whether or not he is a good candidate for amputation. See all our posts about CSU for some info: 
back with more later…

Virginia


Forum Posts: 16480
Member Since:
22 February 2013

Offline
Your love for ADORABLE  JACK comes shining  through.  His avatar picture is so darn cute!  Can't  wait to see more.
This is such a stressful situation  to be in, even without  hip dysplasia!
You are doing an excellent  job of doing your research  to determine the best path forward for Jack.   And l oke so many cases, nothing is clear cut and certainly  has no guarantee  with or without extra challenges.
And radiation has its own risks, regardless of available finances .  And fracture is absolutely  one of those risks.
I think you'll have  clarity after your consultation with CSU  I'm  it sure if an additional  evaluation  from a Certified Rehab Specialist  could add any additional  insight.  I can make some "generalizations " and say that dogs with hip dysplasia  and arthritis jave functioned very well with amputation.   EVERY dog is different  and every scenario has its own unique specifics.   It may be that a dog with Jack's issues would need help with a harness, or even  enjoy the benefit of a doggy stroller so he could walk a little and then jump in the stroller and have you chauffeur him around in his Royal Carriage 😎
Write down All of your questions and concerns .  Sometimes  it's  a good idea to actually video the consult so you can replay of later and really focus on everything  presented.
One thing I KNOW for certain.  You will make a decision  out of love for Jack and that will always be the right decision .
Sending  you peace and clarity and our hugs!
Sally and Alumni Happy Hannah and Merry Myrtle and Frankie too 
PS I'm  sorry about your Dad.  I know you have a loving  Guardian Protector watching  over you and Jack 💕
Happy Hannah had a glorious additional bonus time of over one yr & two months after amp for osteo! She made me laugh everyday! Joined April's Angels after send off meal of steak, ice cream, M&Ms & deer poop!
Thank you both for your responses!
Jack hasn't been using his leg for the last 2 days so we are getting a glimpse of what his Tripawd life will be like.  Carts and strollers were on my research list!  I just need to keep telling myself "we'll figure it out".  I'm a planner and the uncertainty is causing me even more stress. With Jack being in more pain these last couple days, my focus has now become "Get the leg off immediately".  I think I will feel more confident after we meet with the clinical trial team tomorrow regarding his treatment plan and I get a chance to talk to a rehab specialist. 
Jack's avatar picture was taken by my son.  Jack is a hilarious family member who makes us laugh everyday.  His personality is big and his love of his family is bigger.  After years and years of people constantly asking us what type of dog he is, I had his DNA tested using Embark.  We were surprised to learn his father was full blooded German Shepard but so many of his traits including hip dysplasia make so much more sense now.  He is the best dog and we couldn't love him more.
Again, thank you both for the advice and encouragement!  
Forum Posts: 1
Member Since:
4 May 2018

Offline

Livermore, CA

Forum Posts: 3246
Member Since:
18 October 2009

Offline
Hello and welcome Steven, your future posts will not have to wait for approval.
Please consider staring your own threat to introduce your pup and tell us more about him or her.
Karen and the Spirit Pug Girls
Tri-pug Maggie survived a 4.5 year mast cell cancer battle only to be lost to oral melanoma.
1999 to 2010
stevenmandrews said
This situation really hits home.  I have an 8.5 yr old pit mix who is going through the same thing.  We have a ct-scan and biopsy on Monday and I'm a wreck thinking about what can/could be.  How is Jack!?!  
Hi!  Jack had his amputation April 20th so we are 2 weeks out.  Yesterday, he had his stitches removed and started chemotherapy.  Jack's remaining rear leg has bad hip dysplasia and his muscles had atrophied.  He is slowly building his strength back up.  He is getting around without assistance okay.  He hops around the house and outside to potty just fine but he can't sustain it for very long, he gets tired very easily.  But, each day gets better.  He will never really be able to walk well but he does alright.  I want to be honest with you because it is a crappy situation to find yourself in, knowing the life saving treatment will cause still cause pain and discomfort in addition to the amputation itself. 
Jack had his surgery late in the afternoon on a Friday, we went to get him at 9 am Saturday morning.  When I first saw him, I felt like total crap and was thinking "what have I done?". When they brought him into the room, he wasn't using his remaining rear leg at all, he dragged himself the short distance to get to me.  It felt as if someone had staked my heart.  Saturday was horrible!  I helped him with slings all day and he was out of it for most of the day.  Saturday was one of the worst days of my life.  But Sunday, he started moving around the house on his own, hopping short distances but we still helped him using the sling for rear end support when he went outside to potty.  Monday, no help was needed anymore.  He could maneuver anywhere he wanted to go by hopping.  Monday was amazing.  Each day he gets stronger but he does have some off days.  The chemo was administered in his rear leg and today he is having trouble using it for support.  His back end keeps dropping when he is trying to hop around.  I'm pretty sure this is due to the chemo so hopefully it will get better.
I do not regret having Jack's cancer leg amputated.  It is the best course of treatment, combined with chemotherapy, for osteosarcoma.  It sucks these sweet souls have to deal with it.  I remember thinking that I wish someone would make the decision for me.  Just giving the go ahead for the amputation was so freaking hard.  I cried all afternoon when I gave the okay.  That Saturday, when I picked Jack up, I started saying "we'll figure it out" as a mantra.  I did it mostly so I wouldn't lose it. But amazingly, we have figured it out and you will too.  I promise.  Do what needs to be done, you both can get through it.  It will be hard but it will also get easier.  Jack may need a wheelchair to go on walks and he will get pushed in a dog stroller but he is with his family, that is all that matters to him.
As for what to expect, when the biopsy comes back and if it confirms cancer, you will probably be looking a chest x-ray and maybe organ ultrasounds to see if it has spread.  Jack's tumor was in an odd place, right in the middle of his tibia, so they suspected it was the result of another tumor spreading, that is why we had the organ ultrasound.  No other tumors were found.  Spreading to the lungs is very common but won't show up on x-ray until they are the size of a fingernail, this is why chemo after amputation is so important.  To hopefully kill any rogue cells remaining in the body.  Jack did not have any evidence of metastasis which was the main reason we went ahead with amputation.  If he had the cancer in his lungs and considering his hip dysplasia, I probably wouldn't have done the amputation and just prepared myself and him and enjoyed our remaining time.  
If cancer is confirmed and you decide to go with the amputation, it will probably happen fast.  Osteosarcoma is a fast spreading cancer and is a bitch.  I hate her.  
Best of luck to you and your pup.  Please let me know what happens and feel free to ask me anything!  The worst part of this whole horrible thing was everything leading up to that Saturday.  I couldn't eat, could barely sleep, and was a wreck.  Everything after has been a breeze compared to that time.  I'm sorry you are also going through it.  
Remember, you'll figure it out.  Whatever choice you make is made out of love. 
Jennifer

The Rainbow Bridge

Forum Posts: 23924
Member Since:
25 April 2007

Offline
Jennifer, your honesty and insight is sooooo appreciated, thank you for sharing!
Forum Timezone:
America/Denver
Most Users Ever Online: 597
Currently Online:
49 Guest(s)
Currently Browsing this Page:
1 Guest(s)
Devices Used: Desktop (43), Phone (5), Tablet (1)
Member Stats:
Guest Posters: 1005
Members: 12755
Moderators: 2
Admins: 3
Forum Stats:
Groups: 4
Forums: 23
Topics: 15022
Posts: 211515