Join The Discussion
Learn about life on three legs in the forums below. Browse and search as a guest or register for free to take advantage of member benefits:
Instant post approval.
Private messages to members.
Subscribe to favorite topics.
Join the Live Chat and more!
T-shirts, Cards & Gifts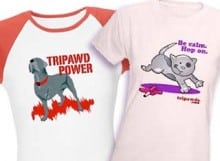 Visit the Tripawds Gift Shop for fun three legged dog/cat t-shirts & more! Browse all designs.
A
A
A

The Rainbow Bridge

Forum Posts: 23910
Member Since:
25 April 2007

Offline
Wonderful news! Cookie is on the recovery road. Yay!
Thanks for sharing with us Jackie, it's much appreciated. We look forward to more updates.
Thank you Jackie. If the surgery wasn't enough I get to work and our operating system was down. Created tons of extra stress. I did get the call from the surgeon that all went well. I was surprised that he was advised by the cancer dr to x Ray the other limbs before proceeding but thankfully the other limbs were clear of anything so the surgery went as planned.  
Here is my next concern. It is a 24 hour hospital and they keep her 2 nights. I am to pick her up Sunday. I am allowed to visit but she is so sensitive and we are so close I'm afraid visiting her and leaving without her would break her heart. I discussed this with the surgeon and he agreed it may be better to just wait until Sunday and pick her up. I am glad she will be under care for two days just to be safe. Thank you for all your concern. We are happy to have a wonderful team of friends to give us encouragement.  Will post again soon 

Livermore, CA

Forum Posts: 3244
Member Since:
18 October 2009

Offline
Glad to hear surgery went well.
I know it's hard to not see her.   For me and my dog's I would not visit when they are at the hospital overnight for just the reasons you say.  It's hard enough dropping them off for surgery- I could not see them and leave without them.
Try and get some rest and make sure you have everything you need at home for Cookie's recovery, that includes treats for you!
Karen and the Spirit Pug Girls
Tri-pug Maggie survived a 4.5 year mast cell cancer battle only to be lost to oral melanoma.
1999 to 2010
Hey there, so glad for more input. Honestly, it's a mixed bag. I can help by giving you choices, and they're all up to you. 
You can wait and let her do her thing. My suggestion there would be to drop off a piece of clothing that you've worn well, aka something with a good scent of you. A shirt that you've worn enough to smell like you, a towel that you've used, something that really has a good scent, especially a sweaty scent.
If you do that it will give her comfort, let her know you're there, just not in person. Any time we had a furbaby that came in for a couple of days or so we would strongly recommend it. Even a blanket that you both cuddled with. 
Option 2, you can spend some time with her tomorrow, then take her home on Sunday. I would still bring something you can leave behind, but she's going to be doped up, have pain meds on board plus the after effects of anesthesia. If you think they'll let you visit for 45 min to an hour then leave one of your worn shirts with her for comfort I say go for it if YOU can handle it. I did that with Mitchell, Huck was home the same night of the surgery. One, they had no overnight care. Two, he was feral and we didn't want him to freak and hurt himself so we took him home. I have a lot of post op care experience, so I was actually better having him home.
If you haven't been around a lot of this kind of stuff you might be better to just stay home and let them take care of her. It's temporary and you'll both be fine once she's home. She'll be fine either way. That's the facts, your choice.
Remember, this is coming from somebody that could assist surgery and eat a sandwich in the room around the doorway lol. You burn energy doing that work and you grow a stomach for it like driving and eating a donut lol. 
If you have a weak stomach leave it be. You can still send something that smells like you. Just my opinion. Once she's home you will have your hands full and little sleep for a couple of weeks. There it is. Go shopping for stinky smelly wonderful foods to spoil her with and stuff to make her comfy once she's home. 
I'm so glad she did well, I'm smiling as I'm typing here. You're all going to be fine 😊
Jackie and Huckleberry ❤️
Hugs,
Jackie, David, Mitchell, Andy Oscar, and the coolest feral tripawd kitty Huckleberry


Virginia


Forum Posts: 16465
Member Since:
22 February 2013

Offline
YAAAAAAAAAY FOR COOKIE!!!! 🙂 🙂 🙂   SURGERY OS DONE AND SHE'S SEEING BEAUTIFUL PINK ELEPHANTS!!! 
   And thank you sweet Jackie soooo much for sharing the good news!!  We are all so relieved!
Good feedback on whether to visit or not.  Whichever scenario fits you and Cookie best is the one!  I do agree that Cookie will still be pretty well medicated tomorrow so probably wouldn't get too hyped up after you left anyway!
Remember whenever you do go see her, just ignore the incision for now.  She just wants to see your smiling face telling her what a good girl she is 🙂 🙂
Now go set some good rest!! 
Hugs
Sally and Alumni Happy Hannah and Merry Myrtle and Frankie too!
Happy Hannah had a glorious additional bonus time of over one yr & two months after amp for osteo! She made me laugh everyday! Joined April's Angels after send off meal of steak, ice cream, M&Ms & deer poop!
Thank you for the feedback. I can't wait to pick her up and bring her home.  She is in really good hands and for that I am very thankful. 
I know the first week will be tough but thank God the biggest hurdle is over. 
I cannot not wait to post a pic of her on the road to recovery. 
Now I am exhausted and going to get some sleep and any advice regarding the first few days I would appreciate
thank you all for your wonderful advice and support. It is priceless 🤞😇

Forum Posts: 6471
Member Since:
21 May 2016

Offline
Oh my goodness I feel my heart is going to explode with joy, no kiddin' 💥💗💥
Cookie is out of surgery and all is well
👏🏽👏🏽👏🏽 Woooooohooooooooo 👏🏽👏🏽👏🏽👏🏽
She will have such a great life on three, you won't even know she ever had four legs, promise 😃
As for visiting, I didn't but we did take a tshirt to replace us 😉
Recovery wise, traction is of upmost importance, if you have slippery floors get some carpet, rubberunderlay or yoga mats to create paths for Cookie to hop on. 
A harness may be helpful in the future but Cookie being a small dog you probably don't need one just now as you can lift her easily if need be.
Pay special attention to pain meds to make sure she is comfortable at all times. 
And expect a possible crash between days 3-5, that is normal.
If Cookie stops eating, you're intitled to be Masterchef for her, everything and anything is allowed to have her eat, eggs, bacon, steak, sausage, you name it! 
Oh boy, I cannot wait for her to be back home and you posting pictures !!!!
Sending you a big hug and an avalanche of cuddles to your cutie pie 😘😘😘🐮💫✨🌟🌹
Eurydice 77kg/170lb Great Dane limping end of April 2016, amputation (right front leg/osteosarcoma) 4 May 2016 6 courses of carboplatin followed by metronomic therapy, lung mets found 30 Nov 2016. 3 courses of doxorubicin, PET scan 26 Jan 2017 showed more mets so stopped chemo. Holistic route April 2017. Lung X-ray 5 May 2017 showed several tennis ball size mets, started cortisone and diuretics. Miss Cow earned her XXL silver wings 12 June 2017, 13 months and 1 week after amputation and 6 1/2 months after lung mets, she was the goofiest dawg ever and is now happily flying from cloud to cloud woof woofing away :-) 

Latham, NY
Forum Posts: 115
Member Since:
1 October 2017

Offline

So happy to hear things are going well!  Soon she'll be home with you, Doug, to start her new 3-legged life!  
Dawn and Fallon
(and Paul and Maggie)
Fallon (Tripawd) and Maggie (quadpawd), Greyhounds.  Dawn and Paul, 2 leggers.
Fallon's left front leg was amputated due to osteosarcoma on 10/11/17.
Nothing But Love in Her Heart - dawn3g.tripawds.com

The Rainbow Bridge

Forum Posts: 23910
Member Since:
25 April 2007

Offline
Those are great signs that she's going to rock this recovery! Hope you have a great reunion today. Keep us posted.

Schofield, WI
Forum Posts: 1411
Member Since:
13 August 2015

Offline
Glad to hear Cookies eating and taking some steps.  Well done Cookie!  I found out very early on in this journey that if I stayed positive and acted like this was all normal our Max followed my lead…if I panicked he did too.  So stay strong once Cookie is home..she'll feed off you and your emotion.  Sending hugs!  Things will improve each day!
That is so true! They just feed off of our emotions, even if it's just us having a bad day. I wish I knew decades ago what I know now. Da Cookie Monster is going to rock this!
Hugs,
Jackie, David, Mitchell, Andy Oscar, and the coolest feral tripawd kitty Huckleberry

Cookie is home. Already doing the three leg hop pretty good. She is heavily sedated on the patch which I am to take off in three days. I just gotta get her to eat. Gonna mAke ground beef and cheeses at 2 pm to give with her meds.  I know the first few days are the hardest. She gets her bandage off in a week then stitches out in 2 weeks. I may work from home the entire 2 weeks but have one week scheduled to work at home currently 
have to see how it goes. 

Latham, NY
Forum Posts: 115
Member Since:
1 October 2017

Offline

Yay!!  You got this, Doug.  My Fallon didn't eat for a few days in the hospital and I made her everything I can think of–scrambled eggs opened the door to her eating (I was sure it would be bacon).  It was the pain meds that were probably messing with her, so try what you can for her now, but I bet she will improve significantly once she's coming off her pain meds.  The first days are rough, but you'll see improvements daily–and she's in the best place for the best care!!!
Yay!
Dawn and Fallon
(and Paul and Maggie)
Fallon (Tripawd) and Maggie (quadpawd), Greyhounds.  Dawn and Paul, 2 leggers.
Fallon's left front leg was amputated due to osteosarcoma on 10/11/17.
Nothing But Love in Her Heart - dawn3g.tripawds.com
Wonderful news, I'm glad she's home! I know you are too

Now you can both get some rest. Looking forward to pictures!!
Hugs,
Jackie, David, Mitchell, Andy Oscar, and the coolest feral tripawd kitty Huckleberry

Forum Timezone:
America/Denver
Most Users Ever Online: 597
Currently Online: pjpamjean, carolmaria
44 Guest(s)
Currently Browsing this Page:
1 Guest(s)
Devices Used: Desktop (40), Phone (5), Tablet (1)
Member Stats:
Guest Posters: 1005
Members: 12751
Moderators: 2
Admins: 3
Forum Stats:
Groups: 4
Forums: 23
Topics: 15019
Posts: 211431