Join The Discussion
Learn about life on three legs in the forums below. Browse and search as a guest or register for free to take advantage of member benefits:
Instant post approval.
Private messages to members.
Subscribe to favorite topics.
Join the Live Chat and more!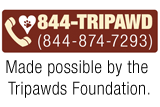 Want to talk with a friend who understands? Call the toll-free
Tripawds Helpline
!
A
A
A

Michigan
Forum Posts: 1400
Member Since:
2 April 2013

Offline
Purrkins! 

I just love you! Just like kids, you can spend so much money on toys, but they just want the boxes!  lol 

Donna
Donna, Glenn & Murphy  http://murphyh......pawds.com/
Murphy had his right front leg amputated due to histiocytic sarcoma at 7 years old.  He survived 4 years, 2 months & 1 week, only to be taken by hemangiosarcoma at 11 1/2 years 6/12/17  

Virginia


Forum Posts: 16373
Member Since:
22 February 2013

Offline
PURRKINS, YOU ARE PEOTRY IN MOTION!!   
YOUR BALANCE AND FLUID MOVEMENTS ARE A BEAUTIFUL THING TO WATCH 🙂
Okay, not sure how watching a three legged cat playing with a Q-tip can bring happy tears to my eyes…but it sure does!! 🙂 🙂 🙂
This is why we take the risks we do.  With all the hope in the world for an outcome like this we move forward through the fear and uncertainties.   Seeing Purkins sooooo HAPPY just lights up my world! 🙂 🙂
This really is quite poignant!  And adding the music….PURRFECT CHOICE!!   Quite a victorious vibe! 🙂
Thank you Holly and Purrkins…a wonderful video on so many kevels!
Love and hugs





Sally and Alumni Happy Hannah and Merry Myrtle and Frankie too!
Happy Hannah had a glorious additional bonus time of over one yr & two months after amp for osteo! She made me laugh everyday! Joined April's Angels after send off meal of steak, ice cream, M&Ms & deer poop!

Here and Now

Forum Posts: 11427
Member Since:
25 April 2007

Offline

Germany
Forum Posts: 506
Member Since:
14 December 2016

Offline
Purrrrrkins!
Your grace is amazing! I am afraid we've never mastered looking that graceful with mundane objects! 🙂
As a matter of fact we are so impressed that we put our praise into song for you … 

Guardian of Manni the Wonderdog. -Or was it the other way around?
Osteo and amputation in Dec 2015. Second, inoperable, primary osteosarcoma found in June 2017.
The end of our adventures came Dec 10, 2017. 2 years to the day.
Thanks everyone
He lights up my world everyday he is the happiest kitty losing his leg hasn't changed anything other then the humans have less room to move because of his kitty stairs 😉
He knows no limits
We play in the hallway, "Purrkins runway "😉 he has more room to run after his "mundane" 😉 items w/o furniture getting in the way!
He has always been obsessed with Q-tips ? Not so mundane to Purrkins! They fly easy and light weight must be purrfect for Purrkins? I have to lock the q-tips up?!?!? Child proof locks on q-tip cupboard. He broke into everything else we tried !😂
Did the Admin use a emoticon? 😮😎
OMC Tina & Manni LMAO

👏🏻👏🏻🤣😅
Manni wasn't sure he wanted to sing along was he OMC & Mom if you insist I will sing along 😉
THANK YOU for that OMC my belly hurts. That's priceless !!
Purrkins & Mom enjoyed 😍 Here is the proof:)
Give that boy a huge kiss for us please LOVE IT!!
Love to all
😘😽


Schofield, WI
Forum Posts: 1411
Member Since:
13 August 2015

Offline

Florida
Forum Posts: 37
Member Since:
23 February 2017

Offline


Livermore, CA

Forum Posts: 3200
Member Since:
18 October 2009

Offline
Hey- maybe Purrkins can be the first Nose Work cat! 
Q-tips are used in Nose Work to 'hold' the odor and then the q-tips are hidden.  Although I don't think you are allowed to play with the hide.
Karen and the Spirit Pug Girls
Tri-pug Maggie survived a 4.5 year mast cell cancer battle only to be lost to oral melanoma.
1999 to 2010

Virginia


Forum Posts: 16373
Member Since:
22 February 2013

Offline
MANNI!!   We feel your embarrassment sweet boy!   We noticed how hard you tried tomp ignore your silly human before finally being forced to join in!!   We appreciate  you joining in though!  No offense to your human, but you have a much better singing voice!! 🙂
Even Purrkkins tried to "step away from the computer"!! 🙂
Happy Hannah had a glorious additional bonus time of over one yr & two months after amp for osteo! She made me laugh everyday! Joined April's Angels after send off meal of steak, ice cream, M&Ms & deer poop!

The Rainbow Bridge

Forum Posts: 23770
Member Since:
25 April 2007

Offline
Bhahahaha! Oh my gosh we needed this laugh to kick off our Friday, thank you for sharing the joys of the simple things in life! 


Canada
Forum Posts: 1063
Member Since:
7 July 2017

Offline
Purrkins, you are seriously bloomin cute!!! LOVE your Q-tip game! You are sure attentive to your compooter maybe you can produce your own video next… with commentary!
 Saxton is your silent partner in crime…

 very wise fella, very wise!
(Great tip about not leaving the Q-tips out! Another serious play toy are elastic hair ties!!!🚨)
Manni my Man! You have a fantastic singing voice!

You shouldn't be so shy!

 You can join my singing Duo! 🎤 🎶 
Tina, I don't know how you didnt pee yourself laughing with the looks Manni was giving you! Way to be persistent too, you knew he would have to correct your style after a while and show you how the REAL DAWGS HOWL!!! 🐺 

Fantastic videos you guys! Thank you!❤️❤️❤️


Forum Posts: 1188
Member Since:
27 July 2014

Offline
Purrkins sure knows how to have fun with that q-tip. I'm sure you didn't put it in your ear first.


 It just reminded me of a cat that lived across the street from our local firehall where the firefighters used foam earplugs when doing some kind of drills. The firefighter litterbugs were discarding the ear plugs on the ground and the cat was eating them. When the cat become sick the vets found many earplugs in the cat's stomach! It turns out cats like the taste of ear wax. 

 Yup, you heard it here folks. 
I love Purrkins agility. The body just knows how to move. There is a way when there is the spirit.
Although my cats can go outside they take great pleasure being inside and playing with a single leaf. Right now Mona is enjoying scratching her head on her cardboard scratching box. We can learn so much from our pets who enjoy the simplest things.
Purrkins sure had lots to say to Manni. Mona was on my lap sleeping, her ears moved, she did a deep growl and went back to sleep. She leaves the defending of the house to me. Obviously Purrkins takes more control of the situation than Mona.
Hugs and scratches Purrkins.
Kerren and Tripawd Kitty Mona
Forum Timezone:
America/Denver
Most Users Ever Online: 597
Currently Online: foggidawn
74 Guest(s)
Currently Browsing this Page:
1 Guest(s)
Devices Used: Desktop (69), Phone (6)
Member Stats:
Guest Posters: 1005
Members: 12579
Moderators: 2
Admins: 3
Forum Stats:
Groups: 4
Forums: 23
Topics: 14967
Posts: 210716