Join The Discussion
Learn about life on three legs in the forums below. Browse and search as a guest or register for free to take advantage of member benefits:
Instant post approval.
Private messages to members.
Subscribe to favorite topics.
Join the Live Chat and more!
Looking For A Harness?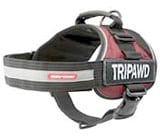 Shop Tripawds Gear for the best harnesses for three legged dogs!
A
A
A
Hey Folks, this is sort of a mobility question so I thought I'd put it here so…
What do you think is the easiest way to wipe the paws on a three legged dog? I assume that cat's paws don't need much wiping, right? So this question is more for the dog folks.
I ask because Tripawd Delilah's people asked this in their latest blog post, Heartwarmth. If you haven't been keeping up with their blog it's really fun, you should definitely take a hop over there sometime.
Anyhow, they ask:
It's 40*, just warm enough for the snow in the backyard to start melting and turn my backyard into a mudpit, so obviously today is the day that Bailey wants to play… which brings me to a question to the tripawd community!  How do you wipe her paws when she comes inside?  Bailey comes in and sits and gives me her front right paw, I wipe, front left, I wipe, she stands, back paw, wipe, other back paw, wipe, free!  

Delilah is proving to be a little more difficult.  It may not have anything to do with the tripod thing and just with the fact that she doesn't seem very comfortable with us wiping her paws OR she interprets it as an invitation to play and she jumps up on Mike and tries to get his face.  It did take us a lot of treats to get Bailey to the paw routine we have now, but Delilah doesn't seem to care for treats!  She usually spits them out and Bailey eats them off the floor.  Any suggestions?  We thought about getting a BIG foot wipe-y mat and putting it in the kitchen so maybe she could just walk on it?
I think it's a matter of 1) getting her to not mind people touching her paws, and 2) finding that treat that she will do ANYTHING for!
Here's our reply:
Well, there's slightly different techniques for a front and rear legger. For a front-legger we would just have our Jerry sit and wipe them that way. For our Wild Boy Wyatt Ray , we have him do an "over", a very cool trick we taught him, where he lays on his side to get a treat. We use that maneuver to wipe his paws. It's definitely easiest that way but it took practice.
Do you have any suggestions? How do you take care of muddy paws?
Here's Delilah!

Westminster, MD
Forum Posts: 1397
Member Since:
31 August 2013

Offline
Delilah is absolutely gorgeous !! I guess everyone has their own way of wiping paws on our Tripawds. I have to say, for myself and Polly, she has learned from early on to lay down on command, belly up for me since she was 3. I have had to do, and still do, regular checks on her entire belly/chest area since developing Immune mediated thrombocytopenia, for large bruising and/or petechiae (smaller hemorrhagic bruising usually seen in ITP). Now I always just lay a thick towel or blanket down in my kitchen, right as we come in the door from the backyard, and Polly goes right to the towel and lays down so I can clean her paws. She is really a great dog! I did make a huge mistake about a month after her amp surgery that I can laugh about a bit now……I brought her inside after a trip to go potty in our yard and forgot for a minute that she lost her front leg, picked up her back paw from behind her to check for mud, her only leg in front gave out and she toppled over forward, and before I could catch her, she did a face plant into the rug. She was not injured at all and looked at me, wagged her tail as if to say, " mom, you are a bit dumb today"! Thankfully, I always do everything for her with some kind of padding under her, but I felt completely terrible for about a week after that. I will never make that mistake again.
Bonnie & Polly
Hi there!
I learned a great trick from a vet tech for my front-leg tripawd when I brought him in for his first nail trim sans front left leg. I asked if she magically convinced him to roll over, a trick he never learned. He's a big 100-lb Dobe (well, closer to 85 lb now thanks to a healthier grain-free diet), so I couldn't force him to roll over. She said that she just has him lean against her and then she picks up his feet. I'm too little (5'2″) to manage this maneuver with his front paw, so I have him sit and then I put my shoulder under his ribs to support his weight so I can pick up the front foot. He is a bit resistant to this but eventually obliges and actually tries to "sit pretty" so he is balancing his own body weight while I wipe the front foot. Then I have him stand and I bend my knees under his belly/groin area and allow him lean his weight on me as I pick up each back foot.
A few months ago, I was asked to share a video of this process, and my husband and I just happened to be home today without our 2-year-old, so we made a video. I've been trying to upload the video from my phone, but it's not going so well. It's a very stupid "smart" phone. Hopefully I will have the video by tomorrow on YouTube so I can share it with everybody.   
Ohhh we can't WAIT to see this video! Remember just paste the YouTube URL on a line by itself in your forum post and it will appear inside your post. Let me know if you need help.
Thanks for sharing, that sounds very do-able!
Forum Posts: 50
Member Since:
19 September 2013

Offline
Boomer is my right rear tripawd and Amy is my quadpawd.  We go in and out of the yard through the garage and this time of year it is too cold out there for Boomer to be willing to sit for feet cleaning.  I can very easily do his back leg by just lifting it up near his knee (to better support his weight and not stress the lower joint).  For his front legs, I usually stand over him with my legs at his shoulders, I gently squeeze his body with my knees and lean slightly to one side to shift his weight and clean the foot that has less weight on it, then lean the other way and do his other foot.  He is about 52 lbs and it works well for us.  Occasionally, I will  kneel down and use my body and arms to support his weight but he seems to feel more secure and stable with me standing over him as opposed to kneeling.

New Haven, CT
Forum Posts: 1193
Member Since:
27 December 2012

Offline
I have an unhelpful response: 1) smile b/c that means your doggie was well enough to traipse out there on his own and get a little dirty! 2) smile b/c your doggie came back inside, into a home that values hygiene.  3) Vacuum more.

~ Katy & Jackson
ACL tear in right hind leg 12/5/12 and scheduled ACL repair surgery 12/21/12. Pre-op xrays revealed osteosarcoma. Amputation 12/28/12.  Chemo (carboplatin) started Jan 10, 2013 and ended on April 5, for a total of 5 doses. He handled carbo like a champ!  No side effects.  We started metronomic therapy at his third chemo and have been also doing some holistic treatments.  He's a lively, playful 10 year old huskie-boarder collie and a very proud member of the Winter Warriors!  Our love. Our funny little guy!
Great suggestions! Thanks for the smiles Katy, that's wonderful advice.
Cool video Cassandra, thank you so much! It's nice to see you both. I've added it to our Tripawds "health tips" YouTube playlist. Feel free to post more if you'd like!
I am lucky that Barret is very agile, so he hops around on his back legs while I wipe his front paw and I kind of prop him over my knee to support the back paws. 
He doesn't mind being touched but I found this product called the Lickety Stick that is PERFECT for this kind of thing. I use it for my other dogs while we're doing unpleasant things like nail trimming or (yikes) anal gland expressions. My guys love it. They don't even realize you're doing anything to them since they're so occupied by the bacon flavored goodness in a tube! I haven't tried the stuff for cats, but they do make it. 
Cats: http://www.that…..tik-feline
Dogs: http://www.that…..iver-1-6oz
Barret was diagnosed with Hemangiopericytoma May 16, 2013. Front left leg/scapula/pectoral muscle was amputated on June 11, 2013 and we've never looked back. Follow our story on http://barret.t.....pawds.com/ and read my column on That Pet Blog

We have one very helpful bit of kit: a Dirt Trapper runner in our conservatory by the back door!  If you make your dog stand on it for about 30 seconds, it sucks pretty much all the moisture and mud off them!
But otherwise, I have also taught Sid to lean against me and to trust me while I pick up each paw in turn.  My husband can't do it, but maybe because he does less with him and doesn't have that degree of trust from him.  I could try to get a video too, but it might take a few days!
Ooh do you have a picture of the dirt trapper?
Yeah, it's a lot about teaching them to trust and lean on their humans. If you can do a video that would be cool!
The dirt trapper runner is one of these. 
This is a UK company, but I'm sure there is someone in the US who does something similar.  It's a heavyweight rubber-backed mat made of highly absorbent cotton fibre.  When it stops being effective, you just toss it in the washing machine and refresh the fibres.  It works really well.  We have one at the front door too, but it tends to 'creep' on the carpet because it doesn't have the heavy rubber backing.
Oh interesting! Yeah I've seen those before, thank you.

Forum Posts: 825
Member Since:
18 September 2013

Offline
I'm a bit late to this thread, but we have this mat that soaks up water (and it actually works pretty well). We also have a pretty brown rug that does essentially the same thing, but is a bit prettier… not sure why it isn't online yet though. 
I have never tried this paw wash contraption… I think its hard enough to get them to stand still to wipe the paws, let along was them with this thing, LOL! Would make for a funny video

HUGS! Heather and Barret
Barret was diagnosed with Hemangiopericytoma May 16, 2013. Front left leg/scapula/pectoral muscle was amputated on June 11, 2013 and we've never looked back. Follow our story on http://barret.t.....pawds.com/ and read my column on That Pet Blog

Forum Timezone:
America/Denver
Most Users Ever Online:
597
Currently Browsing this Page:
1
Guest(s)
Member Stats:
Guest Posters: 1023
Members: 8721
Moderators: 2
Admins: 3
Forum Stats:
Groups: 4
Forums: 23
Topics: 15305
Posts: 215267
©
Simple:Press
—