Join The Discussion
Learn about life on three legs in the forums below. Browse and search as a guest or register for free to take advantage of member benefits:
Instant post approval.
Private messages to members.
Subscribe to favorite topics.
Join the Live Chat and more!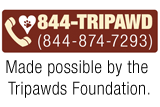 Want to talk with a friend who understands? Call the toll-free
Tripawds Helpline
!
A
A
A
Has anyone had any experience with "I and Love and You Raw Grain-Free Dehydrated Dog Food"? I got my dog the Raw Beef Boom Ba Dinner flavor. Right now my dog is on the prescription Hill's Science Diet Metabolic + Mobility and Joint Care chicken flavor. I usually get the biggest bag, in this case the biggest of the Hill's is 24 pounds of food. Draco will go through a big bag within a month. I thought about feeding him a raw diet, but it just seems so expensive and time consuming to do. I also feel like I will mess it up and he'll not get the proper nutrition he needs if I prepare his meals homemade. I'm already barely struggling to cook for myself (does microwaving count as cooking for myself?)! I can't imagine how I'm going to prepare homemade food for Draco. 
This "I and Love and You" brand seems to have raw meat and veggies dehydrated, just need to add water and their 5.5 lb dehydrated makes up to 36 pounds of food. Description of it below. 
Would like to know if anyone else has any experience with it??
Draco's dad – RJ
Key Benefits
Free-range beef is the very first ingredient in this nutrient-rich recipe that's delicious and easy on his tummy.
Whole eggs, peas, sweet potatoes, carrots, spinach and more deliver complete and balanced nutrition along with natural antioxidants and fiber.
No grain, gluten, corn, soy, rice, fillers, by-product meals, GMOs, artificial colors, flavors or preservatives.
Proudly made in the USA; minimally processed using gentle dehydration methods to preserve all the natural flavors, tastes and nutrients.
Just add water and stir–4-ounce bag makes 1 pound of fresh food; 1.5-pound bag makes 10 pounds of fresh food; 5.5-pound bag makes 36 pounds of fresh food.
Servings
Each 1.5-lb bag makes about 16 cups of fresh food
Each 5.5-lb bag makes about 60 cups of fresh food

The Rainbow Bridge

Forum Posts: 23805
Member Since:
25 April 2007

Offline
We don't have experience with this one but it sure gets excellent reviews on the Dog Food Advisor, one of our go-to sites when we choose dog food. 
Be sure to check with your vet before switching, just to make sure Draco can handle that sort of switch right now. His body's been through so much I'd hate to see you deal with GI issues.

Santa Fe, NM

Forum Posts: 197
Member Since:
19 July 2016

Offline
I also feel like I will mess it up and he'll not get the proper nutrition he needs if I prepare his meals homemade. I'm already barely struggling to cook for myself (does microwaving count as cooking for myself?)!
Draco's dad (sorry I don't know your "real" name) this is exactly what I worry about. and I too struggle to feed myself – I don't even have a microwave! and so much of the information out there about canine diets is conflicted and complicated. 
Thanks for the tip on I and Love and You – I'm going to check it out!
Someone, and I can't for the life of me remember who or where other than here on Tripawds somewhere, just posted her process for homemade food – I think just the past two weeks or so. I can't for the life of me find it now. Her recipe seemed really doable even for someone who's "fear of kitchen" is extreme.
Good luck and hugs!
Teri and Roxy and Angel Isa
Right rear leg amp 7/12/16 due to OSA. Metastatic lesion on her right front leg, January 2017. Joined the Winter Warriors January 19, 2017. Run free my sweet girl.

Germany
Forum Posts: 506
Member Since:
14 December 2016

Offline
During this journey the feeding issue has become a major obstacle for me -mainly because I started to do my research on this, too. And once you start you learn things you wished you had never known because it makes things even more difficult. 😊
I generally like the dehydrated raw stuff, too. What I personally don't feed is whole eggs, only the yolks because I read somewhere that the white can cause the dog to not take on calcium if I remember that correctly. 
I don't feed carrots because of the high amount of carbs that are turned into sugars, I can't feed sweet potatoes because that can be difficult if you already have thyroid issues, which we do *sigh* 
I made a list of dos and don'ts for veggies and kept coming up with -of all things- kale and cabbage as being healthiest. Imagine that. 
I think this is such a difficult topic and if I had a healthy dog I still wouldn't know what to feed. Let us know how you get on with it!
tina & Manni
Guardian of Manni the Wonderdog. -Or was it the other way around?
Osteo and amputation in Dec 2015. Second, inoperable, primary osteosarcoma found in June 2017.
The end of our adventures came Dec 10, 2017. 2 years to the day.

Forum Posts: 2002
Member Since:
14 February 2016

Offline
I have not tried the brand, but I know someone who knows more about it.  I mentioned your post to her, so hopefully she, or someone from the company can provide more details about the product.  I actually haven't seen it on the shelves – where did you find it?
For what it's worth, I also could not see preparing home cooked meals when Otis was diagnosed – I bately have time to prepare meals for myself!   Otis and Tess went grain free (as is Gator) and I used dehydrated raw as a topper/treat.
Otis - 106 pound lab/Dane mix, lost his right front leg to osteosarcoma on Febuary 9, 2016.  Four rounds of carboplatin completed in April, 2016.  Lung mets August 25, 2016.  Said goodbye too soon on September 4, 2016.   Lost his adopted sister, Tess, suddenly on October 9, 2016. likely due to hemangiosarcoma.  
Wherever they are, they are together.

Virginia


Forum Posts: 16398
Member Since:
22 February 2013

Offline
I've seen it at Whole Foods…or at least some variation of "I and Love and You".  Can't remember exactly which of their products I tried…It may have been that specific one.  But with all LARGE dawgs, it was just too expensive (as is everything with large dogs).
For my Happy Hannah (another LARGE chunk dog!)  I used Honest Kitchen some and incorporated a little homecooking too.
Good information Tina and RJ
Hugd
Sally and Alumni Happy Hannah and Merry Myrtle and Frankie too!
PS. TERI!   HAHAHA.  I also have exteme "fear of kitchen"…..no microwave…an oven that doesn't work…..and only one burner that works! 🙂  If it can't be "cooked" or warmed up in a toaster oven, it's pretzels and cheese for me!
Happy Hannah had a glorious additional bonus time of over one yr & two months after amp for osteo! She made me laugh everyday! Joined April's Angels after send off meal of steak, ice cream, M&Ms & deer poop!
After some time feeding Draco this food along with his current prescription dry food (weight management and joint mobility), here are some things I've noticed:
Draco likes it, but he normally likes eating in general so I can't tell if he really loves it or if he's just happy that it's meal time.
I expected his stool to be more firm overall, but I noticed his stool would have chunks of the food in it, like carrots especially and something else which I don't know what ingredient it is. So I'm assuming those ingredients aren't being digested well. I also read in the Dog Cancer Diet that carrots are not good to include due to the sugar and how cancer feeds off it. 
My picky eater chihuahua, Fez, won't eat it. Normally he's a grazer throughout the day, but I'm not going to leave this food out throughout the day since it's raw wet food.
The 5.5 pounds of dehydrated bag that I have is almost done, probably have a week or so left. I've been feeding basically a cup dehydrated into a hydrated into two cups, per day. I'm going to try The Honest Kitchen Force as it doesn't show to have carrots. It's also recommended for seniors and picky eaters. It also comes in a 10 lbs. bag. 

The Rainbow Bridge

Forum Posts: 23805
Member Since:
25 April 2007

Offline
Great feedback! We've also noticed that Wyatt Ray doesn't digest carrots or peas very well either. I've read that for dogs, the more blended the ingredients the better as their system isn't set up to process and break down certain veggies. Honest Kitchen should be a good bet as they don't leave chunks of veggies in their mixes, at least the ones we've tried. Good luck!

Forum Posts: 61
Member Since:
26 August 2017

Offline
I currently am feeding Charlie the cancer diet from Darwin's.  Its a raw food diet sent frozen.  They have several other diets formulated for different health issues as well a a good selection of food for a normal dog.  Not inexpensive.  Charlie is 90# now but was close to 100# and the cancer diet was costing me 250/month.   This is not a KETO diet.
I am considering to  a KETO diet which will have to be homemade.  That's a high fat, moderate protein, low carb diet.  Go to ketopetsanctuary.com and they have a handbook on the diet you can download for free.  Diet is based on the fact that cancer needs glucose, carbs are sugar.  Excess protein is converted into glucose.  Working on this diet plan this weekend.
Its all information overload, I feel overwhelmed sometimes.  I've done homemade before and I'd spend a couple of hours making up a big batch and then freeze in 1 or 2 meal portion sizes.
I purchase free range grass fed beef from USWellness Meats for myself and they have a great line of raw products for pets that can form the base for your homemade food.
Good luck to everyone.
Forum Timezone:
America/Denver
Most Users Ever Online: 597
Currently Online:
58 Guest(s)
Currently Browsing this Page:
1 Guest(s)
Devices Used: Desktop (53), Phone (5)
Member Stats:
Guest Posters: 1005
Members: 12613
Moderators: 2
Admins: 3
Forum Stats:
Groups: 4
Forums: 23
Topics: 14974
Posts: 210886