Join The Discussion
Learn about life on three legs in the forums below. Browse and search as a guest or register for free to take advantage of member benefits:
Instant post approval.
Private messages to members.
Subscribe to favorite topics.
Join the Live Chat and more!
Dog Cancer Survival Kit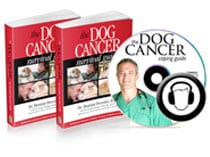 Dr. Dressler's Dog Cancer Kit includes everything to help your dog fight cancer!
A
A
A
I had to say goodbye to Charlie last night.  He started coughing last week and today was coughing up blood.  X rays showed the cancer spread to his lungs.  We had 9 months with him after diagnosis so I am glad for that but it really doesn't make this any easier.   Thanks to everyone on this site, you provided me with great help, encouragement and comfort.
Charlie was my sons dog.  Last year he enlisted in the army and is stationed at Fort Hood, Texas.  He got leave and came home for several weeks in December so at least he got to see his friend then.  Waiting until the end of the week to tell him as he usually has the weekend off of duties so he will have a couple of days to process the information.
Good luck to everyone and thank you again for your support.

Here and Now

Forum Posts: 11458
Member Since:
25 April 2007

Offline
We are so sorry for your loss.

Charlie was lucky to have you.
Your topic has been moved here to the Coping With Loss forum where it will get the attention it deserves.
Peace…

Los Angeles, CA
Forum Posts: 3554
Member Since:
13 June 2013

Offline

I am so sorry for your loss … Charlie was so lucky to have you in his life. Please stay close to us and lean on us in the days and weeks to come.
Hugs!
Alison with Spirit Shelby in her heart 
Shelby Lynne; Jack Russell/Shiba Inu mix. Proud member of the April Angels of 2014.
October 15, 2000 to April 8, 2014
Our story: Broke rear leg in June 2013 - non-conclusive results for cancer so leg was plated and pinned. Enlarged spleen in September 2013 and had it removed and was diagnosed with Hemangiosarcoma and started chemotherapy. Became a Tripawd January 8th, 2014 and definitive Hemangiosarcoma diagnosis. Three major surgeries in 7 months and Shelby took them all like a champ only to lose her battle to cancer in her brain. We had 8 amazing extra months together and no regrets. #shelbystrong #loveofmylife

Schofield, WI
Forum Posts: 1411
Member Since:
13 August 2015

Offline
I'm so sorry to read this and hear you had to give sweet Charlie his wings!  I'm so glad your son had that time with him in December it'll be something special to hold on to now at this hard time.  Giving Charlie his release was your last gift to him even as it broke your heart to do so.  Fly free sweet Angel!  Holding you and your son in my thoughts and prayers and sending you healing light.  Charlie will remain with you you in spirit and the love for him you carry in your hearts. 
Linda & Spirit Mighty Max
It breaks my heart to hear this.  I am so very, very, very sorry.  It hurts us all so badly.  We cry with you today.
We fell in love with Charlie and cheered him on with every victory he had!  And he had many!!!   It showed every new member that, although recovery can be really rough sometimes, the pay-off of extended quality time is well worth it!
I'm so glad "Charlie's boy" got to spend time with him during the holidays.  He got to see Charlie be Charlie.  And Charlie got to let him know that he was happy! 
You gave Charlie the gift of release while he still had his dignity and still had some quality before a horrible crises took over. Such a hard selfless act, but ine Charlie knew you would do for him when his earthly body started to fail him
You have some rough times ahead.  The vpid and break in routine will seem unbearable.  TRY and remember the thousands of happy moments Charlie had with his be@oved human family!  Those are the memories he wa ts you to remember.
Watch for signs from Charlie.  He WILL connect with you and let you know he is running around like a wild man on all four legs having a blast!!   Pay attention!
When you can, please share more of Charlie with us, and pictures are always appreciated here!!  
Surrounding you with Charlie's furever wagging tail
Sally and My Chunky Spiritual Being Happy Hannah and Merry Myrtle and Frankie too!
Happy Hannah had a glorious additional bonus time of over one yr & two months after amp for osteo! She made me laugh everyday! Joined April's Angels after send off meal of steak, ice cream, M&Ms & deer poop!

London, UK

Forum Posts: 1534
Member Since:
15 December 2015

Offline
I'm so sorry to hear this very sad news, and my heart goes out to you and your family in your loss. I'm so pleased your son got to spend those weeks with Charlie so recently. He was clearly such a special dog, hugely loved and will never be forgotten,
Ditto Sally's photo request and I hear would love to hear more about Charlie.
Sending love,
Meg, Clare and Angel Pie xxx
Meg, Mutt, aged around 9, adopted 31/12/2009. Sudden explosive right elbow fracture 06/12 (caused by IOHC), diagnosed with End Stage Arthritis 03/15, Total Elbow Replacement 08/15, problems with healing leading to skin graft & skin flap surgery, Chronic Infection leading to implant breakdown. Became a Tripawd 9th March 2016. 
Lives with Mum, Clare, watched over by Angel Pie and Angel Billie
My life as a MEG-A-STAR 



Oh, almost forgot!!    Whenever a family member of the Military arrives at the Bridge, Jerry is there to pass out a PURPLE HEART  made specifically, in this case, for Charlie!   There is a huge celebration with a Military-style Band maxe up of all the furbabies who arrived before him!!  And yeah, the Angels aing along as they welcome this tripawd hero!!
A d the feast is beyond anything a "military pup" could ever hope for!  Steak, prime rib, ice cream, cheese pizza and more ice cream-
We salute you  Charlie!!!!!!
Happy Hannah had a glorious additional bonus time of over one yr & two months after amp for osteo! She made me laugh everyday! Joined April's Angels after send off meal of steak, ice cream, M&Ms & deer poop!
Oh my, such beautiful responses. I shared the purple heart along with several more pics of Charlie whth my son.  It's so hard as he is so far awayandhas to shoulddr the pain alone.  Thanks so much.   I thought I'd share some experiences of the last few weeks as a possible heads up to people in a similar situation.  Several weeks ago Charlies breath become awful.  Vet prescribed dental gel.  Then early last week his eyes became bloodshot, increasing until I finally went in and he was diagnosed with pink eye. Several days until he was coughing blood. I suspected lung cancer and went in that evening and that was confirmed.  When his breath changed I wish I had done the lung xray at that time.  I'm sure nothing more could have been done but I would have taken off work and spent as much time doing his favorite things, park walks, playing. Shouda, coulda, woulda.
Well take that  with a grain of salt.   And thank all of you again.

Forum Posts: 38
Member Since:
31 January 2017

Offline
Please know that you did the best for Charlie that anyone could.  Each of us has some regrets afterward–did we do enough? Why did we miss this symptom?  Did we wait too long? Or in our case–did we end Lucy's life too soon?  Yet, even these regrets are signs of how much we all cared for our beloved tripawds and looked out for them with unconditional love, just as they gave to us.  So shoulda, coulda, woulda is the price we pay afterward–but at least the rest of us can ask you to go easy on yourself–in the name of Charlie, who wouldn't want you or your son to feel these regrets.
Well said Licy's mom.

No matter what, it seems we all spend rime I. The wudda, shudda, cudda worthless place fpr awhile.  It really is a waste of energy that keeps us from focusing on the thousands of wonderful memories!! 🙂  We all do it though, and those wasted thoughts do start rto fade into oblivion though.
And  know this to be true, you ALREADY have done some of Charlie's favorite things!!  No matter what, we ALWAYS want those "times" one more time and never can be ssatisfied with the amou t of "those times" we already had!!   That's the human part….not the sog's part!  They are perfectly content with everything we did-
As far as seeing "signs" ahead of time.  You did ALL you could do and more than ma y!  I doubt that many would have even gone to the Bet because of bad bresth,or even for an inflamed eye!  Nope, not your "average" sympton of a met.  And even IF these were "signs" a couple of weeks ago, it looks like that nasty pice of crap disease had already plotted it's course and was pretty mich  unstoppable.
When you can, you already k ow we woukd love to hear more about Charlie.  Do you have a y pictures from Christmas…or any other time for thst matter??
Love to all
Sally and Alumni Happy Hannah and Merry Myrtle and Frankie too!
Happy Hannah had a glorious additional bonus time of over one yr & two months after amp for osteo! She made me laugh everyday! Joined April's Angels after send off meal of steak, ice cream, M&Ms & deer poop!
I have a lot of pics on my phone.  I picked up Charlie's ashes and paw print today.  Very hard.  I spent an hour trying to upload pics to the printer, 2 printers actually but failed.  I know everyone here who lost their friend feels the same as I do.  I come home and look for him just as I always did.  I know it will pass, I've been thru this twice before.  
I'm sitting on the couch and Charlie would always jump on the other side of me and put his head in my lap.  My other 2 dogs were great but if you laid next to them, or on them they would soon get up and move away.  Charlie loved that attention.  On the couch if he wanted more attention he would roll on his back and with his one front paw he would reach out and gently touch me until I petted him.
One of the posts above I was advised to watch out for signs from Charlie.  This morning I spent an hour looking for my glasses.  I finally said out loud "Charlie, where are my glasses".  I found them behind the chair right away.  Foolish stuff I know but I choose to believe he is still with me in spirit.
So now while I'm rambling there is a song by Mark Knofler, Piper to the end.  I prefer to change out the reference to the piper to my canine friends I've lost.  "When I leave this world behind me, to another I will go, if there are no pipes in heaven, I will be going down below.  If friends in time be severed, someday we will meet again, I'll return to leave you never, be a piper to the end".
I'm going to have a good cry now.  


Forum Posts: 3349
Member Since:
16 October 2012

Offline
I am sorry to hear of Charlie's loss.  This is the hardest part of the journey.  No one can tell you when the pain will end.  It can come & go.   Run Free Charlie.
Michelle & Angel Sassy

Sassy is a proud member of the Winter Warriors. Live long, & strong Winter Warriors.
sassysugarbear.tripawds.com
07/26/2006 - Sassy earned her wings 08/20/2013
"You aren't doing it TO her, you are doing it FOR her. Give her a chance at life."
Awww….The visual.of Charlie "manipulating" you to pet him on the couch by touching you gently with his paw…soooo sweet.
We understand the void….missing the routine that's no longer there…it hurts sooooo badly.  This journey brings out an intensity of love and devotion and caregiving in ways that are so deeply embedded in every second of every day,  we don't even recognize all the aspects of our connection until it "disappears".   Yes, the void seems unbearable.
Even though it was bittersweet, I lnow it was  comforting on some level to jave Charlie's ashes back home.
Thankfully Charlie created wonderful happy memories with you znd they can NEVER disappear!   They WILL push forward and help you jeal, but, as you know, it takes time.
I do hope you can get the photos worked out.   We would be thrilled to see more of Warrior Charlie!
And YES, it most certainly dis guide you to yiur glasses!!  Huge sign that he's still present with you in an energy form!!  Keepmlay paying attention, he'll send you more signs!
Lots of hugs
Sally and Alumni Happy Hannah and Merry Myrtle and Frankie too!
PS….Very beautiful lyrics you "customized" as a little trivute to Charlie

Happy Hannah had a glorious additional bonus time of over one yr & two months after amp for osteo! She made me laugh everyday! Joined April's Angels after send off meal of steak, ice cream, M&Ms & deer poop!
Yesterday morning, about 4am, I couldn't sleep so I went to my desk and was trying to get my printer to print out some of the pics of Charlie.  The newer printer printed out 1 pic.  The quality was so so but I took it to work, I'm a carpenter, and made a quick frame of a plywood back with a simple wood border to hold the pic in place and set it up where I was working.  I had to stop several times during the day to grieve a little.  I'd take the photo into my hands and look at Charlie.  A few of my tears got on the photo and the ink ran.  So after that when I was feeling sad I just started writing on the back of the plywood  my thoughts and feelings.  It's just in pencil and the pic is not great but today I'm going to spray the pic with a matte finish to protect it and that one will be with me at work and in my truck.   So now this morning, about 6, I changed all the ink cartridges.  And the printer went thru its normal stuff when you change out the cart.  While it was doing that I was going thru Charlie's pics to print  some out.  Then the printer started to print out a pic from yesterday that was 1 of the  poor ones.  I didn't think I had anything left in the printer que but prob. did.  I prefer to think it was Charlie letting me know he was ok and happy.  The pic was a close up of his face with me scratching his chin.  He looked so content.
Thanks for letting me share.

Here and Now

Forum Posts: 11458
Member Since:
25 April 2007

Offline
Forum Timezone:
America/Denver
Most Users Ever Online: 597
Currently Online: krun15, benny55, becky111390, skbryson720
56 Guest(s)
Currently Browsing this Page:
1 Guest(s)
Devices Used: Desktop (48), Phone (11), Tablet (1)
Member Stats:
Guest Posters: 1005
Members: 12748
Moderators: 2
Admins: 3
Forum Stats:
Groups: 4
Forums: 23
Topics: 15016
Posts: 211413