Join The Discussion
Learn about life on three legs in the forums below. Browse and search as a guest or register for free to take advantage of member benefits:
Instant post approval.
Private messages to members.
Subscribe to favorite topics.
Join the Live Chat and more!
Tripawds News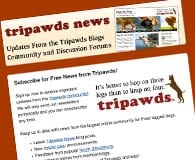 Subscribe to newsletter for email updates. Unsubscribe any time and keep free gift!
A
A
A

Forum Posts: 1
Member Since:
3 August 2017

Offline
Hello everyone! I'm wondering if anyone has any advice on how to help my kitten Theon stop stepping into his own poop. He is missing his front left arm, and seems to have good enough balance to jump, run, and for the most part, go to the bathroom. Sometimes he has some trouble and just completely steps in it with both back paws. It's happened a handful of times now, thankfully always when I'm home so I can just clean him, but it's still really messy! Theon is exactly 4 months old (his surgery was when he was around 7 weeks old), so he's still a kitten and I'm hoping that this is just a kitten thing? His litter boxes have always been large (the one he has now is this one with the lid).
Has anyone else dealt with this before? Any advice would be appreciated! 🙂

Here and Now

Team Tripawds
Forum Posts: 11673
Member Since:
25 April 2007

Offline
Welcome and best wishes for Theon! Great question…tri-kitty members are sure to chime is soon. Your future forum posts will not require moderation. Others have also shared various litter box tips for tripawds, here in the forums and in their Tri-kitty Blogs.
While you wait for comments from others, use the Advanced Search above to refine your forum search results with specific phrases, and you're sure to find lots of helpful feedback. You can also search all blogs here . Or, feel free to call the toll-free Tripawds Helpline anytime!

Members

Bucketeers
Forum Posts: 1189
Member Since:
27 July 2014

Offline
Hello Theon! You are adorable.
My full cat Mona is also a front leg amputee and doesn't step in her poop but make a real mess by shoot the litter out between her back legs using her remaining front leg. The poop does get covered along with everything else.
I don't have any suggestions other than not to use a covered litter box. I can't remember why I was told to lose the cover but have seen the recommendation a few times. Perhaps give that a try. There may be others here with more useful suggestions.
Hugs to you and Theon,
Kerren and Tripawd Kitty Mona

The Rainbow Bridge

Team Tripawds
Forum Posts: 24452
Member Since:
25 April 2007

Offline
Hmm, maybe this Tripawds blog post "Litterbox Tips for Tripawd Cats" will give you some ideas? 
Theon is exactly 4 months old (his surgery was when he was around 7 weeks old), so he's still a kitten and I'm hoping that this is just a kitten thing?
According to orthopedic vets we've talked to, when an animal loses a leg at a very young age, they often require more time to learn motor skills, balance and coordination (older pets who lose a leg already have those things nailed). Theon may need more time to acclimate to life on 3 legs and a visit with a rehab therapist can help get him on his way. Check out all the benefits of rehab therapy for cats that Feta has enjoyed! 

Forum Posts: 3
Member Since:
10 August 2017

Offline
Hi Theon! Shadow's mom here. Shadow is a front right amputee…we had a lot of litterbox issues here. I rescued him after his surgery (my petsitter found him with a horribly broken-beyond-repair leg) so he was taken to a clinic and underwent amputation. I do not know his age. Anyway, we had been through a trial of at least 7 different size/shape boxes til we hit on one that seems to fill the bill. I ordered it from Amazon. It is (I believe) the Petmate 22040 Giant Litter Pan. I can't find my paperwork but the picture looks identical to what I have and I know it came from Amazon. Shadow is a big boy and he apparently needed plenty of room to turn around.  His issue in the box, however, was with either stepping in his very fresh pee clumps or actually peeing on his own back foot. He would use the box in my bedroom then hop on my bed tracking wet litter everywhere! I was washing my bedding 4-6 days a week! Since we switched to this big box (no lid!) I can count on one hand the number of wet footprints on my bed episodes. I am very relieved to have found it. I am not sure why your little guy is having issues. My Shadow does sometimes step in his poop but it is rare, I think he just loses his balance briefly. Shadow is my first tripawd so everything is new to me. Maybe the info in Jerry's post will help and Theon will grow out of it? I hope so! Like Mona, Shadow is an expert litter flinger. I actually awarded him the gold medal for flinging…my sister's cat Sam won silver. Lol. With all my previous cats I always had litter boxes with lids, which is what I bought Shadow. After failing with those I then went to just pans in various sizes.

Forum Posts: 2122
Member Since:
1 October 2017

Offline

So Phresh Large Dog Litter Pan
I bought this litter box on a whim. It is actually made for dogs. It is sturdy, low to the ground, and a good size for anypawdy that needs to turn around or walk and poop. I almost sent it back because it was large, but I gave it a try when Huckleberry got free run of the house. It is a really nice box! Huck is a rear leg amp, I notice he likes to balance on to sides with his paws to do his business. It may not be what you need, but check it out and see.
Jackie

Hugs,
Jackie, David, Mitchell, Bo, Andy, Oscar,and the coolest feral tripawd kitty Huckleberry


Michigan
Members

Bucketeers
Forum Posts: 1775
Member Since:
11 July 2016

Offline
Hello and Welcome to you and Theon.
I ditto the advice my first move would be to take the lid off the litter box. The lid is a human preference not a cat preference ! Is the box big enough to turn around in comfortably ? The box should be comfortable enough for your cat to turn around in. I suspect the problem is the lid and then depending on the size of the box.
We cut the front out of our litter box for Purrkins to access easier .
This is the forum where Shadow's Mom posted it will show what we did for Purrkins who is a front leg amputee also.
cat "phantom leg", litterbox issue
(Glad to hear Shadow is doing better with the larger box!)
Let us know what works with Theon
Hugs
Holly & Purrkins

Forum Timezone:
America/Denver
Most Users Ever Online:
597
Currently Browsing this Page:
1
Guest(s)
Member Stats:
Guest Posters: 1023
Members: 8721
Moderators: 2
Admins: 3
Forum Stats:
Groups: 4
Forums: 23
Topics: 15305
Posts: 215267
©
Simple:Press
—