Join The Discussion
Learn about life on three legs in the forums below. Browse and search as a guest or register for free to take advantage of member benefits:
Instant post approval.
Private messages to members.
Subscribe to favorite topics.
Join the Live Chat and more!
T-shirts, Cards & Gifts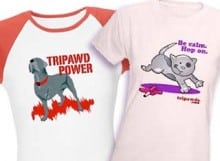 Visit the Tripawds Gift Shop for fun three legged dog/cat t-shirts & more! Browse all designs.
A
A
A
Hi, Just joined. Just yesterday our new furbaby Micro 6yo, had her hind leg amputated. Her owner gave her to us so everything is new to her, and us. Short story is micro would visit the school where my husband works and would visit him every chance she could.  Not a kitty loving neighborhood. So owner felt horrible this is the 2nd major injury in a year and made heartbreaking decision to allow us to keep her safe. So this being day 2 we realize we cant hold her like we do our other 6 cats. 

Livermore, CA
Members
Moderators

Helpline Hosts
Forum Posts: 3368
Member Since:
18 October 2009

Offline
Hello and welcome, your future posts will not have to wait for approval.
You have to be careful of her incision while she heals, but after that you should be able to hold her.  My rear amp Pug mix Elly is just about 3 years post amp after being hit by a car.  She is a little sensitive about me touching her amp side- she doesn't really like to have the incision area touched but I don't think it hurts her.  Although she is small and part Pug she doesn't like to sit or lay on my lap most of the time.  She also doesn't really like to be held.  When she is concerned or nervous in a situation she will ask to sit on my lap or be held and I hold her just like I hold my quad-Pug.
How is Micro doing with her recovery?
Karen and the Spirit Pug Girls
Tri-pug Maggie survived a 4.5 year mast cell cancer battle only to be lost to oral melanoma.
1999 to 2010
Hi and welcome!
That was so wonderful of you to take Micro in!  Because of the surgery and plus you are still getting to know each other, i would not try to pick him up and hold him yet. Huckleberry was in an extra large dog crate and he was also feral. I used to sit on the floor, open his  door and sit in front of the door. I talked to him, played music for him, put kitty tv shows on, and eventually he started coming up to me and even started crawling halfway on my lap. I petted him and kept him company, i even stretched out on the floor with a pillow near his cage and it was a nice slow way to get to know each other while he was healing. When i had to pick him up i gently wrapped him in a small blanket like a burrito and just tried to be smooth and quick to get it done. 
Unless you have to pick him up i would wait until after suture removal and the incision heals. That area is going to be quite tender even with medicine and he might not handle it well. 
Good luck with your new addition and stay in touch as his healing progresses!
Jackie and Huck ❤️
Hugs,
Jackie, David, Mitchell, Bo, Andy, Oscar,and the coolest feral tripawd kitty Huckleberry

Welcome! You and your hubby are saints for adopting this sweetie, I love the name Micro!
What kinds of questions do you have for us? We are happy to help! Have you seen our TriKitty blogs and feature stories? You'll find lots of examples there about rescued kitties. Jackie's got some great examples herself!
You all have some getting to know each other, but things will settle down and you'll all figure out a new routine for the pride. As your kitty heals, use care to make sure she doesn't overdo things, you want to make sure no complications occur. 
We can't wait to see photos! Here are instructions for adding images , let us know if you would like help.

Members

Bucketeers
Forum Posts: 1189
Member Since:
27 July 2014

Offline
Welcome to you and Micro.
My cat Mona is a light weight and loves to be carried around. At the clinic, after her surgery to remove her front leg, they had her all bundled up in a blanket and presented her to me like a new born baby. When I got her home I let her sleep in her little den in the closet and would just pick her up and hold her close to my body when she needed her medication. She kind of goes limp and doesn't move when picked up. I carry her by putting my arm between her legs from the back and her chest in the palm of my hand. This approach doesn't work as well with my larger cat.
I would suggest using a towel, small blanket or even a pillow case if you need to carry Micro. Make sure you hold him close to your body. I'm sure you know this having 6 cats.
By the way, Mona loved me cleaning her incision with a cool, damp washcloth. She never wore a cone or tshirt and didn't fuss with her staples. 
Thank you for giving Micro a great home!
Hugs,
Kerren and Tripawd Kitty Mona
Thank you. She seems to be doing great. No issues with her surgery site the vet had sewn her up so that her stitches weren't exposed, and she doesn't mess with it anyway which is good. Her walking is pretty good for 2 days post-surgery. She had two Play sessions where she walked across the bedroom probably a dozen times. My hubby spoiled her. she met five of the six housemates, she hissed once at each, growled a little bit and then ignore them so pretty good,  got a little bit of catnip thankfully she was laying down, got to sit in the window and watched some birds.
That sounds like wonderful pawgress!!! Sounds like she is settling in nicely 

As you care for her during her recovery you are creating a beautiful bond, she knows you are taking care of her and with that the trust will grow and she will grow her roots. You got this no problem! It sounds like you already know this, but most important is just make sure her amp is supported if you need to lift her. 
Would love to see some pictures whenever you have time, sounds like you have quite the crew there! 

Hugs,
Jackie and Huckleberry 

Hugs,
Jackie, David, Mitchell, Bo, Andy, Oscar,and the coolest feral tripawd kitty Huckleberry

I tried to click on the link but it said the page was unavailable or restricted.
Hugs,
Jackie, David, Mitchell, Bo, Andy, Oscar,and the coolest feral tripawd kitty Huckleberry

Slowly trying to figure out how to post from Facebook. 
Get the photo URL by right clicking and copying if you're on a desk/laptop, then come back here and paste the URL in your post. It should appear. Does that help? Let me know, we can't wait to see.
Glad to hear things are good! 
Forum Timezone:
America/Denver
Most Users Ever Online:
597
Currently Online:
paws120
102
Guest(s)
Currently Browsing this Page:
1
Guest(s)
Member Stats:
Guest Posters: 1025
Members: 8754
Moderators: 2
Admins: 3
Forum Stats:
Groups: 4
Forums: 23
Topics: 15315
Posts: 215379
©
Simple:Press
—