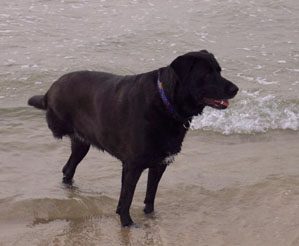 I just got a letter from my first overseas International Visitor, Lalla, a canine cancer survivor from Israel.
Lalla had her rear right leg amputated last September, due to osteosarcoma.
Lalla says that she didn't have chemo, because "It would have really disrupted my normal happy routine: no beach, no pals and no treats!"
And even though the doctors told her she only had about 2 months left on earth. That was a year ago! Just like me, she has beaten the odds, and is now living life to the max!