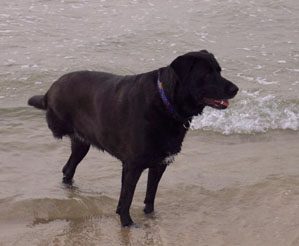 I just got a letter from my first overseas International Visitor, Lalla, a canine cancer survivor from Israel.
Lalla had her rear right leg amputated last September, due to osteosarcoma.
Lalla says that she didn't have chemo, because "It would have really disrupted my normal happy routine: no beach, no pals and no treats!"
And even though the doctors told her she only had about 2 months left on earth. That was a year ago! Just like me, she has beaten the odds, and is now living life to the max!
"I honestly think that the reason for my wellbeing is the beach. We live about a hundred meters away, and we're there every day. One day after my op, I got very depressed as I couldn't goto the beach (stitches), so Sasha called the surgeon and said if I couldn't go I'd get too depressed to heal, so we got the OK for quick walks on the shore.

Once my stitches came out, I ran to the beach."
Love, canine survival instincts and a joy of life are also crucial to recovery, she says.
Lalla has a bad knee, and she's taking Rimadil to help with the pain and make mobility easier. Soon she will be getting a buoyancy vest which will help her to swim and get up the stairs.
What's Lalla's secret to a long, healthy life? Well, she really doesn't have a complicated diet. Here's what Sasha gives to her:
Technical Bone and Joint,

a prescription kibble with a power charge of glucosmaine

Lots of F

ish, marrow bones, vegetables. with a lot of fish, Lalla says.

Glucosamine
Lalla is one true survivor, and she's battled many osbstacles, her Mom Sasha says,
"As you probably know, the health sector in Israel is very advanced. There are wonderful physicians here, and outstanding veterinarians who have graduated from top universities (sic) worldwide. These include the wonderful team that takes care of Lalla, which includes Dr. Kaminsky, who was in fact the chief vet at the San Francisco SPCA until 1969.

Unfortunately, the public is not very well educated in terms of animal health, and the government does not offer public services, such as cut-treatment rates or facilities. I did a course in animal therapy, and is sort of the neighborhood "first aid" person, and she is quite horrified at how people neglect their pets. The government is constantly reducing the budgets at the animal shelters, and in short, it's a mess.

Can you imagine that there is only one place which sells a vest similar to the one Jerry uses, and at a cost which defies imagination? We have met only two three-legged dogs in Tel Aviv (both fore-limb amputees, like Jerry). Lalla's own surgery was considered a rare event in a practice that is almost 30 years old."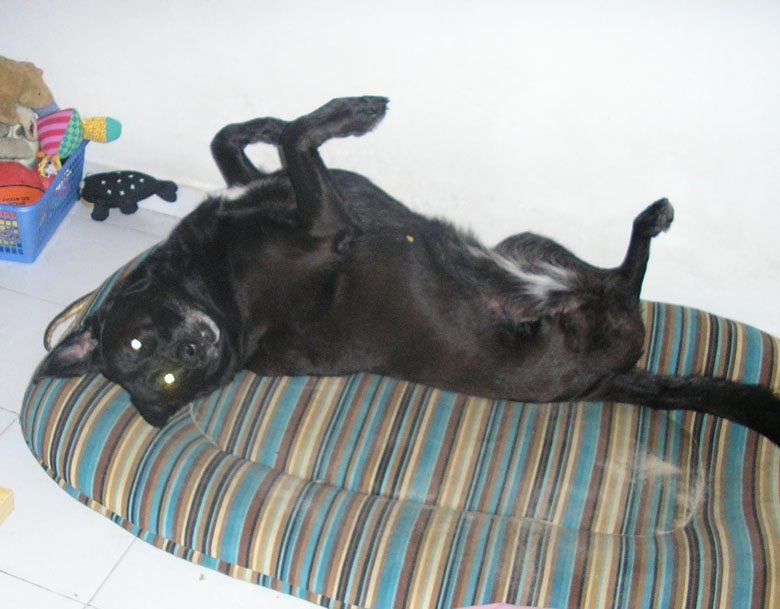 Three cheers for Lalla! Send her your happy thoughts here, she'd love to hear from you! You can also see photos of Lalla and all of her pals, at (a href="http://www.flickr.com/photos/lallalab">