We are happy to report that another Tripawd is making history, by participating in a sport traditionally done by four legged dogs. Calpurnia, our friend from Colorado who became a tripawd in September, is now competing in canicross with her human, TC.
Canicross, for those that don't know, is:
The sport of running or walking your dog in harness with equipment similar or the same used for skijoring. Canicross is not simply walking the dog. Running with a dog on a leash is not canicross. In canicross the dog pulls you, just like in skijoring.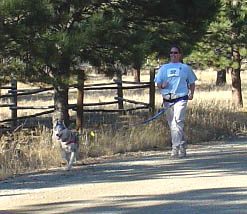 Ok, don't know what skijorking is? Well then, you should check out this website to learn more. I think it's funny that dogs get to pull their humans on a leash, and get prizes for it! I thought we weren't supposed to pull? Oh well, humans are weird, aren't they?
Three barks for Cali!