What an honor to participate in "Wags for Awareness: A Dog's Cancer Journey." This important project is by Marissa Denham, from Girl Scout Troop 2367 in Florida.
The Story of Wags for Awareness: A Dog's Cancer Journey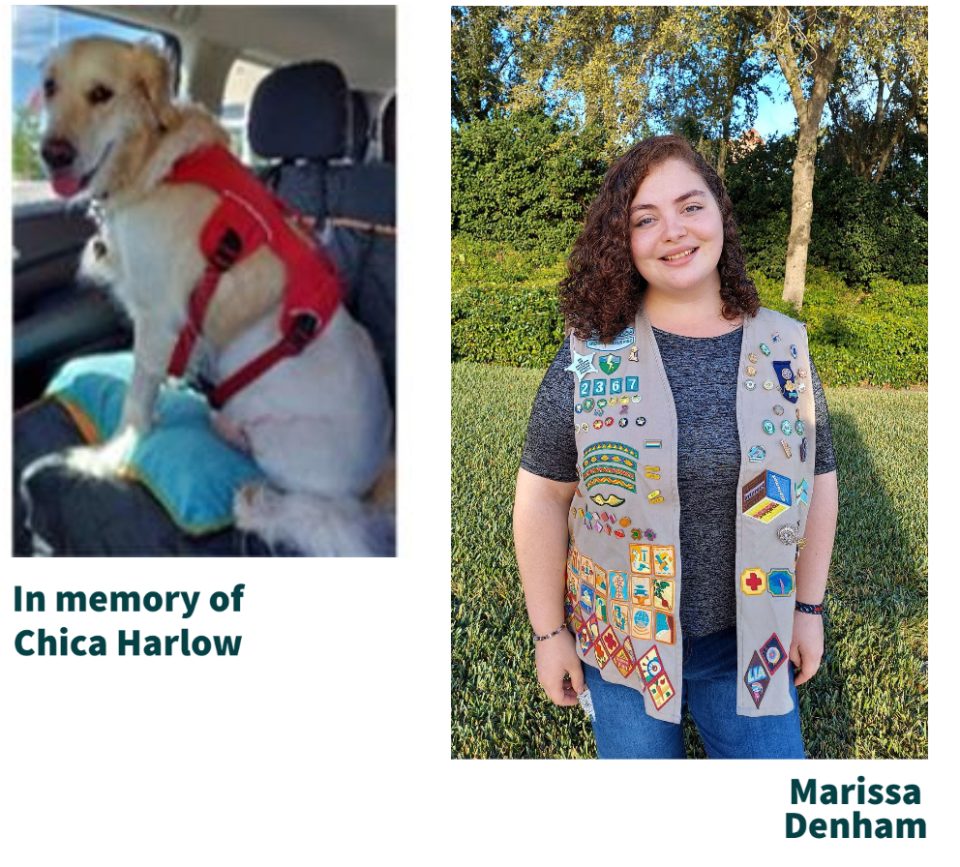 When Marissa's dog Chica Harlow was diagnosed with bone cancer, she wanted to help other families experiencing the same tough times. And she wanted to educate others about dog cancer too. So she put together the Wags for Awarness project to help her earn a Gold Award, the highest ranking a Girl Scout can achieve.
Marissa wanted to work with us to help get the word out about dog cancer prevention and treatment. Here's an excerpt of what she wrote to us:
My name is Marissa, and I am a senior in high school. I am in my 12th year as a Girl Scout, and I am working on my Gold Award, which is the highest award a Girl Scout can earn, and it is the equivalent to the Eagle Scout for Boy Scouts. The Gold Award is based on something we are passionate about, it requires 80 or more hours of work to be completed to earn, and it must have a sustainable portion.

My Gold Award project name is Wags for Awareness a Dogs Cancer Journey which is based on my personal journey with cancer in my dog. In September 2021, my 3-year-old golden retriever service dog Chica Harlow was diagnosed with intramuscular hemangiosarcoma, which is a form of cancer. She went in with a lump, and a few days later, my world completely changed.
She was troubled not only by the diagnosis, but by the huge cost of care for treating her dog's cancer.
"My personal journey has inspired me to focus on the lack of information for families dealing with their dog's cancer diagnosis and how vital pet insurance is," she explains. "I have decided to make new parent bags, cancer journey bags, and start a support group for dogs with cancer."
She created 150 care packages for her Wags project, and distributed them to veterinary clinics in her area. Tripawds information is included in her project materials. We are so grateful that she helped us get the word out about our community. And, that we could help her complete her project at the same time!
To make her project sustainable, we are including her Wags care package materials here. Now anyone with a Girl Scout or other young person can replicate this project anytime!
Create your own Wags for Awareness: A Dog's Cancer Journey project
Download the worksheets Marissa created. Then help a Girl Scout or other young person make their own Wags packages. Distribute to veterinary clinics and pet parents in your area and make a difference!