Want an easy, fun, free way to help Tripawds members in their time of need? Consider volunteering to be a Tripawds Discussion Forum moderator. Without moderator help, the Forums will close to new posts in August and become a "read-only" resource.
Only More Volunteer Moderators Can Keep the Tripawds Discussion Forums Going
The Tripawds Discussion Forums have been an important resource for thousands of pet parents around the world since 2008. During the last 15 years, a small group of volunteer moderators have overseen the Forums. Today, we are down to just three. We approve and welcome new members, keep an eye out for spammers, and point people to Tripawds resources so their questions get answered.
Being a Tripawds Discussion Forums moderator is a free way for you to help Tripawd parents in need. But starting in August, if we cannot find at least three new moderator volunteers, the Forums will go into a "Read Only" mode.
Why Tripawds Forums Will Turn Into a Read-Only Resource
Our Discussion Forums offer a safe, calm, neutral, and welcoming place to find helpful, vetted resources about pet amputation. We offer all of the support, without the noise of social media. That's why vets all around the world often recommend us to their clients.

This August, two of the three moderators (we, Tripawds Founders, @admin and @jerry) will not be able to oversee daily Forums operations on a daily basis. We are traveling through Canada and Alaska from August to October without reliable internet access. And we fear that too many posts will go unanswered during this time. It's just not fair to offer this service to new members if we cannot guarantee timely support.

Without more volunteer help, we also can't put effort into important projects currently on the back burner. Examples include redesigning this website to make it easier to use, writing new articles, revamping Tripawds e-books, and growing Tripawds Foundation programs.

Please Consider Becoming a Forums Moderator to Help Tripawds Members in Need
It's been over a decade since we asked for moderator help. Being one is a big responsibility. And there is no pay for doing it. But in our opinion, the payoff of being more involved as a moderator is priceless. Knowing that you are there to help new Tripawds members during their darkest hours is a rewarding, life-changing experience.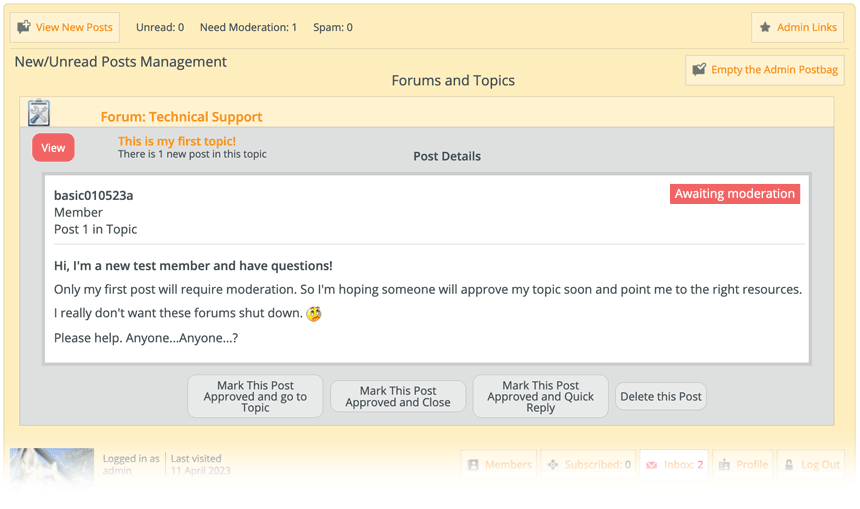 All Tripawds forum moderators get access to the exclusive Admin Queue. This displays all recent forum activity, allowing for quick response without visiting each topic. Most importantly, here the moderator can approve any new posts awaiting moderation. New members are often seeking fast answers. As a moderator, you can be the first to welcome them and offer the help they need. With just a few minutes each day, you can make a big difference by helping Tripawds and their people everywhere!
What does a Tripawds Forums Moderator Do?
A moderator does things like:
Approve first posts from new members
Answer questions as best as possible
Point members to our many resources
Search for answers inside the Forums and throughout our network
Help new members post photos
Notify Admin of potential spammers

Who can be a volunteer moderator?
Any Tripawd cat or dog parent who is comfortable and proficient with our website, forum use, and private messaging.
Someone with at least 6 months of active Tripawds membership.
An active member who has started new forum topics, replied to other members' topics, and generally been involved helping others in the Discussion Forums.
Located in the U.S. or Canada, where most of our members are located.
And finally, a committed member who can help out at least 15 minutes daily, a few times a week (or more if they can).
If we can get at least three new moderators to volunteer for the next six months, we can keep the Tripawds Forums alive!
Want to volunteer to be a moderator? Contact us today and let's talk more about how you can help Tripawds members around the world.