Preepare to be inspired by today's Tripawd Tuesday Isis spotlight. Her story was sent to us for the Triday 2023 celebration, as told by her mom Tricia.
In Feb of 2016 my girl Isis broke her leg.
She spun around to run after a ball and just started yelping. Vet says "bad news, it's broken". Tells me I'll want to see an orthopaedic surgeon.
Had her leg repaired, 1 plate, 7 screws, and a piece of wire. It was a terrible experience. A cone all the time. Being carried up and down the steps several times per day to go to the bathroom. Putting an IV bag over the cast every time she went out. And allergy to the tape.
A cast that was too tight and cut off the circulation in her foot. Being crated all the time. Multiple vet visits and lots of money. End of March came and was told it was fully healed, but we were still scared to play ball or frisbee with her anymore.
Skip to September. I decided I was going to play with her again.
It's what she truly loves to do and I figured that I didn't spend all that money just to not let her use the leg they way she's meant to. I threw the frisbee, she stopped short to get it and fell over, got up and went to the house. I waited a few days before taking her in thinking maybe she ripped a toenail again, but her limping persisted.
Vet says "I can't see anything, you'll have to go back to the surgeon."
Surgeon says "the reason he couldn't see anything is because the bone is gone. The only thing holding her foot on is the plate." He gave me a couple options, and I went with amputation. It was a very difficult decision.
After knowing what I know now, I'd do it again.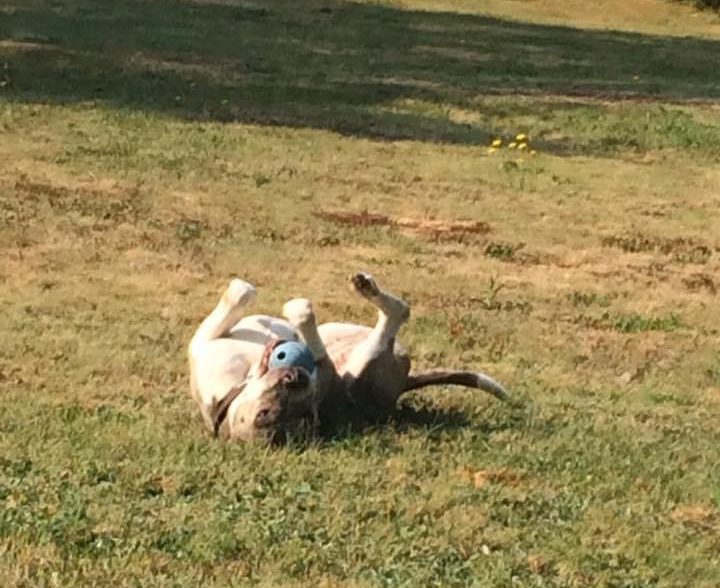 The amputation was way easier on both of us than the repair ever was.
A couple weeks later we got the biopsy results. Osteosarcoma. It was devastating news. We enjoyed her for another 2.5 years when we made the decision to say goodbye after having issues with her liver and no answers and nothing we did made her feel better.
She was an amazing dog.
Very forgiving, especially for a dog that was tied to a tree for the first 2 years of her life. She made me so proud. The first time she went up the stairs on her own was like a parent watching their child take their first steps. She loved kids and cats and was amazing on walks. She was my heart and I miss her every day.
Send Your Tripawd Tuesday Love Story!
Did you enjoy the Tripawd Tuesday Isis story? Want to share your own hero with the community?
Here's an easy way to share your Tripawd Tuesday love story which helps pet parents seeking hope and inspiration during tough times.
Be a Tripawds Community Ambassador
Request a Tripawds Community Ambassador Kit. Get everything you need for you and your three-legged dog or cat to show the world that Tripawds Rule. Your participation helps us get the word out about our mission. Chip in a bit extra to help keep your community online! Thank you!