It's unanimous: Live Tripawds support Zoom calls are a new benefit for Tripawds Supporters in 2023!
Thank you to everyone who filled out our Tripawds Zoom Calls survey. Your answers made one thing clear: the time is now to bring more personalized support to amputee pet parents.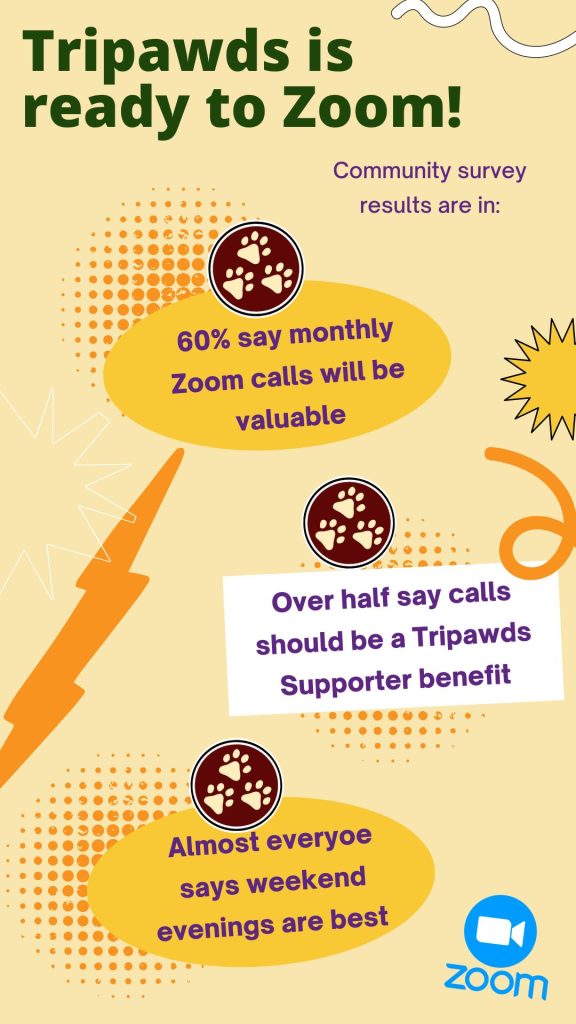 A New Benefit for Tripawds Supporters
Tripawds community registration will always be free. Anyone can start a free blog or create a free account to access to public resources. From the 2000+ Tripawds blogs to our popular Discussion Forums and the Live Chat, everything you love about Tripawds is still free. These many resources are made possible by the Tripawds Foundation.
Tripawds Supporter Blogs get additional space to upload more photos and other special features. But until now, there has never been a Supporter account option without starting a blog. Starting this year, we are excited to announce new benefits for all Tripawds Supporters:
Get exclusive access to a monthly group Q&A calls! Join Tripawds founders Rene and Jim, along with your fellow community supporters for live group support sessions. We'll also have occasional veterinary experts too!
Monthly Zoom calls are something we have discussed for a long time. With the costs to support this community increasing every year, this is one way to keep our community online while more directlty helping parents of three-legged pets too. It's a win-win for everypawdy!
Join Tripawds Live Q&A Call!
Our first Live Q&A call is free and open to the public. Join fellow community members with Tripawds founders Rene & Jim. Bring your questions, and help shape the future of these calls. Registration via Zoom is required.
DATE: Saturday, March 4
TIME: 4:00 p.m. PST (7 Eastern)
Hop on Monthly Zoom Calls for Personal Support from Three-Legged Pet Parents & Experts
Join us on the Tripawds Facebook Page, next Tuesday February 14th, for a three-legged celebration of our community. We'll talk more about how the Zoom calls will work. We'll get your ideas for veterinary guests, and share how Tripawds supporters can enjoy benefits like this for as little as $1.50 per month.
We hope to see you there!
Ready to join the discussion?
The first Tripawds Supporter Q&A Call is scheduled for March 4, 2023. We'll be answering any questions, and discussing other members-only benefits coming soon. Sign up to be a Tripawds Supporter to get notified of all upcoming events.
Already a Tripawds Supporter?

Send us your username or registered email address. We'll make sure you're on the list to get notified of all upcoming events and more members-only benefits coming soon!