Yes, you can help Tripawds everywhere without sending any money! Back in October (2021) we announced a few ways people can Volunteer to Help. We were looking for assistance with a few outreach projects to raise awareness about foundation programs helping Tripawds everywhere. With practically no response, we're reaching out here again with details about specific ways you can help Tripawds without spending a dime.
Why Help Tripawds?
We are very grateful to all supporters and donors who have generously contributed to help the Tripawds Foundation reach our 2021 fundraising goal. Thank you for your support! Your charitable donations are sincerely appreciated, and put to good use. As a 501c3 public charity, we strive to put the majority of funds raised towards our various assistance programs. That's how we're able to maintain the Rescue Fund, ASAP Fund, Gear Fund, Rehab Grants, and many more. And, it's why we do not want to spend your money on administrative needs. But right now, that is what we need most.
What good are all our resources and programs if nobody knows about them?
As we head into a new year, what we need most right now is assistance with our media and outreach efforts. We have some big announcements coming soon about new programs and campaigns designed to help Tripawds and their people everywhere in even more ways. But there are only two of us working nonstop at Tripawds to keep the community online and manage all assistance programs.
SPOILER ALERT: International Tripawd Awareness Day is March 3. And this year our goal is to spread the word better than ever about pet amputation awareness. Stay tuned for complete details, or check out the new Triday.pet website.
From announcing the first official Triday, to informing more shelters about the Tripawds Rescue Fund, we need your help. Do you have a PR background, media contacts, or basic communication skills? Are you interested in providing pro bono services? Have you found help in the blogs and forums, and want to pay it forward? Here's how you can help Tripawds without spending a dollar…
Volunteermatch Opportunities to Help Tripawds
The Tripawds Foundation currently has two opportunities listed on the Volunteermatch website. Volunteermatch helps nonprofit organizations connect volunteers willing to help. Is that you?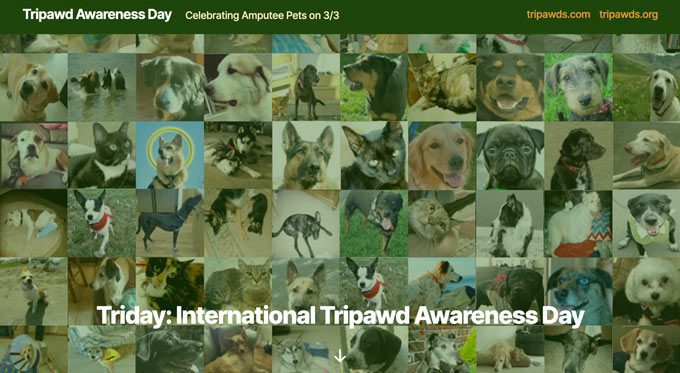 Do you know the ins and outs of helping animal welfare organizations raise public awareness? Want to make a splash in the pet world by cheerleading for the Tripawds Community? Do you have established media contacts? If creating buzz in the press rocks your world, let's talk! The 501c3 Tripawds Foundation needs a skilled publicist to gain media exposure for various ongoing and upcoming campaigns.
Project Overview:
Write press releases and media kit materials
Pitch our stories to media
Follow up to get coverage in various media outlets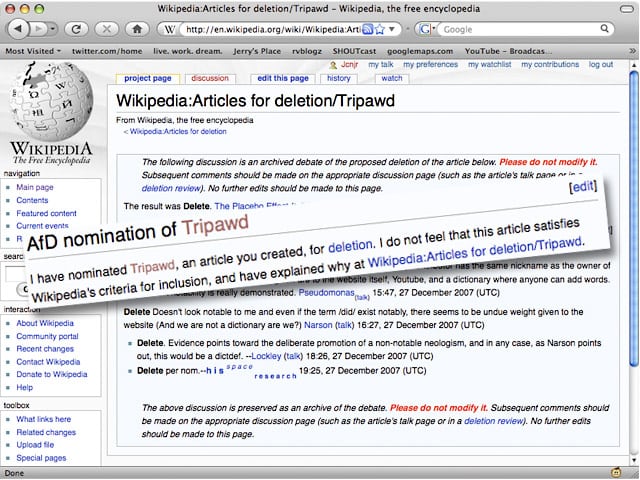 The Tripawds Foundation is seeking an expert Wikipedia editor to publish a page for "Tripawds" – the largest online support community for amputee pets and their people.
Are you Wikipedia expert? Have you successfully drafted, published, and had company/brand pages approved on Wikipedia? Tripawds is an established online support community acclaimed by veterinarians and teaching institutions around the world. Our organization has numerous notable mentions and backlinks available, yet previous efforts to have a Wikipedia page published for the brand have failed.
NOTE: These are both virtual opportunities with a flexible schedule and no minimum time requirement. We'll take whatever help we can get! Please forward this message to anyone you think may be able to help. And, let us know if you have any questions or recommendations.
Triday is less than 60 days away!
We have big plans to help everyone remember March 3, 2022. But we need assistance and must get started soon. Please contact us now if you can help Tripawds with these important media outreach projects. Together, we can continue to help Tripawds and their people everywhere!
Are you on LinkedIn? Please share this announcement with your colleagues and tag Tripawds or the Tripawds Foundation.