The amputation decision is always tough. But when a senior cat is involved, making that call is even tougher. Today's Tripawd Tuesday feature spotlights Yum Yum, the 14-year-old Tripawd. Prepare to be amazed, and know that even amputation for an older cat isn't as scary as you might think.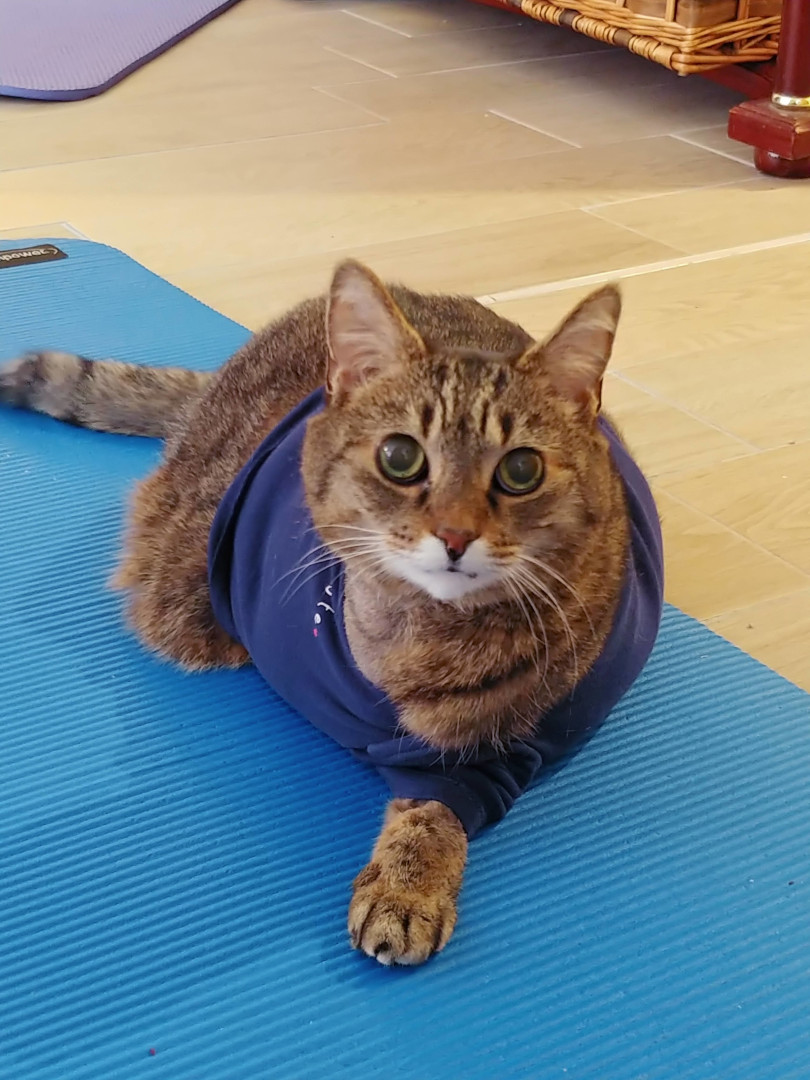 Senior Cat Yum Yum Proves Age is Just a Number
In February of this year, Yum Yum's mom joined our community posted in our Discussion Forums. Diagnosed with a fibrosarcoma at age 14, Jessica was understandably worried.
So ultimately my question is, do we take the chance and amputate hoping for another 2-3 years (or possibly more) of cancer-free life, although as a tripawd. I suppose my biggest fear is that we amputate and she never feels like "herself" again since she is a bit of a chonker and might struggle. And also what if we amputate and the cancer is back in a couple months. We would have put her through this for no "good" reason other than hope.

UGH. We have dealt with cancer multiple times before with our other dogs & cats, but it was either successfully resolved surgically or we knew palliative care was the only option. This no-man's-land of indecision is awful.
After tons of feedback from the amazing Tripawds community, Yum Yum's mom and dad made the decision to amputate.
Thanks, everyone for your kind replies. After much thought and talking to other Tripawd families and knowledgeable pet-owning friends, we've decided to proceed with the amputation….

Someone on this site wrote that once you've done the research and made the decision, proceed forward without second-guessing. That is the attitude we are going to take. So, onwards! We will do whatever is best for our girl.
Recovery was uneventful. Yum Yum surprised everyone with the ease in which she healed. Her humans were thrilled and so were we!
Yum Yum continues to do well. She's been off all pain and nerve medications for a week, today marks 21 days since amputation surgery. For the last few days she's been back to completely normal behavioral patterns, including energetic play sessions. Very thankful her recovery has been so smooth.
By June, one thing was clear: Yum Yum was back and better than ever.
Her adaptation to life as a Tripawd, especially at 14, has amazed us every day. Her mobility is terrific and her nature is sweet and purry as ever. She took slightly longer to come out of hiding after we were away for 3+ weeks in April. (She normally does hide when visitors first arrive). We had to travel to get some health tests of our own done! LOL Friends looked after her and we monitored her on camera so we know she did just fine while we were away. It doesn't surprise me that having 3 limbs might make her feel a bit more vulnerable, so we allow her whatever time she needs to adjust as long as she is eating/drinking/eliminating as usual.

For those of you making tough health decisions for your pets, take some comfort knowing that others have successfully dealt with it, and YOU CAN TOO. Whatever the prognosis or outcome, do your research, listen to the good folks at Tripawds and trust that you are making the best decision for the happiness and comfort of your furry friend.

Purrs and headbonks from Yum Yum!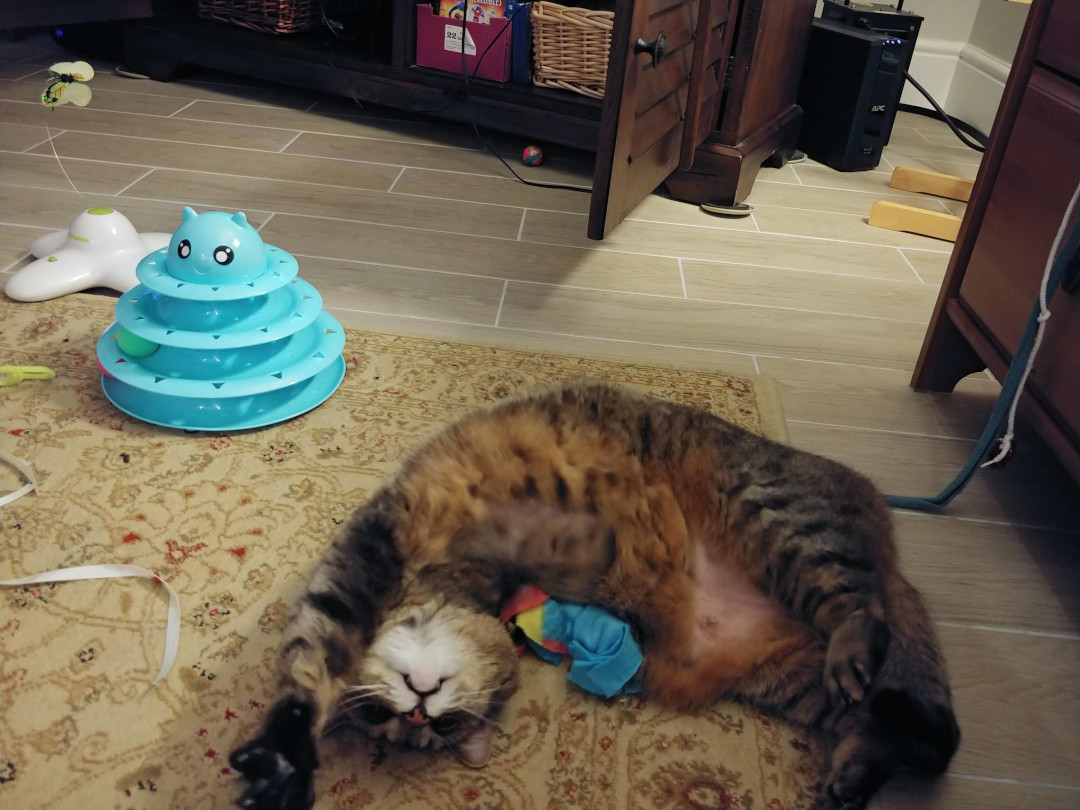 Keep in mind, not all recoveries go this smoothly, even for younger cats and dogs. But when they do, it proves once more that animals are more resilient than we know. It takes something like a leg amputation to show us. And once we know, our faith in animals grows even stronger!
If you have a senior cat or dog and struggling with the amputation decision, post in our Size and Age Matters Discussion Forum topic for feedback from people who understand your concerns.
We Want YOUR Tripawd Tuesday Story!
Are you inspired by today's Tripawd Tuesday feature about Yum Yum the senior cat Tripawd? Want to share your Tripawd hero's story? Whether you have one, two, or more Tripawd dogs with three legs, a coyote, a cat, or a rabbit (or any three-legged animal!), share your three-legged love story with the world and inspire others! Send your Tripawd Tuesday shout-out now.
Each Tuesday is the best way to celebrate Tripawd amputee pets from around the world. Enter for a chance to be "Tripawd of the Week." Just share your story in a few words and you're in!
Whether you are a bonafide registered Tripawds member, or part of our Facebook, Twitter and Instagram communities, we want to tell the world about your three-legged cat or dog.
Send Your Tripawd Love Story in 3 easy steps:
In a short paragraph or two (or longer if you'd like!), describe your three-legged hero's story. Share a photo, video or both.
Got a Tripawds Forum topic and/or Tripawds blog that you started? Be sure to include that link too! Of course let us know any social media handles that feature your Tripawd.
Then send your story to us via email, Facebook Messenger, or direct message us on Twitter or Instagram @TripawdsCommunity.
We try to publish a new Tripawd story each week. It's time for yours to get featured!