Osteosarcoma in cats is a scary diagnosis. But statistics and Tripawd cats with osteosarcoma often show that it rarely acts as aggressively in felines as it does in dogs. Charlie the three legged cat has just begun his cat cancer journey, but as you'll see in today's Tripawd Tuesday feature, he's off to a great start. Take THAT, osteosarcoma!
Charlie the Cat Beats Osteosarcoma's Butt!
Here's his three-legged love story, as told by his hooman, Michelle Lynn Tellier
Hello! This is our cat Charlie. We recently made the decision to have his hind leg amputated when he was diagnosed with a large osteosarcoma.
Our vet mentioned amputation as an option for him weeks before we did a biopsy and I was quite against the idea.
But, as soon as Charlie's biopsy came back positive for osteosarcoma, the decision became clear.
He is 13 years old, he has suspected hyperthyroidism and a slightly enlarged heart but was completely healthy otherwise (aside from the sarcoma, of course). He still runs around like a kitten and makes us smile every day with his crazy antics. We did some xrays to confirm that there was no obvious spread to his lungs and decided to go ahead with the amputation.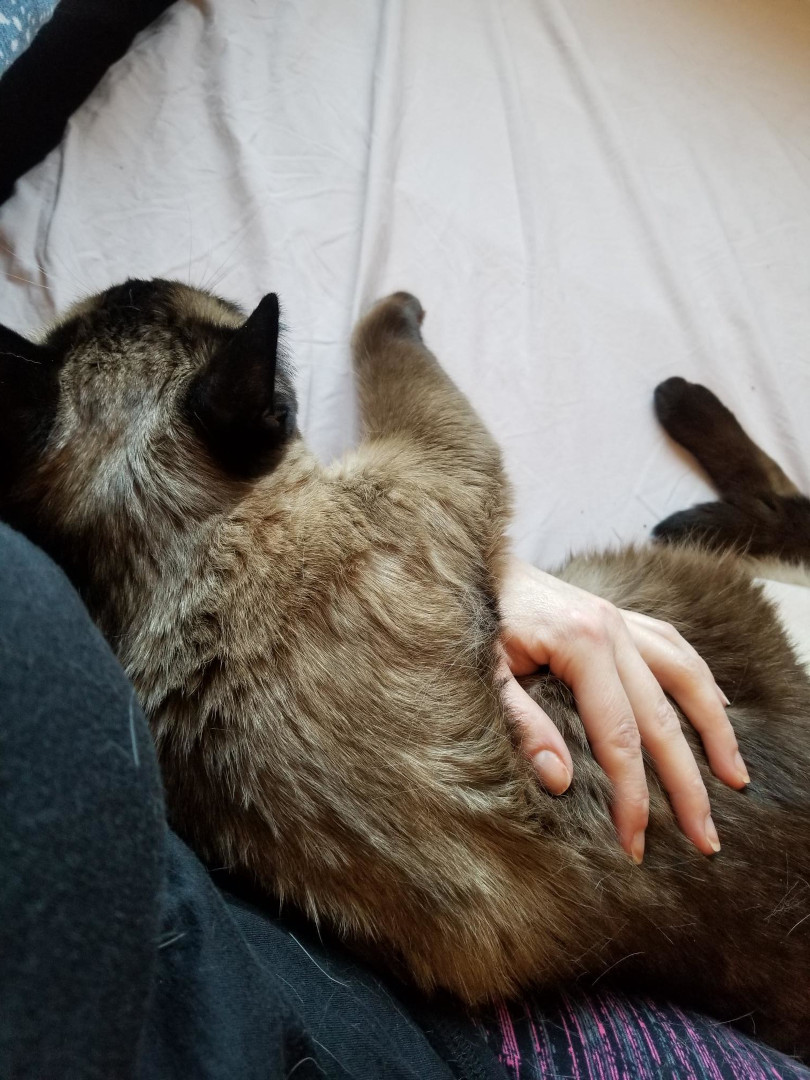 In our city, none of the vet clinics facilitate overnight stays and Charlie had to come home just 8 hours after his surgery. We made our bedroom into a recovery room for him with foam mattresses all over the floor and brought a shallow litter box and food/water into the room.
The first night was rough, he was in obvious pain. We were sent home with an extra dose of opiates plus his NSAIDs and antibiotics. We gave him the opiates pretty early into the evening. I slept on a cushion on the floor with him, he slept leaning his "good side" against me and we made it through.
Charlie didn't have any bathroom accidents, he was determined to hold his bladder until he felt up to trying the box. He did occasionally get some pee on his onesie though, so I had to lift it up for him if I saw him heading to the litter box.
He seemed to know his limits after the sugery so, we didn't have to worry about him attempting anything dangerous that could injure his other legs. He would try a difficult jump a few times, give up and then go back and try again each day until he could do it.
About 5 days after his surgery, he got quite anxious and began grooming obsessively.
He was keeping me awake at night grooming his front legs and licking his onsie for hours. This stopped after a few days. About 10 days post surgery, he seemed to have some nerve pain. He would be sleeping and then jump up as if he had been bitten at the amputation site. That was tough to watch but, it also only lasted a few days.
Both of these things can be treated with medication but, he never ended up needing to take anything for it.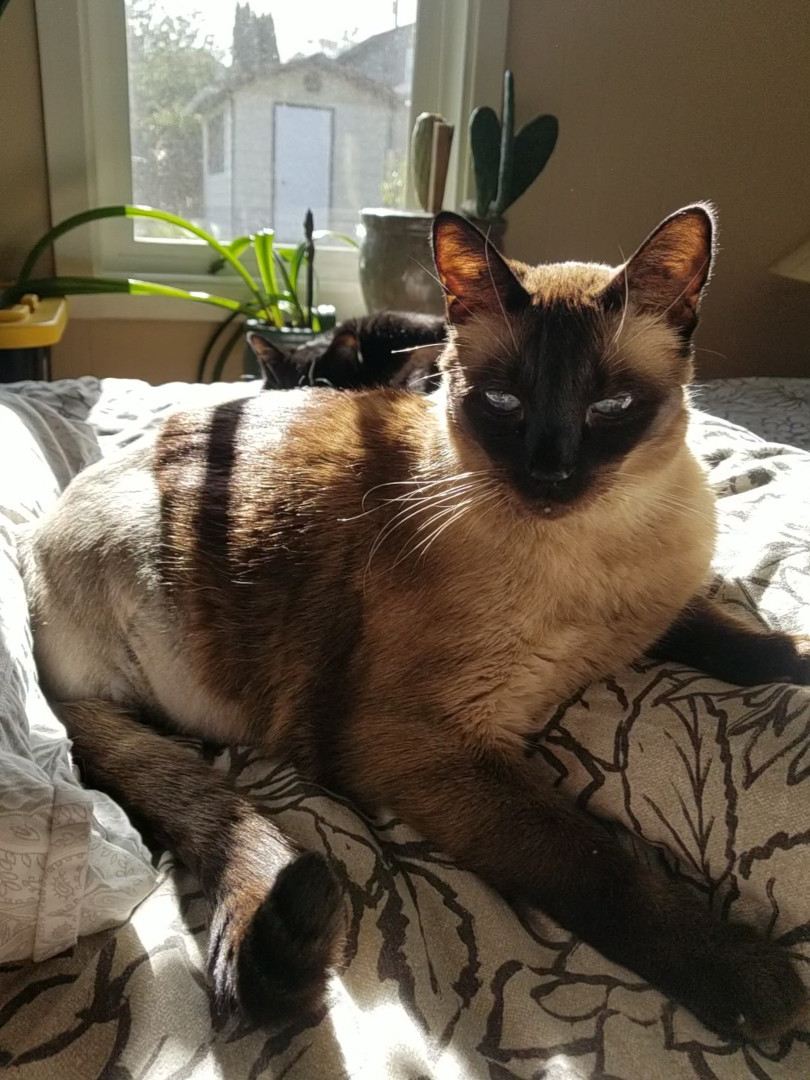 His activity increased by the day. At first he needed long rests and seemed sore and quite grumpy after just a brief walk around the house. Things just kept improving from there though and he seemed less exhausted and less sore every day.
We're now 1 month post surgery and things are going really well. The vet said that we would be surprised at how quickly animals can adapt to life on 3 legs. He said that in most cases they've already been favouring the other 3 legs before the amputation.
The vet was right, my husband and I are amazed every day!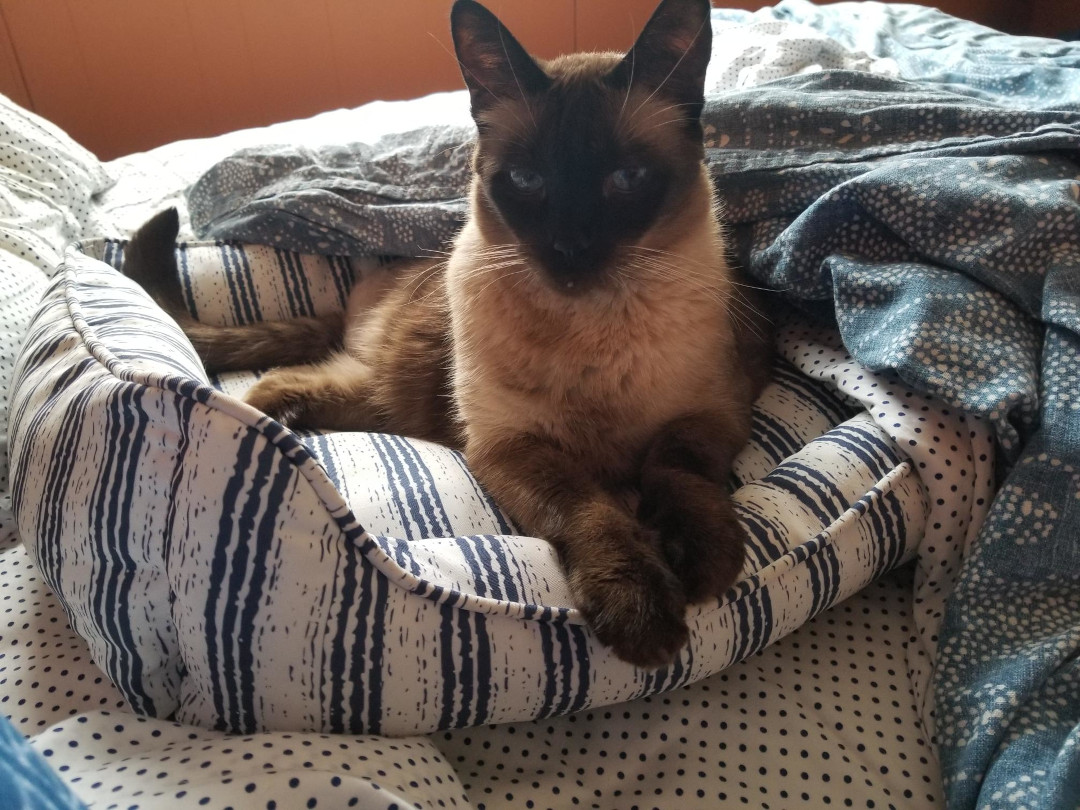 He has a few steps around the house that help him up on to the furniture. Sometimes he uses them sometimes he leaps right over them. He only needs us to help up onto the edge of the bathtub where he loves to drink water from the tap.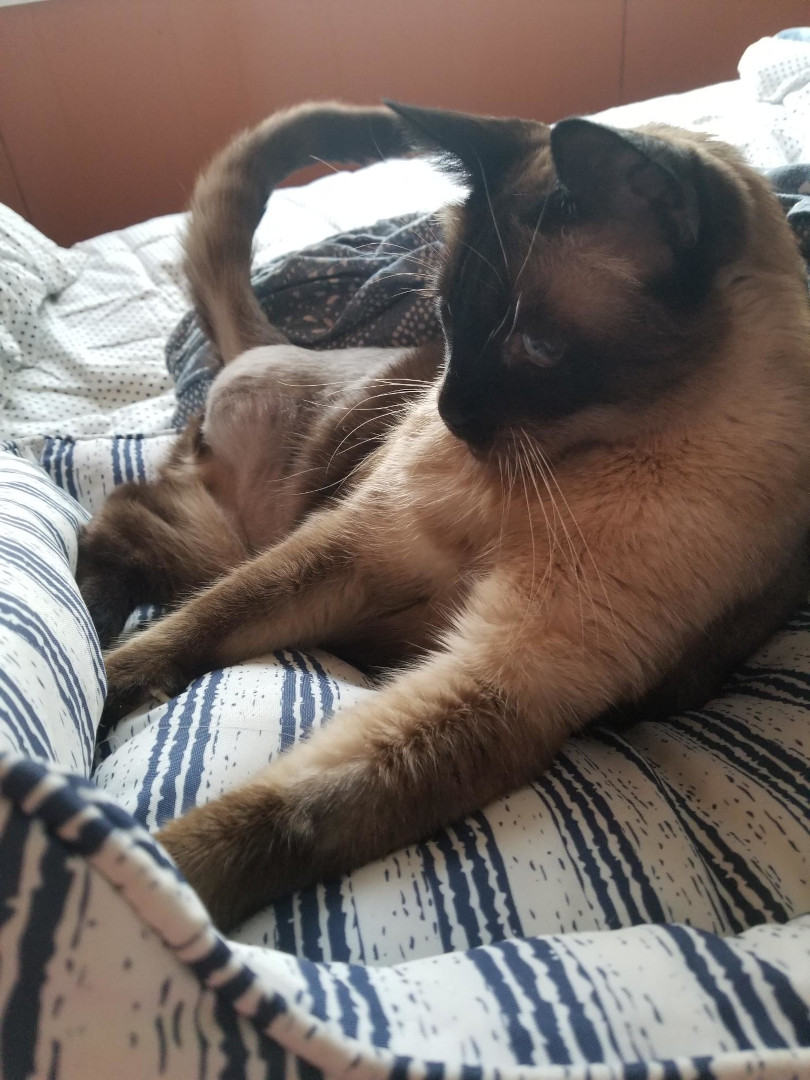 His appetite is great and he's enjoying playing with his brother Jack again. He's even had a few supervised backyard outings which are his favourite thing (there's fresh catnip in the flower bed!). He has a new obsession with treats so, we're giving him as many as he wants. We're happy to see him recovering so well and wish him good health in the years to come.
More info about Cats with Osteosarcoma
If your cat has just been diagnosed with osteosarcoma, we are sorry. But don't panic. Charlie's beating osteosarcoma, and others have too! This cancer affects both humans, dogs, and cats. Yet, for some reason, it's less aggressive in cats. Usually, once the bad leg is amputated, they go on to live out their normal lives. For examples of how cats beat osteosarcoma, check out these other Tripawds members stories.
We Want YOUR Tripawd Tuesday Story!
Are you inspired by today's Tripawd Tuesday feature about how Charlie the cat beats osteosarcoma? Want to share your Tripawd hero's story? Whether you have one, two, or more Tripawd dogs with three legs, a coyote, a cat, or a rabbit (or any three-legged animal!), share your three-legged love story with the world and inspire others! Send your Tripawd Tuesday shout-out now.
Each Tuesday is the best way to celebrate Tripawd amputee pets from around the world. Enter for a chance to be "Tripawd of the Week." Just share your story in a few words and you're in!
Whether you are a bonafide registered Tripawds member, or part of our Facebook, Twitter and Instagram communities, we want to tell the world about your three-legged cat or dog.
Send Your Tripawd Love Story in 3 easy steps:
In a short paragraph or two (or longer if you'd like!), describe your three-legged hero's story. Share a photo, video or both.
Got a Tripawds Forum topic and/or Tripawds blog that you started? Be sure to include that link too! Of course let us know any social media handles that feature your Tripawd.
Then send your story to us via email, Facebook Messenger, or direct message us on Twitter or Instagram @TripawdsCommunity.
We try to publish a new Tripawd story each week. It's time for yours to get featured!