The 2022 Tripawds Calendars are now available! Thanks to the overwhelming amount of submissions, this year's calendars feature more than 150 amazing three legged dogs and cats. With so many photos, we've created three new Tripawds Inspawration Calendars for 2022. We're also working with a new printer and are able to offer more affordable pricing than last year. So, now it's easier to buy more than one.
Read on to see which Tripawds are in what calendar…

And, this year we've added something new! Tripawds Calendars now include more than 50 popular pet-related holidays and and veterinary appreciation days. Every month indicates the dates of popular holidays. We also researched the most popular dog and cat days, and added hose too. From Pet Obesity Awareness Day and AAHA-Accredited Hospital Day, to Unchain A Dog Month, Cat World Domination Day, and National Squirrel Appreciation Day – you'll have plenty of pet days to celebrate every month.
Stay tuned for our next big announcement about International Tripawd Awareness Day coming soon!
Preview and Purchase all 2022 Calendars
Tripawds Inspawration Calendars feature inspirational three-legged dogs and cats of the Tripawds Community. Proceeds help keep many free pet amputation resources online.

Tripawds Calendars make the perfect thank you gift for your veterinarian's office, animal rehab center or pet cancer clinic. Preview all pages here for each calendar, or see who is in each calendar below with direct links to purchase.
All proceeds hep keep your Tripawds community online!
2022 Tripawds Calendar Dogs and Cats
Tripawds Inspawration Calendar #40
Tri-kitties have more fun!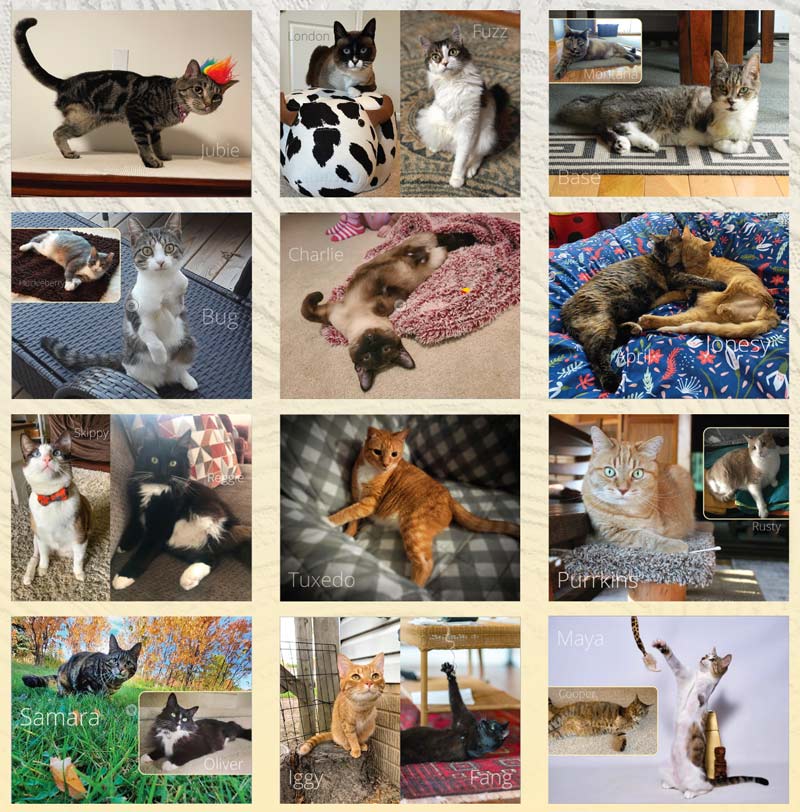 2022 Calendar Cats: Base, Bug, Charlie, Cooper, Fang, Fuzz, Huckleberry, Iggy, Jonesy, Jubie, London, Maya, Montana, Oliver, Purrkins, Reggie, Rusty, Samara, Skippy, Tuxedo
Tripawds Inspawration Calendar #41
Tripawds Rule!
2022 Calendar Dogs: Ace, Applesauce, Ari, Banjo, Blue, Brownie, Caira Sue, Charly, Chewie, Codie Rae, Daizzee, Damien, Eileen, Ellie, Frosty, Gracie, Gracie, Gus Cece & Sol, Harley, Juju, Kaden, Kai, Kaiserin, Kingsley, Lady Bird, Logan, Lola, Lucky, Max, McKinley, Miles, Nora, Otis, Parker, Rio, Rita, Rosie, Ruby With Flower, Santé, Shadow, Sid, Snoopy, Snuka, Spot, Stella, Stella, Stella, Stitch, Super Stu, Tara, Teaka, Teddy, Tim, Tinker, Toto, Trinity, Tripp, Vivian, Willow, Xena, Zoey
Tripawds Inspawration Calendar #42
Tripawds come in all shapes and sizes.
2022 Calendar Dogs: Alan, Amelia, Amy, Angel, Annie, Anniston, Ava, Baxter, Bella, Benji, Bixby, Bob, Brody, Bruno With Bailey, Buddy, Calvin, Campbell, Cash, Chalie, Chance, Charlie, Chesnut, Chops Nelson, Cindy, Coby, Coffee, Cooper, Cooper, Cooper, Daniel, Declan, Delilah, Delilah, Donato, Dudley, Elly, Elvis, Finn, Frankie, Frida, Frida, Guadalupe, Harley Boz, I\ean, Illy, Itza, JJ, Kali Mae, Kava, Liliana, Lucie, Lucy Lou, Mac, Marley, Maybe, Melody, Mingo, Mister Pemberton, Moose, Nellie with Lola, Nitro, Penny and Scout, Peter Cottontail, Peyton, Pinky, Ralphy, Sassy, Sidney, Spider Man, Stitch, Tito, Wrigley and Gracie
Three paws up to all the pawesome 2022 Tripawds Calendar participants!
If you missed the deadline this year, subscribe here to get notified of all important Tripawds announcements like this. For Tripawds included in recent calendars, you can still purchase 2021 calendars with new months for 2022 applied. Or, create your own custom calendar with Zazzle.
All calendars begin with January, 2022 and include 12 months. Finished size is 8.5″ x 11″ with Wiro binding and hole for easy hanging.