It's Tripawd Tuesday, and there's no better time to get to know Kaiserin, the Tripawd trick dog! She inspired the current Tripawds Dog Art Auction happening this week only. She was such special pup who brought so many talents to the community, we want to take a sec to celebrate her legacy!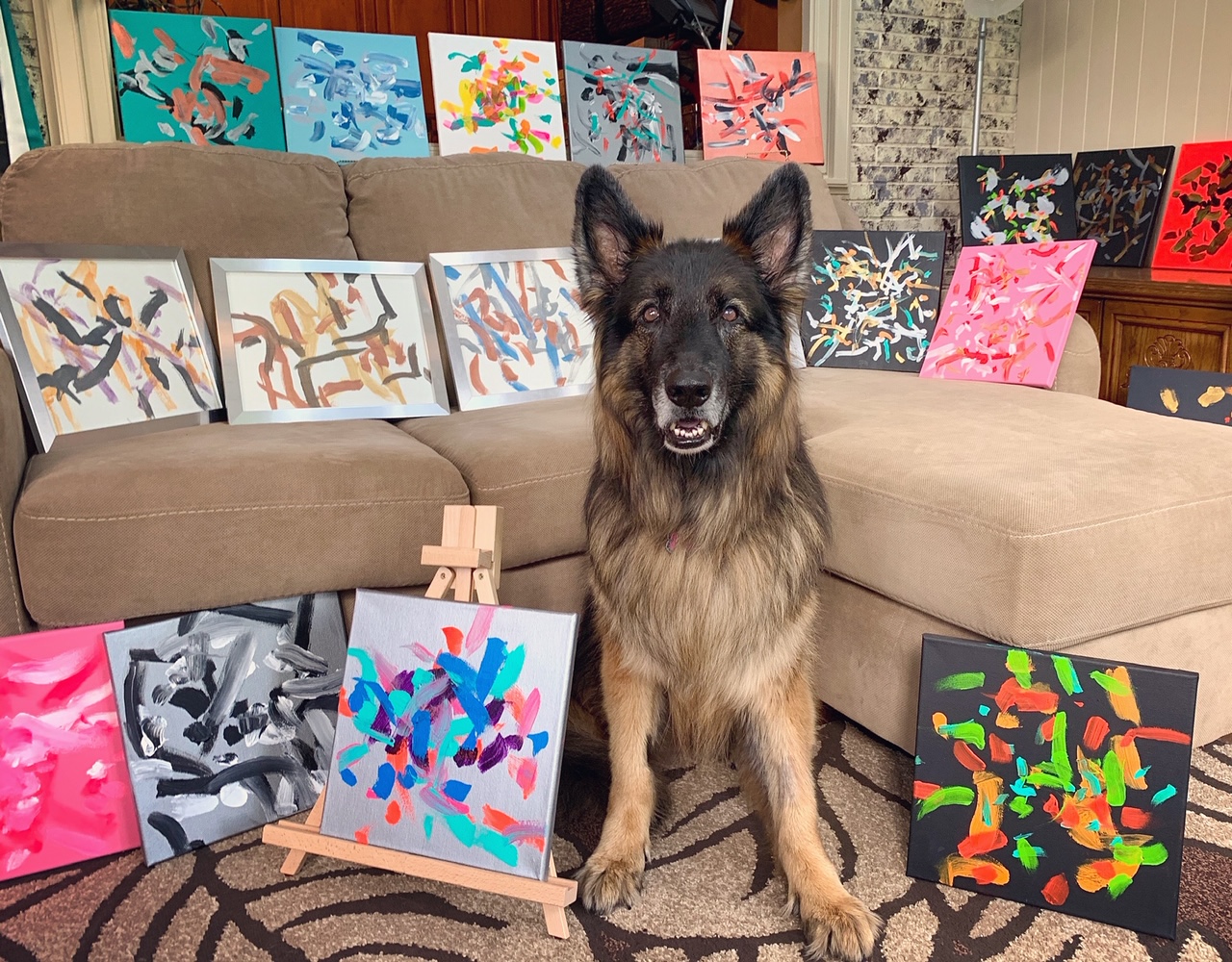 Three Facts About Kaiserin the Tripawd Trick Dog
You couldn't help but fall in love with this pretty, long coat German Shepherd. She was so stunning and sweet. But she was also much more than a pretty face. Kaiserin has many talents that made her so special.
Kaiserin was a certified Trick Dog

My tripawd Kaiserin was just awarded her Champion Trick Dog Title from Do More With Your Dog (the highest level there is). She got a certificate, ribbon and medal. All the tricks were performed on three legs (although some of the skills were taught to her in the past when she had 4 legs). I want to share this not only because I am very proud of my girl and like to show her off but to show how dogs on three legs can thrive, enjoy life, and accomplish great things! Just over a year ago when she was recovering from surgery, I thought she would never be the same again. I thought she would not be able to do much more than be a couch potato type of dog. But she instead amazes me every day. — Natasha, Kaiserin's Mom
She was a Canadian superstar!
Kaiserin mastered the art of being a trick dog thanks to her mama Natasha's dedication to help her learn. And when she did, it didn't take long for this highly intelligent dog to learn to paint too. Kaiserin wanted to please, and painting was a fun game that made her happy. Her paintings were so beautiful, people from around the world started asking to buy them on her Instagram page. She and her mom wanted to to do something to help other three legged pets. That's when they opened the ArtbyTripawdKaiserin Etsy Shop. Each time a painting sold, she and her mom gave $20 to the Tripawds Foundation.
Soon, the Canadian puparazzi started calling Kaiserin, wanting to interview her for stories that showed off her talents.
Kaiserin is why the 2021 Tripawds Dog Art Auction is Happening this Week!
Sadly, she got her wings way too soon, but her legacy continues. Kaiserin's brother Schultz learned to paint in her name, still selling gorgeous paintings in the ArtbyTripawdKaiserin Etsy Shop. His new little sister Wilhelmina learned to paint too, at just five months old!
A portion of proceeds from their painting sales goes to the Kaiserin Pet Cancer Care Fund. This Tripawds Foundation program sends fun gift packages to Tripawds living with cancer. And this week, the Tripawds Dog Art Auction is taking place to help the program grow. Winning bid amounts from these paintings BY dogs will go directly to Kaiserin's program, to make sure we can keep making our 3-legged heroes kick cancer's butt with joy and comfort! A big thanks to Natasha for making this auction happen!
So hop on over to the Tripawds Dog Art Auction today and place your bids. The auction ends on Sunday at 8pm. See you there!
We Want YOUR Tripawd Tuesday Story!
Did you like today's Tripawd Tuesday spotlight? Whether you have a cat or dog, share your three-legged hero's story with the world and inspire others! Send your Tripawd Tuesday shout-out now. Each Tuesday is the best way to celebrate Tripawd amputee pets from around the world. Enter for a chance to be "Tripawd of the Week." Just share your story in a few words and you're in!
Whether you are a bonafide registered Tripawds member, or part of our Facebook, Twitter and Instagram communities, we want to tell the world about your three-legged cat or dog.
Send Your Love Story in 3 easy steps:
In a short paragraph or two (or longer if you'd like!), describe your three-legged hero's story. Share a photo, video or both.
Got a Tripawds Forum topic and/or Tripawds blog that you started? Be sure to include that link too! Of course let us know any social media handles that feature your Tripawd.
Then send your story to us

via email,

Facebook Messenger, or direct message us on

Twitter

or Instagram

@TripawdsCommunity.
We want to publish a new Tripawd story each week. It's time for yours to get featured!