We love sharing Tripawd Tuesday success stories! Today we celebrate the story of one very special Tripawd. Meet Lance, a Greyhound cancer fighting therapy dog hero!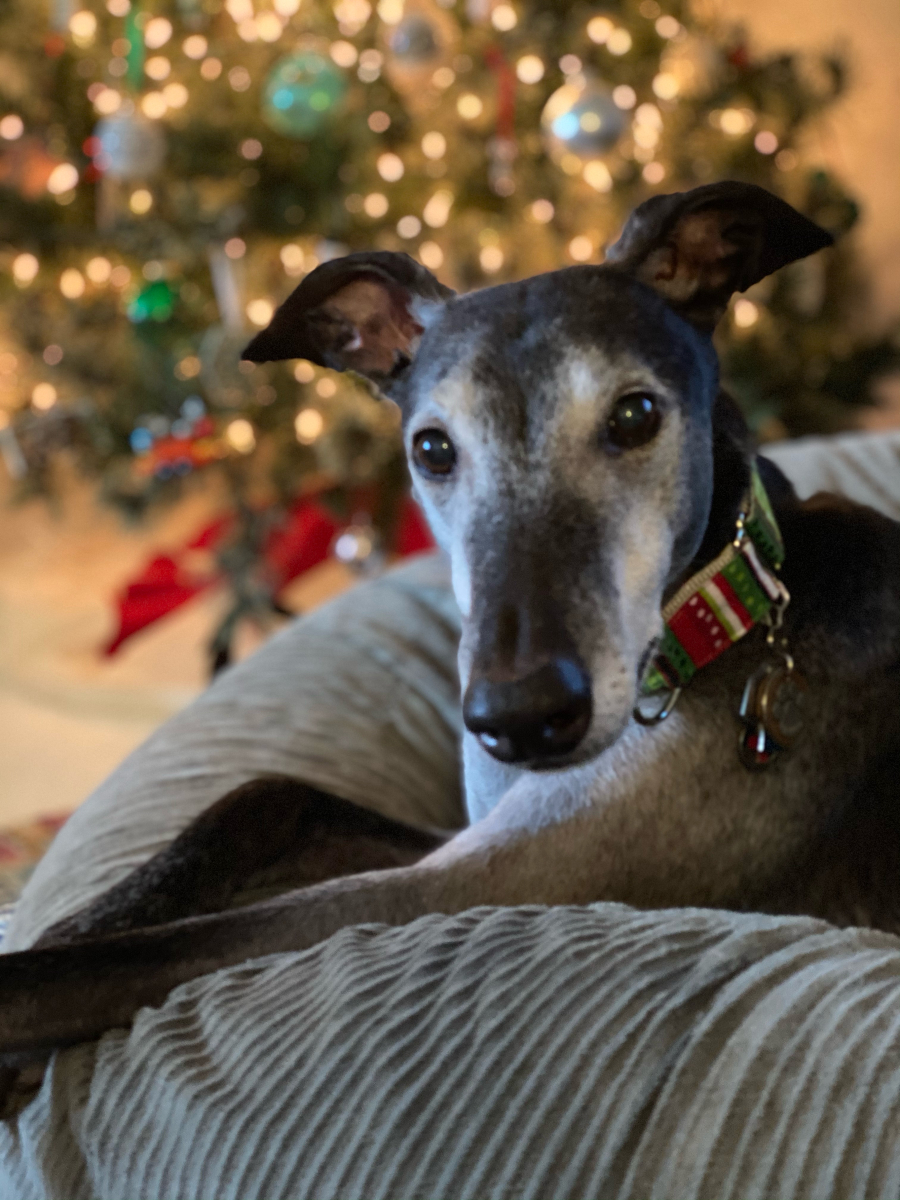 This sweet pup was recently the lucky recipient of a Kaiserin Pet Cancer Care Package. He's also a 51-month osteosarcoma survivor! We are so hoppy to share his inspawrational story with you! Here's his Tripawd love story, as told by mom Emily.
Meet Lance, a Greyhound Cancer Fighter Beating the Osteosarcoma Odds!
Lance is a retired racing greyhound that retired from his successful racing career in November 2013, just shy of his 4th birthday. In February 2014 he made the journey to Michigan to spend his retirement with me and was certified as a therapy dog in November 2015. He loved bringing smiles to local hospital patients and many others.
He was diagnosed with Osteosarcoma in his right hind leg in December 2016 and had his leg amputated on December 22, 2016. Between January and May 2017 he completed 6 rounds of chemotherapy and has been cancer free ever since. While he is not able to do as many therapy dog visits as he did before he was amputated he was able to earn his AKC Therapy Dog title in November 2019, making 50 individual therapy dog visits.
Lance is the best therapy!
His favorite visits include spending time with the kids at Camp Quality, a camp for kids battling cancer, and Operation Handshake with the Patriot Guard at Bishop Airport, welcoming home active duty and retired military members for the holidays. One of my favorite memories is from our visit to the kids cancer camp in 2019. By this point all of the directors and adults knew who Lance was and were all so excited to see him. As I was getting out of my car the director of the camp stopped me and asked if I had Lance with me. He then told me that they had a new camper there that year who had recently had her leg amputated and he wanted to make sure that the camper met Lance.
I kept and eye out for her but didn't know what she looked like. As it was getting close to time to leave the director came by and asked if I had seen her and I told him no, so he went to find her. She came over and gave Lance a pat on the head and turned to leave (Lance was laying down so she couldn't see that he was missing a leg) the director stopped her and had her come back over, so I had Lance stand up. As soon as she saw that he was missing a leg too she got a huge smile on her face. It was such an awesome moment for everyone that was sitting around us.
51 Months After Ostesoarcoma Amputation and Still Going Strong!
His littermate, Alicia, came home to spend her retirement with her brother in October 2017 and they have since celebrated 4 birthdays together. Alicia is carrying on his paw prints as a therapy dogs, visiting kids at the local children's hospital and joining him at Camp Quality.
In December 2020 Lance celebrated 4 years post amputation and as of this writing he is now 51 months post amputation and rocking life on three legs!
We Want YOUR Tripawd Tuesday Story!
Did you like today's Tripawd Tuesday spotlight on Lance the Greyhound cancer fighter therapy dog hero? Whether you have a cat or dog, share your three-legged hero's story with the world and inspire others! Send your Tripawd Tuesday shout-out now. Each Tuesday is the best way to celebrate Tripawd amputee pets from around the world. Enter for a chance to be "Tripawd of the Week." Just share your story in a few words and you're in!
Whether you are a bonafide registered Tripawds member, or part of our Facebook, Twitter and Instagram communities, we want to tell the world about your three-legged cat or dog.
Send Your Love Story in 3 easy steps:
In a short paragraph or two (or longer if you'd like!), describe your three-legged hero's story. Share a photo, video or both.
Got a Tripawds Forum topic and/or Tripawds blog that you started? Be sure to include that link too! Of course let us know any social media handles that feature your Tripawd.
Then send your story to us

via email,

Facebook Messenger, or direct message us on

Twitter

or Instagram

@TripawdsCommunity.
We want to publish a new Tripawd story each week. It's time for yours to get featured!