Santa Paws came early for us today! A 3D pet prosthetics article featuring the Tripawds community just published in Wired Magazine online!
Tripawds in the News
We all want to help our Tripawd live better, more comfortably and happier for as long as possible. That's why we strive to provide information to help anyone do that. For example, our recent Pet Prosthetics Webinar, with Drs. Sherman and Deborah Canapp, addressed a popular topic with our community: pet prosthetics.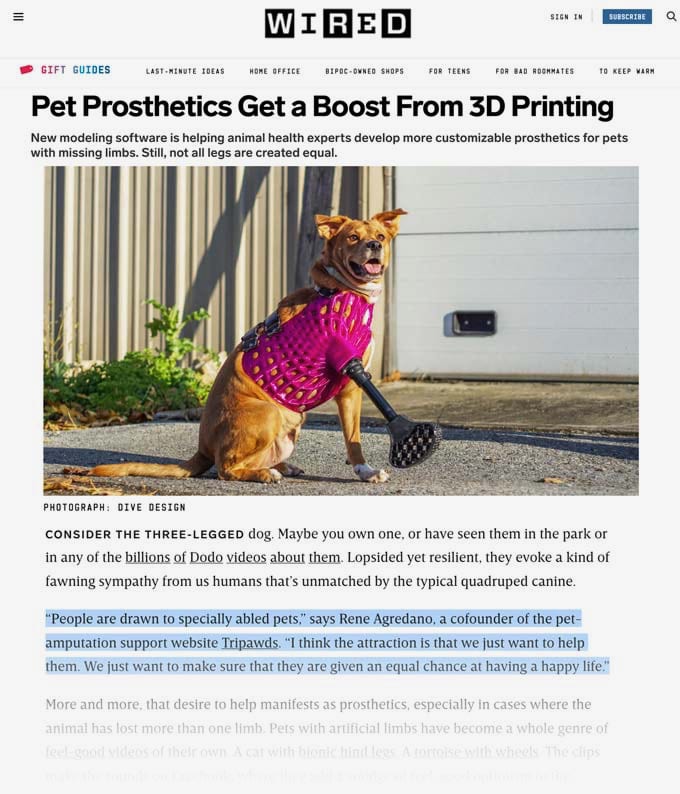 And today, we are happy to share another helpful story. It wasn't written by us, but we are extremely proud to be a part of it: writer Boone Ashworth's article about 3D pet prosthetic improvements!
Experts share the latest facts about 3D pet prosthetics.
The article provides a hopeful and accurate portrayal of the features, benefits, pros, and cons of 3D printed pet prosthetics. For example, Ashworth speaks with the 3D experts at Dive Design, who worked with Bionic Pets to develop a new type of supportive prosthetic, pictured below. Campana says that one benefit of this technology is that it lowers the cost of providing animals with new prosthetics as they age.
Bionic Pets' Campana says the rapid iteration afforded by 3D printing is especially beneficial for younger animals, since the patient may need many devices as its body grows. "A new device may be needed, but we do not need to make a cast or redesign," he says in an email. "We can just resize the file and reprint." — Pet Prosthetics Get a Boost From 3D Printing, by Boone Ashworth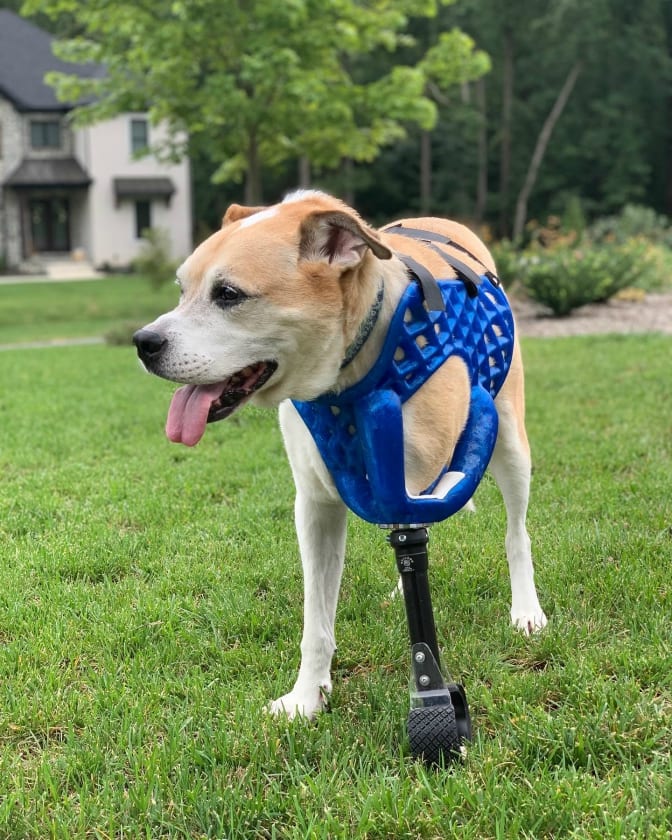 Coincidentally, he also spoke with Dr. Theresa Wendland, our Wyatt Ray's orthopedic veterinarian! She provides critical advice about 3D pet prosthetics:
"What makes me a little nervous about 3D printing is that people start to get this idea that anybody can make a prosthetic," Wendland says. "I just see potential for harm with something like that. I love that people are excited about it and that they want to help, but there's a lot that has gone into the training and the people who are actually doing this for a living and making this happen in a functional way." — Pet Prosthetics Get a Boost From 3D Printing, by Boone Ashworth
The story does a great job explaining the technology, and why it's so important not to make your own DIY pet prosthetic at home. Best of all, it concludes with Dr. Wendland sharing hopeful insight about when a three-legged pets can benefit from a pet prosthetic.
Hop on over to Wired and check out this article, Pet Prosthetics Get a Boost From 3D Printing. Be sure to share with any pet parent considering making their own 3D pet prosthetic.
Recommended Reading
Are Dog Prosthetics Worth It? CSU Vet Study Finds Out
FAQs About Artificial Limbs for Pets on Tripawd Talk Radio