We love it when a Tripawds member makes the news. In Ontario, Canada, Kaiserin the painting dog is now a celebrity thanks to her beautiful artwork.
Kaiserin has many talents. She's even a certified trick dog! And now she is focusing her artistic side to help fellow Tripawds community members thrive. This busy Tripawd is painting masterpieces that she sells online. And this year, twenty dollars of every sale will go to Tripawds Foundation, to help keep programs for animal amputees going strong.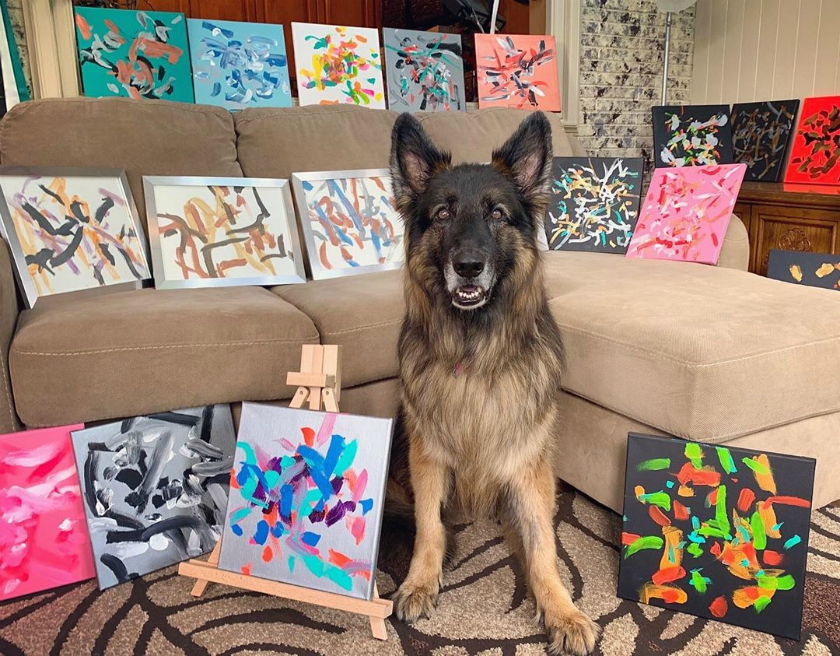 Even though Kaiserin was diagnosed with another type of canine cancer in June, she has not let it stop her. Each week she works hard to create original works of dog art. Her dedication and talents caught the attention of a local reporter, who showcased her in an article. It was adoringly called "Three-legged London dog's paintings are the toast of the arf world." The story was published in the London Free Press, a regional newspaper in Ontario, Canada. Kasiern's mama Natasha shared the great news in the Discussion Forums
Kaiserin the Painting Dog is Famous Now!
"Well only a couple of weeks ago it looked like Kaiserin might not have made it through the night and now she has recovered well from surgery and had an article about her painting ability featured in the local newspaper (link below)."
"We don't know how much time we have bought removing the tumor but we are trying to enjoy every day! Yesterday was a good day – it was her 2 year ampuversary and she was featured in the newspaper!"
To read about Kaiserin's celebrity profile, visit the London Free Press article about this amazing painting dog.
Get your Original Dog Painting to Help Tripawds!
Remember, Kaiserin and Natasha are donating $20 of each painting sale to the Tripawds Foundation programs. Here's how to get your masterpiece. Every sale helps keep Foundation programs going!
To purchase an original Kaiserin the Painting Dog work of art, visit her Etsy shop at ArtByTripawdKaiserin. Or contact her directly through her Instagram account @tripawdkaiserin
or e-mail Natasha, her assistant.