If your pet needs an amputation, don't miss our next live Tripawds Pet Amputation Webinar, Tuesday, August 4, 2020.
Free Tripawds Pet Amputation Chat Answers Your Questions, Live!
Losing a leg doesn't mean losing a life! Come to our free Tripawds Pet Amputation chat and find out how to make your pet's life on three the happiest it can be. Register here to reserve your spot.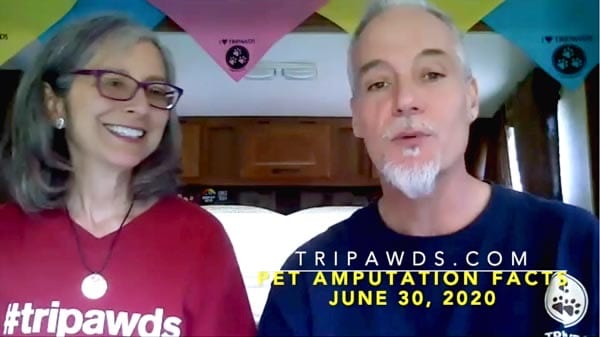 Pet Amputee Webinar Puts Your Mind at Ease
If you're facing or coping with amputation for your dog or cat, you probably feel upset, stressed, scared, and alone. Dealing with your beloved pet's amputation is tough enough without a pandemic. The Coronavirus crisis only makes matters worse. But we've got your back!
Get help & emotional support
Please join us, Tripawds founders Rene and Jim, for our free Tripawds pet amputation chat and video conference call on Tuesday, August 4, 2020. We will share the best pet amputation recovery and care tips – and most importantly, how to feel in control of the situation.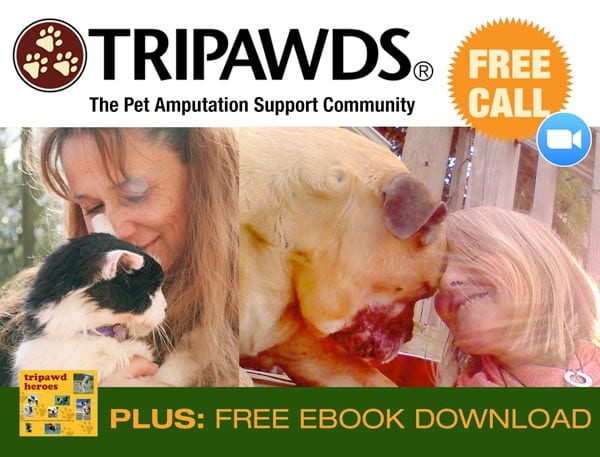 Free Pet Amputation Webinar Details:
WHO: With Tripawds Founders Rene and Jim
(For New Tripawd-Parents)
WHAT: Free Live Video Call
WHEN: Tuesday, August 4, 2020
12:00 Noon PDT (3:00 Eastern)
WHERE: View from your phone or computer.
(Register for Free Zoom video link.)
WHY: To help your dog or cat love life on three legs.
REGISTRATION DEADLINE: Monday August 3, 2020
See Tripawds Pet Amputation Chat and Webinar Facts page for details and to register for this free video call.
You will learn the best ways to care for your dog or cat before, during, and after amputation – and the best way to cope with this difficult situation.
If you have just begun your Tripawd Journey, attend this Free Video Conference for recovery tips and emotional support.
PLUS: Sign up now and you'll also get a free copy of the inspirational Tripawd Heroes e-book. Plus, get instant knowledge from videos with amputation recovery and care tips by veterinary experts who understand the Tripawd life.
See you at our next Tripawds pet amputation chat!