Today we want to say a little something about free photo sharing for Tripawds supporters. That's because yesterday while visiting a member's blog from 2010, we were saddened to see that the Photobucket Fiasco had destroyed Tripawd Denali's beautiful photos. She had an exceptionally helpful blog, it's really too bad.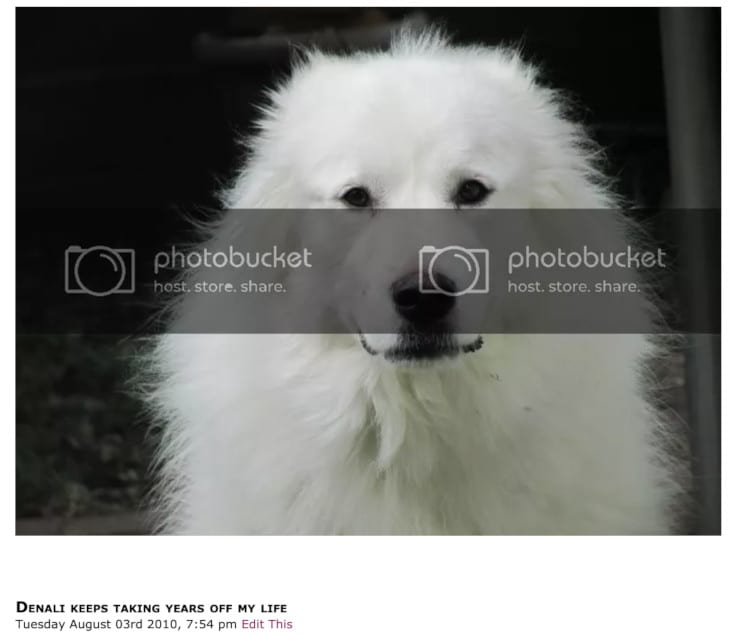 Unfortunately there's nothing that we at Tripawds can do to fix this problem on Denali's blog or any other that has images watermarked with a Photobucket logo. The company did this to all members who at one point used Photobucket for free photo sharing of their Tripawds blog photos. Here's the backstory.
The Downside of Relying on Other "Free" Photo Sharing Websites
Free photo sharing websites seem great until you realize that the company hosting them holds all the power. You see, a few years ago, Photobucket was "free," just like Facebook, Instagram, Imgur, etc. But then Photobucket got acquired by a huge company, which decided users could no longer post their Photobucket-hosted photos on "third party" websites like Tripawds. They held users' photos hostage until users paid a new annual fee of $399 a year! A LOT of Tripawds blogs and our Forums were affected.
See our Tripawds Forum Topic:
"Warning about Photobucket"
Years later, the damage is still there. The only solution is for Denali's mom and other affected members to re-upload photos somewhere else. Or, they can pay Photobucket their ridiculous annual hosting fee. Sadly, these photos on Tripawds blogs will always include the branded watermark.
This is actually improvement. At first, photos were replaced entirely by only the Photobucket logo!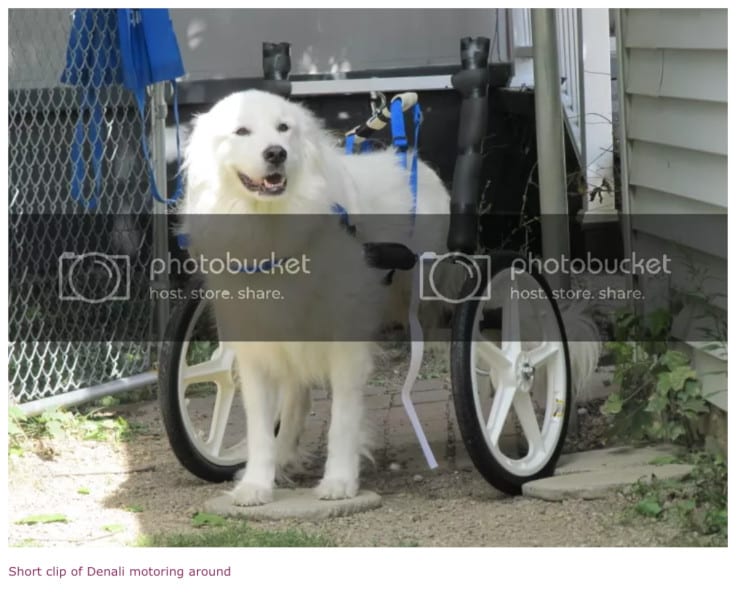 Unfortunately this is what happens when we store our pictures and videos on the major commercial photo sharing websites. One day, the company can just pull the plug, or hold your photos ransom. And before you say Facebook is the answer, please know that photos embedded using Facebook image URLs are served up via static cache. This basically means they may (and will) disappear unexpectedly.
The Value of a Tripawds Supporter Blog
If you choose to become a Tripawds blog supporter and host your photos for free within this community, we guarantee that your blog and its photos will always be there as long as Tripawds.com is up and running. And since Tripawds is our life's work, we have no plans for the network to ever go offline.
We know that not everyone can afford the $25 a year upgrade. That's why Tripawds free blogs automatically come with 25MB of storage space. But if you are able to become a Tripawds supporter at some point, you can upgrade. You'll get as much as 1GB per year for a nominal fee – and help keep the community online.
Upgrading to a Tripawds Supporter blog also automatically removes all ads from your free site. Even if some day you decide to end your supporter subscription, we will still keep hosting your photos and your blog at no charge. It is the story of Your Tripawd Journey matters.
In the meantime, you can know that all supporter fees are doing good in the world. They help keep Tripawds thriving and available for pet parents in need.
If you have any questions about becoming a Tripawds Supporter, please let us know!