When a dog has an angular limb deformity, it's hard to know what path to take. But as in Ziggy's case and now Belle's, you can rest easy knowing that if you decide to amputate, life can be great.
Today we are spotlighting Belle's angular limb deformity bounce back after a long process trying to resolve it. This beauty is the inspawration behind the no-slip Floors for Paws and today you'll learn her story as told by her mum and Floors for Paws founder, Tracy Topliss, and her physiotherapist Julie Smith of Craigard Hydrotherapy in Donington, UK.
Before Amputation for Angular Limb Deformity: Belle's Physiotherapy Preparation
by Julie Smith, (ABC Nationally Accredited Level 3 Diploma in Hydrotherapy)
Belle was just 5 months old in January 2017 when she was referred to me here at Craigard Hydrotherapy. Diagnosed with grade 4 patella luxation in her left hind, it was hoped that hydrotherapy would help maintain her fitness and build her muscle tone sufficiently prior to an operation on her stifle.
Craigard uses an aqua treadmill for treatment which gives the patients' a less weight bearing environment to exercise all of the limbs at the same time.
Belle was very lame with her left hind when we first met (9/10 on lameness score – barely using the limb at all) and this gave her balance problems so it was decided to take the water level high (to the top of her thigh) to give her some stability, make her less weight bearing (to reduce joint loading), and take advantage of the hydrostatic pressure of the water which helps circulation, reducing inflammation and promoting the healing process.
Walking through a high level of water is wonderful for building muscle tone and improving cardiovascular fitness but also very hard work, so Belle's sessions were adapted according to her abilities each time.
Gradually, each session time was increased and Belle's fitness and tone improved measurably.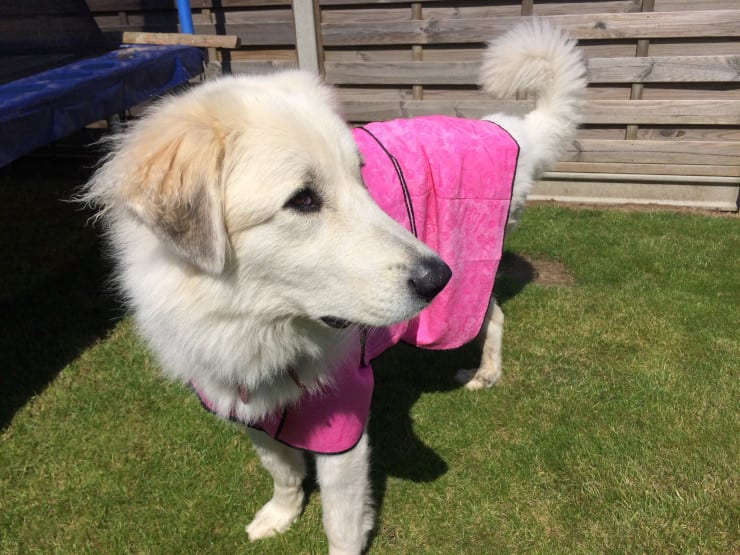 Unfortunately, her left hind limb remained a problem and as she gained weight and tone it became apparent that there was more wrong that patella luxation. Scans done at The Queen's Veterinary School Hospital, Cambridge revealed that her left femur was so badly deformed that amputation was the only viable option.
Belle's Report from Queens Veterinary School
A CT scan of Belle's back legs confirmed that Belle has a complex deformity of her left hind limb. Specifically the bottom of her femur bone and top of her tibia bone are rotated outwards and her kneecap (patella) is sitting outside of its groove on the side of her knee joint (ie it is permanently luxated). There is considerable bony change around her knee. This malformation would be consistent with Belle having sustained a fractured femur at a very young age, with the bone then having healed in the wrong position (mal-union).
The Plan:
Unfortunately Belle's limb deformity is complex and correcting it surgically will be extremely challenging. We would like to take some time to review her imaging and discuss her case with colleagues before proceeding with any form of surgical treatment.
Broadly speaking, the possible treatment options would include:
Surgical correction – this would involve multiple procedures. Surgery would likely require cutting and realigning the femur and tibia bones, replacing the knee cap into its groove and possibly replacing the groove in which it runs. The femur bone may also need lengthening. It is possible that Belle's muscles will not allow the surgery to be successful given how tight they feel this visit. Therefore the outcome of surgical correction of Belle's limb deformity would be unpredictable and there would be a significant risk of complications or, at worst, treatment failure.
Left hind limb amputation – removing Belle's left back leg would alleviate any pain caused by the malformation. Generally this is well tolerated (especially when a back leg is removed) and will not prevent Belle from living an active life once she adapts following surgery.
Conservative management – as Belle is currently able to use the leg to a certain degree and her discomfort is being managed with pain relief, ongoing conservative management remains a treatment option for the time being. This should be continued until Belle finishes growing, at which point the above surgical options should be reconsidered. Belle can continue with her hydrotherapy sessions to build the strength in her forelimb.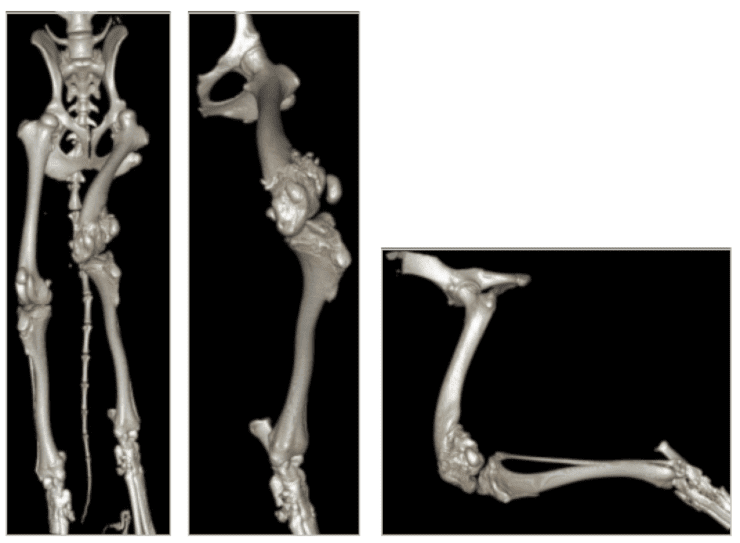 This operation took place in June 2017 and it gave Belle a new lease of life. Without the left hind dragging her down and causing her pain, she was free to be as active and playful as she liked.
Thankfully, the hydrotherapy she had received had strengthened and toned the remaining limbs enough to carry her forward to lead a (relatively) normal life.
We are now 2 years later and Belle is still enjoying a wonderful, healthy, life full of play and happiness. Her owner, Tracy, realised early on that Belle would need a little more help than other dogs so has made changes to her every day exercise regime and kept her weight in check to avoid too much strain being placed on her joints.
Her home environment has also been altered with some Floors 4 Paws being laid to give her more stability and prevent her from slipping.
Belle still attends monthly hydro sessions – just for maintenance and fun, and we all look forward to her visits.
After Amputation: "Fate made Belle a Part of Our Family"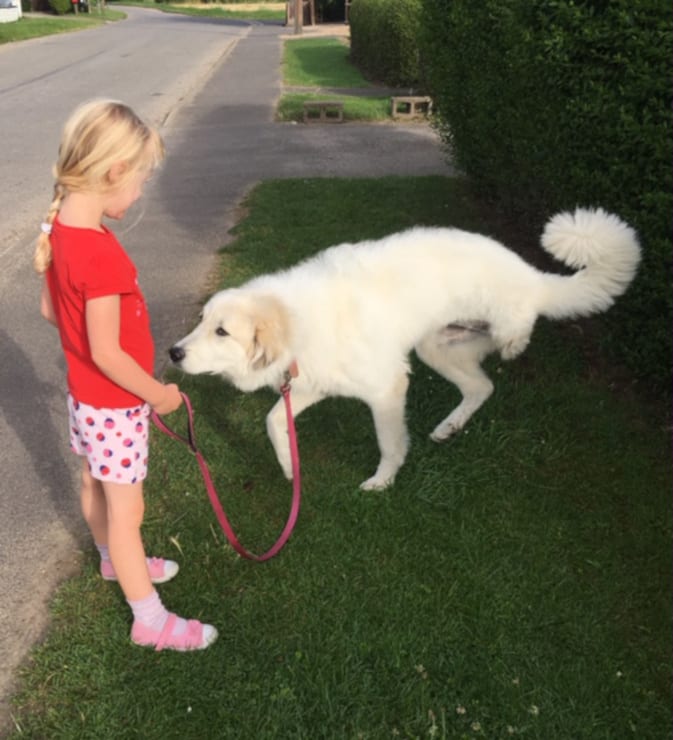 by Tracy Topliss, Floors for Paws Founder and Belle's Mom
Belle is a very happy active Pyrenean Mountain Dog. We adopted Belle when she was five months old, she had issues with her left back leg and we knew we had a journey to go on. Fate made Belle a part of our family and we were ready for the challenge!
Over the past three years there has been several factors in getting Belle to the point she is now.
The first course of action was to get Belle some pain relief as she was very obviously suffering, we then started on treadmill hydrotherapy which she not only enjoyed but also after the sessions she was calmer, more relaxed and slept better.
Hydrotherapy continued until the point where she went in for her operation; the operation took about four hours and the leg was removed right up to her hip.
Belle received excellent care by the team at The Queens Veterinary School, Belle was up and about almost immediately after the anesthetic wore off which surprised us all. I attribute this to the hydrotherapy sessions she had prior to her operation.
From angular limb deformity to the Tripawd life, Belle doesn't skip a beat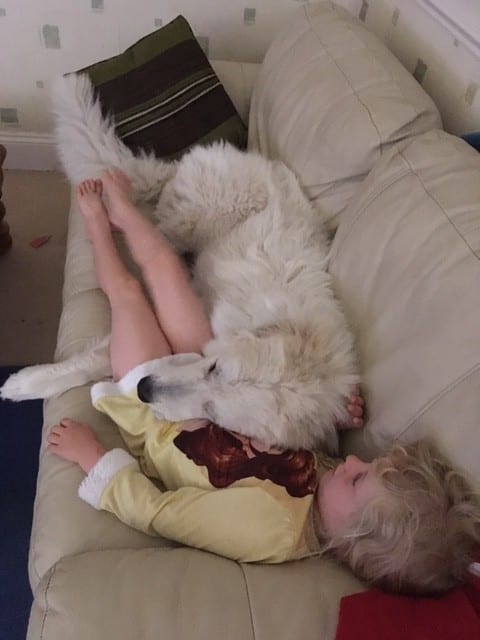 Four days after her operation Belle came home. We have Floors for Paws throughout the down stairs of our house which is designed for 'paws', it has anti-slip properties is hard wearing and scratch proof (also looks great!). Belle was able to get around on the Floors for Paws without having issues slipping, this aided her recovery.
Four weeks after her operation Belle started Hydrotherapy again, we now take Belle once every three weeks and will do for the rest of her life.
Tips for a pain-free, happy life on three
Looking after a Tripawds dog isn't that much different to looking after a 'normal' dog over the years I have learnt the signs when she is struggling, I know her limitations and take her on shorter walks more often.
Belle fairs better off the lead than on the lead as then she is in control of her pace; we keep her weight on the low side of normal and make sure she gets lots of healthy fish oils in her diet.
Prior to Belles operation I was understandable nervous and very apprehensive of what was to come. Queens Veterinary School gave us a link to the Tripawds website and forum.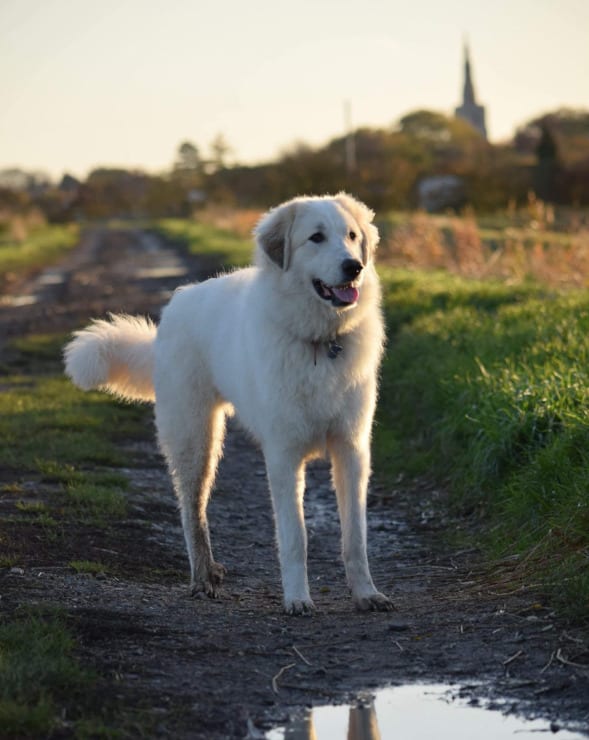 I found a great deal of help and also a comfort knowing that we were not alone in our journey. The tips and advice they offered from experience and the heart warming stories of other dogs who had been through their journey prepared me for what was to come. It also made me realise that so much could be achieved by these dogs with three legs, nothing held them back.
Belle has come a long way and is an amazing dog, I couldn't imagine life without my big bear and neither could her best friend