Post-amputation pain relief for dogs and cats is a learning process. Some need more pain medication, some need less. Fine-tuning the frequency and dosage of medications is a team effort between you and your veterinarian that takes place during the first week or two of recovery. Here's how to make that process easier for everyone.
3 Steps to Better Post-Amputation Pain Relief for Dogs and Cats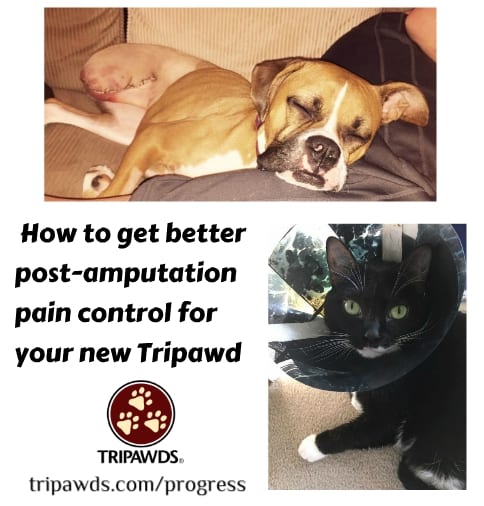 Every new amputee needs excellent pain management. Preferably a protocol that follows the most recent American Animal Hospital Association Pain Management Guidelines. We find that new Tripawds have smoother recoveries when they come home with at least one anti-inflammatory like Metacam, one opoid like Tramadol, and a nerve-pain reducer like Gabapentin. The new 3-day pain relief injection called "Nocita" can often replace some or all of these. Ask your vet.
Look over your pet's post-operative pain medications. If you don't see these drugs listed, call your vet immediately to ask why not.
Check out the difference between a pet who has been given post-operative pain relief, versus one who hasn't, and you'll see why we are such big advocates for the best post-amputation pain relief possible:
If you stick to the prescribed medication schedule, things should go OK and your pet will rest comfortably. However, every animal responds a bit differently to drugs. Some need more, some need less. Unfortunately, our pets can give us almost identical signals when trying to communicate their need for more or less medications.
It's your job to watch for the most common signs that your Tripawd needs an adjustment to the medications your vet has prescribed. Watch for it during day two after coming home from the hospital. Common signs that medications need fine-tuning include:
Anxiety
Restlessness
Lack of appetite
Vocalizations
Follow your gut instinct. If you suspect the medication needs fine-tuning or changing, it's up to you to advocate for your Tripawd. Here's what to do before calling your vet:
Step 1: Take good notes about why you believe your animal is in pain.
Write down your impressions. What exactly is your dog or cat doing to show you they hurt? When does it happen? How often? Write down the symptoms and have those notes ready when you call the vet.
Step 2: Call the clinic and let them know you believe your Tripawd's medications need adjusting.
Let clinic staff know that you've written down your pet's pain symptoms and would like to discuss the medication schedule today. Remember, you're not bothering your vet by calling, you're being a good advocate for your pet.
Step 3: Don't take no for an answer.
If your clinic dismisses your concerns, or perhaps says they will not prescribe different medications, ask to speak to the practice manager. Pain medication alternatives exist, and a good practice provides them.
However, before continuing the discussion, be mindful that veterinary practices are super cautious about releasing pain medications because of the human opioid crisis. Calmly let the practice manager know you really don't want to change clinics during recovery, but if you don't get better pain control for your Tripawd, you will have to look elsewhere. You can do it!
Recommended Reading
How We Can Help Our Tripawds Get Great Vet Care