Moderating our Tripawd's activity levels helps reduce the risk of injury to a remaining limb. Yet sometimes it may seem that our dogs "self-limit" their activity. They may do things like sitting down during a walk, or seeking a shady spot after playing. But are dogs really aware enough to know when to quit? Are they in pain when we think they're "taking a break"?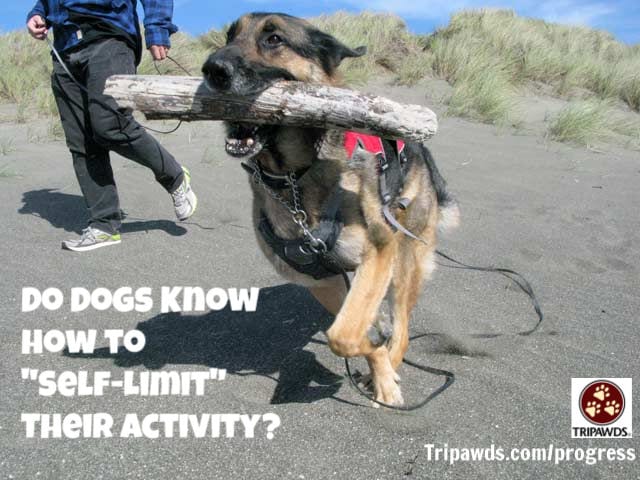 Recently while visiting CSU's James L. Voss Veterinary Teaching Hospital Orthopaedic and Mobility Medicine team, we had a chance to ask a resident expert Sasha A. Foster, MSPT, CCRT, about important Tripawd topics like this one. The result is an informative three-part video series that can help us ensure our dogs stay safe and injury free.
Don't miss Part 2 of our series, "How To Prevent Common Injuries in Tripawds"
and Part 3, "How to Help Aging Tripawds Live Better"
Meanwhile in today's interview, Sasha helps answer the question:
Do dogs self-limit their activity? Or are they in pain?
Transcript:
How and When Dogs Do and Don't Self Limit Their Activity

One question is, how do people know if their dog is self-limiting or if their dog is having pain or is function-limiting for medical reason? And I think there are probably two ways that you can look at this.
The first way is if you knew your dog before it had its surgery to become a Tripawd. You can compare its functional level before surgery to its functional level after surgery. Once a painful limb is removed, the dog should go back to full function. Meaning if you have a Golden Retriever and he loved to play fetch, after he had recovered from his amputation, he should love to play fetch again. If he is refusing to play fetch, that might be a sign that he is in pain and needs to be treated.
On the other hand, if you didn't know your dog before they had their surgery, one of the ways you might know if your dog is in pain versus function-limiting is to know general breed characteristics.
For example, a Great Dane will go outside go for a walk, come back in, and sleep all day long. Versus a Border Collie dog: if you let it outside, it will play outside all day long and then it will come back in the house and it will play all day long.
What is Normal Post-Amputation Behavior?
If you have a Tripawd dog that is a Great Dane and it goes out and sniffs, comes in and takes a nap, that's normal behavior for a Great Dane. Versus a Border Collie dog who goes outside, sniffs around the backyard and comes back in and sleeps – that's probably not normal behavior for a Border Collie dog and should probably be evaluated for pain or medical evaluation to see why the dog is not more active.
About Sasha A. Foster, MSPT, CCRT
Sasha is one of the world's leading experts in canine rehabilitation therapy. She holds her Master of Science in physical therapy from Arcadia University in Glenside, PA, and is a certified canine rehabilitation therapist through Canine Rehab Institute in Wellington, FL.
As a contributing author in the Canine Sports Medicine and Rehabilitation textbook, and faculty member of the Canine Rehab Institute, she is also the author of:
Home Exercise Handouts for Orthopedic Animal Rehabilitation
and Canine Athletic Conditioning, The Clinical Program.
Her goal as the physical therapist for the Sports Medicine and Rehabilitation team is to provide evidence-based, compassionate, gentle-handling assessments and treatments. She wants build lasting therapeutic relationships that return patients to pain-free function.
Thank you to the team at the Small Animal Sports Medicine and Rehabilitation team at Colorado State University, for showing us how, when and why dogs self-limit their activity. And for helping us become better parents to our three-legged heroes! Watch this space next week for another important lesson with Sasha about Tripawd fitness and safety.
Recommended Reading