Caring for an aging Tripawd is a great responsibility but it's not complicated. Although life on three legs takes a toll over time, animal rehabilitation therapists like Sasha A Foster, MSPT, CCRT, can show us to how minimize the impact of our pet's altered gait.
What to Expect for Your Aging Tripawd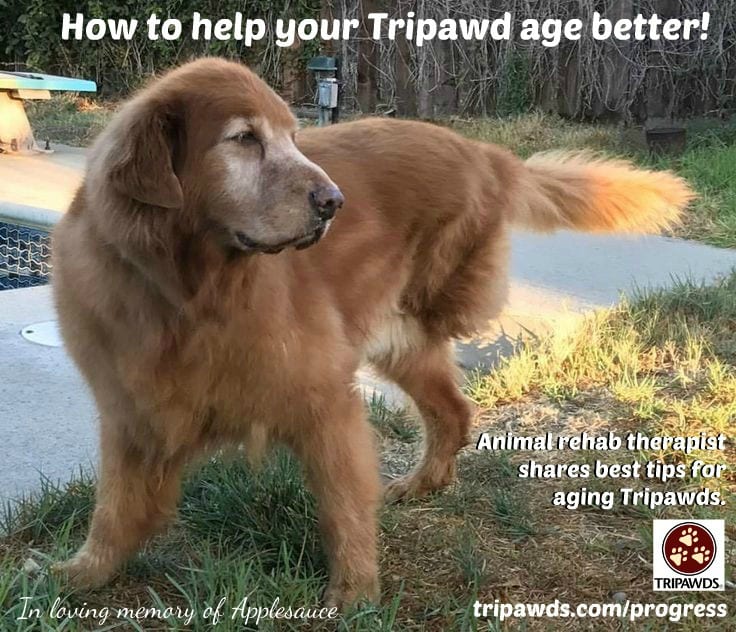 Today in the last of our three-part interview with the Small Animal Sports Medicine and Rehabilitation team at Colorado State University, Sasha A. Foster, MSPT, CCRT explains what to expect with senior amputees, and how to care for an aging Tripawd.
Whether you have a cat or dog, front leg amputee or rear leg amputee, the long-term physiological effects of amputation are predictable. No animal, no matter their size, is immune to problems caused by an altered gait. Thankfully, Sasha is here to help us recognize these issues before they harm our pet's quality of life.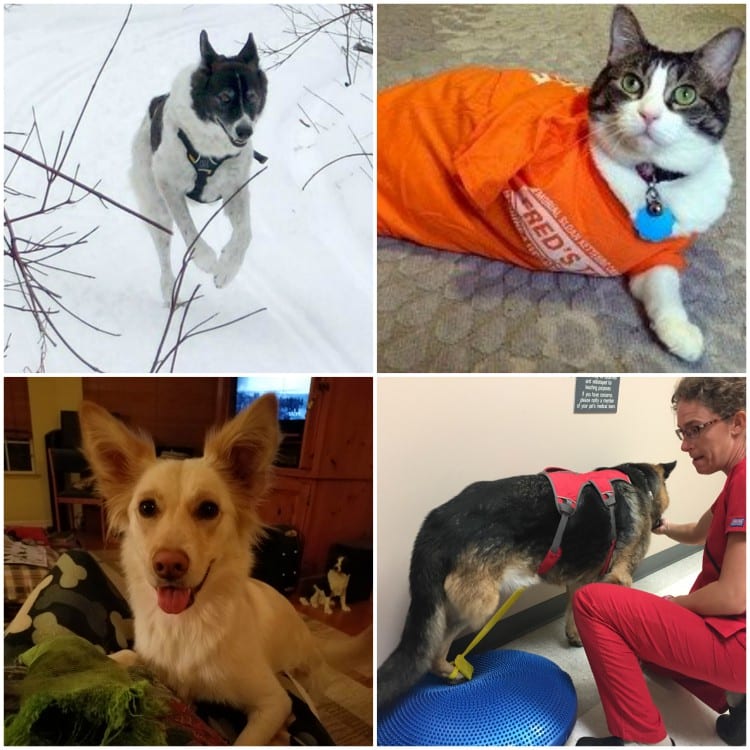 The Most Common Issues for Older Senior Amputee Pets
According to Sasha, the most common issues older Tripawds will encounter are:
Sore, tight muscles
Arthritis in the spine and other joints
The good news is, we can do something to help our aging Tripawd live without pain:
Check in at least twice yearly with your Tripawd's rehabilitation therapist.
Keep your Tripawd slim. Any extra pounds put your pet at risk of injury.
Give your Tripawd consistent endurance exercise. For dogs, swimming, underwater treadmill and shorter, more frequent walks of 10-15 minutes are great. For cats, try leash walking training or active indoor games that stimulate your cat's prey drive.
Most importantly, don't wait to see your vet if you suspect your Tripawd is injured. Get help fast to promote healing.
Watch the video and read the transcript below to learn exactly how to help your aging Tripawd live a great life during their golden years. And don't forget, The Tripawds Foundation's Rehabilitation Reimbursement Grant may pay for your pet's first rehab therapy consultation!
Learn more about Tripawd care
Part 1: "Do Dogs Self-Limit Their Activity?"
Part 2: "How To Prevent Common Injuries in Tripawds"
Tripawds Interviews Animal Rehabilitation Therapy Expert Sasha A. Foster, MSPT, CCRT
Transcript
Age-related issues in animals with amputations, cats or dogs, most commonly look like muscle tightness due to the changes in their mechanical gait and spine mobility issues.
Where Tripawd bodies develop stress.
The changes in the front limb and the hind limb happen from either in a front limb amputee, them bearing more weight through the front limb all the time, or in a hind limb amputee, them having to keep their limb beneath their body more of the time. And those things you can try to manage with exercises.
The other thing is spine motion issues. So no matter if you have a front limb or a hind limb amputee, the spine always has to rotate to make up for the missing limb. When the spine has to rotate repetitively like that, it's not designed to rotate like that. So we'll often see muscle soreness, muscle tightness, arthritis of the joints of the spine, and all of those issues can also best be addressed by just keeping the dog in really great shape.
Keep them in the right weight.
So keep them in the right weight that they're supposed to be for their breed. Make sure they get endurance exercise every day. Great endurance exercises for Tripawds are things like just going for a walk, going swimming is a great thing, doing underwater treadmill if there is a treadmill near you, things to keep their endurance level up so they just have a higher level of fitness.
The other thing we recommend is if you have an aging Tripawd animal, have it evaluated by your veterinarian and a rehab therapist two times a year is a good place to start. We can find things in those evaluations that the animals would not tell us exist like tight muscles or sore joints and then we can treat those things before they become actual injuries.
Don't wait until your amputee gets injured.
Another recommendation is with the Tripawd dog, don't wait. So sometimes when we have a dog that has a lameness for example, we might wait a few weeks to see if they work through that. If you have a Tripawd animal, we would recommend not waiting because the dog or the cat may have an injury that would prevent them from moving. And that injury needs to be addressed sooner than later because they only have the one leg to stand on.
[End of transcript]
Learn more about Tripawd care
Part 1: "Do Dogs Self-Limit Their Activity?"
Part 2: "How To Prevent Common Injuries in Tripawds"

A big "Thank You!" to Sasha and her animal rehabilitation team at the Small Animal Sports Medicine and Rehabilitation team at Colorado State University. We appreciate all the knowledge you share with us!