With more and more members joining from all over the world, Tripawds is making it easier for anyone to access helpful pet amputation resources, assistance programs, and support from others who understand – regardless of their native language.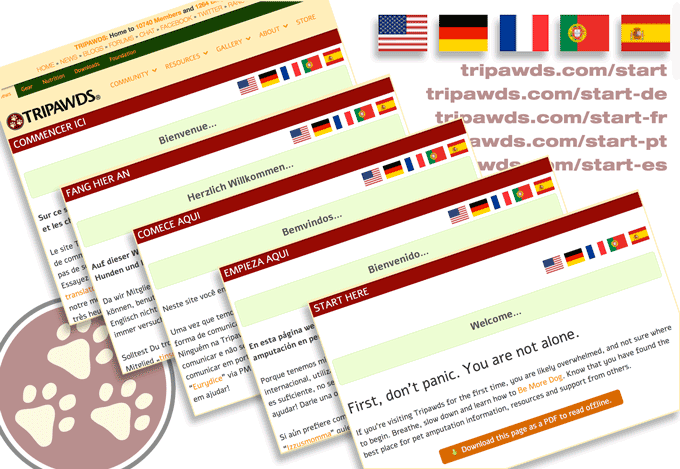 Tripawds Start Page Translations
The Tripawds Start Page is the best place to refer anyone seeking information about amputation for cats and dogs. New members will find it especially helpful. If you ever need help finding the many Tripawds resources and assistance programs, start here: tripawds.com/start
Now, with the help of Tripawds members fluent in popular foreign languages, we are are happy to announce translated versions of the Start page in the following languages. (Each page includes flag icons linking to other translations.)
Português (Portuguese): Comece Aqui
While the vast amount of content throughout the Tripawds Blogs and Discussion Forums will remain in English, these translated Start pages are intended to help those speaking other languages find the help and support they need. They also include profile information for members who have offered to provide direct support in these languages via Private Message, as well as a link to Google Translate for further assistance.
Three paws up to members tinsch, eurydice, and, izzysmomma for their help preapring these translations!
International visitors are also invited to participate regardless of any perceived language barrier. If you notice members seeking help in another language or "broken english" please offer assistance by replying or sending a private message in their native tongue, if you can.
Together we can show the world that Tripawds Rule!