Perhaps the famous veterinary surgeon / writer James Herriot was talking about Jerry the Cat when he said:
"I have felt cats rubbing their faces against mine and touching my cheek with claws carefully sheathed. These things, to me, are expressions of love."
Today's Tripawd Tuesday feature is in loving memory of the cuddly kitty Jerry, who went to the Rainbow Bridge last October. Jerry is an angel now but his spirit is brighter than ever, so sit back, grab some tea, and get ready to fall in love with him all over again. We know you will enjoy this loving tribute written by his mom, boxerhattie.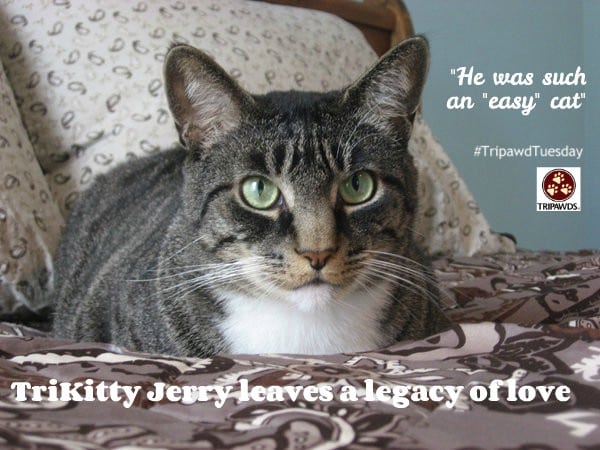 My brother found a cute stray kitten in Ft. Lauderdale in 2001 and began feeding him against my parent's wishes. He named him Geri (he thought it was a female) and after a while, he began bringing him into the house for portions of the day.This went on for about a year when my entire family decided to relocate to Wisconsin. My parents assumed they'd just leave and Geri would be fine, and perhaps he would have been, but I'd convinced (or rather begged) them to bring Geri with us. They relented, and once in Wisconsin, he was taken to the vet and discovered to be a male. So, Jerry he became! He lived with my parents and brother for a few years, until my 4 year old son passed away unexpectedly in 2006 and I asked if he could come and live with us.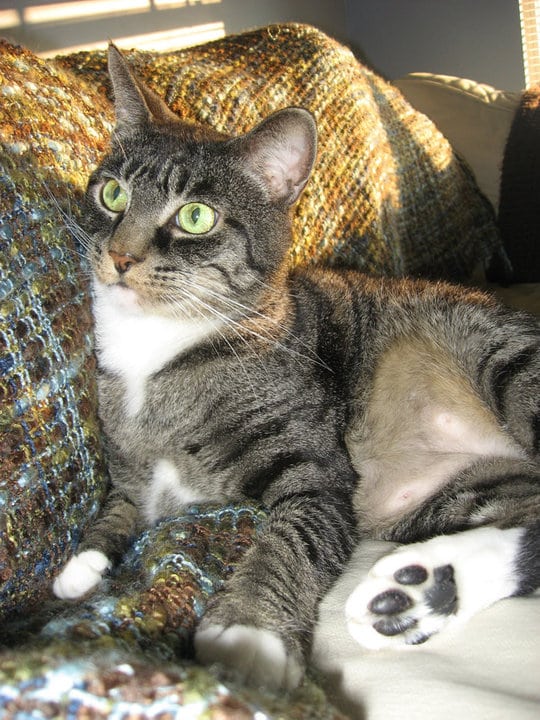 Jerry wasn't an overly friendly cat – he just wanted snuggles and to be pet on his own terms. He didn't enjoy being picked up or carried and hated other cats and didn't care for dogs either. Despite this, the ornery cat lived contently with kids, and two dogs. In 2015, when he was around 14, we woke up one summer day to see that Jerry's shoulders were almost comically off balance. I called the vet, and made an appointment to bring him in. I assumed that he had perhaps dislocated his shoulder or something when jumping up or down from the kitchen counters. It was "surgery day" at the vet, so he asked me to leave him there and he'd look at Jerry when he had time. A few hours later I received a call that said he suspected osteosarcoma, but did x-rays and it hadn't spread. He recommended an amputation of his scapula and right front leg.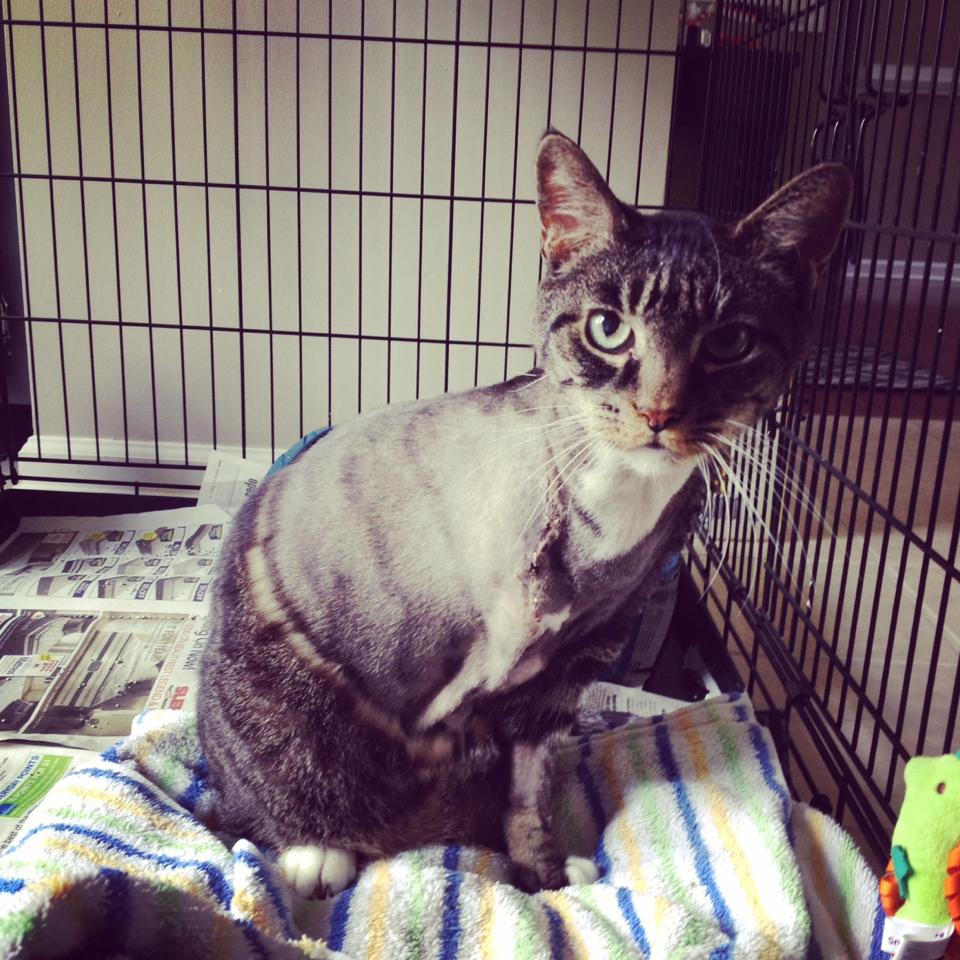 My husband and I opted for the surgery and brought him home afterwards, but Jerry had a terrible setback the next evening involving a medication called Onsior that he was given which resulted in internal bleeding. We rushed him back to the vet and he needed a blood transfusion and some other treatments to stop the intestinal bleeding. Jerry cheated death once again – it was such a relief. The rest of his recovery went pretty smoothly, aside from some itching and scabbing issues. Over the next two years, my Jerry Cat completely transformed into a friendly, cuddly boy who slept with me all night, and didn't mind being carried or held any longer. I have no idea why, and frankly don't care! I was just so happy that he survived and seemed so happy and healthy.
But once again, seemingly overnight, I came home from work this past October 5, and Jerry was stumbling (drunk walking), falling over, then staying put. We brought him to the vet right away, who dilated his pupils and let us know that Jerry had lost his sight and had lesions on his retinas. He drew blood and was assuming it was toxoplasmosis that was causing him to wobble and have the neurological issues he was presenting.
Unfortunately Jerry did not live long enough for me to get the test results back. By the 8th, he had had several consecutive violent seizures that resulted in him losing control of his bowels. He could no longer sit up or walk. He was not eating or drinking. I sat inside his large crate and kept him on my lap. I tried feeding him sips of water from a syringe. On Monday morning, I was headed into the vet with Jerry in a blanket on my lap, and he took several long, slow breaths. By the time we got him in the exam room, he coughed a few times, and passed.
I am so fortunate that Jerry lead an otherwise charmed, calm, and happy life despite the dramatic and tragic weekend that ended his life. He was such an "easy" cat to have, and the vet's office was stunned and saddened to lose him too. They loved what a trooper he was – he was definitely an office favorite.
Please enjoy looking at some of the pics of him over the years. I doubt I'll ever have another cat or pet, quite like him. I own a Little Free Library in memory of my son and I think I just might have to put a stuffed gray striped kitty inside of it now, too.
Read All Tripawd Tuesday Stories
Your Pet Can Star in Tripawd Tuesday
Each Tuesday, Tripawd dogs, cats and other critters from around the world can enter for a chance to be "Tripawd of the Week." Just share your Tripawd's story and you're entered to win! On every Tuesday of the week, tell us about your three-legged hero. Just follow these easy steps:
In a short paragraph or two (or longer if you'd like!), describe your three-legged hero's story.
Include photos or links to videos already uploaded to YouTube.
Include a link to your Tripawds Forum topic and/or Tripawds blog, social media handles, etc.

Email your story and photos

to us.
All entries must be received by Saturday at 11:59 pm. One Tripawd story will be selected at random to be featured the following Tuesday.