You never forget the day your pet gets diagnosed with cancer. The bomb probably fell while you sat under bright florescent lights in a sterile room with loud commotion happening just beyond the door. It's a familiar scene at university veterinary clinics around the globe but not at Colorado State University's Flint Animal Cancer Center (FACC). Thanks to a Rottweiler named Lucy and generous donors, recent clinic renovations are enabling kinder, gentler pet cancer care at one of the best vet cancer clinics in the world.
A Lasting Legacy at the Lucy Oncology Clinic
A pet cancer diagnosis is scary, but having an outstanding oncology team makes the experience far less terrifying. Jeffrey Neu understood this, which is why he took his beloved Rottweiler Lucy for osteosarcoma cancer treatment at the FACC. There in Fort Collins, Colorado she got the best care around. While Lucy was being treated, Mr. Neu noted certain aspects about the clinic that could make patient care even more outstanding. So in recognition for the unparalleled treatment Lucy received he and his brother Robert have made a multi-million dollar donation to create the world's leading veterinary oncology clinic for pets. The gift kicked off even more donations for a series of building renovations that will eventually total $20 million and conclude in 2020. Last month we toured the latest improvements and are more impressed with the FACC than ever.
What makes these changes so remarkable is because we've all seen how veterinary medicine has changed dramatically over the last ten years. No field has changed more than oncology. But clinic infrastructure components, like exam rooms and surgical suites, haven't always kept pace. Thanks to the ongoing FACC renovation campaign, CSU is staying one step ahead of the curve with an impressive list of new clinic features.
For starters, the Lucy Oncology Clinic's 6,000 annual patients and their humans are enjoying better, more efficient communication among the oncology team members and collaborating clinical services like radiology and anesthesia. The renovations mean that services are no longer scattered throughout the hospital. Now, oncology exams and treatments are now located in once centralized 4,100 square foot space, which makes the visits faster and easier for pets and their people.
Human-Grade Facilities for the Best Vet Cancer Care Available
Behind the scenes, a revolutionary circular design for the clinic's inner workings literally puts patient care at the heart of the oncology center while massive glass windows connect all clinic spaces. Patients and owners enter the clinic through one of two private exam rooms where the initial history and physical exam takes place. From there a the whole team gathers around each patient in the Patt Hall Patient evaluation room, which is located in the middle of the action. This is otherwise know as the Patt Hall PIT, as in pit stop where more information is gathered.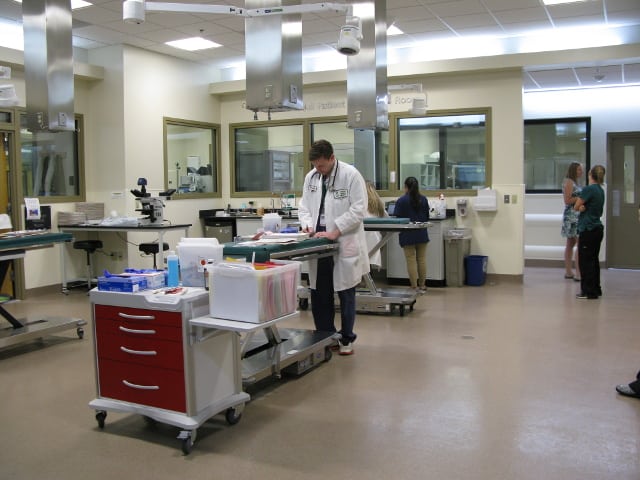 In this setting the team discusses a personalized diagnostic plan for each patient, tumors are measured and blood samples are taken. A rounds (meeting) room, procedures rooms, chemo suite, dedicated clinical trials room and canine and feline day patient rooms surround the central hub of the Patt Hall PIT. This enables team members to see what patients are being examined and treated at any given time, more easily share ideas and discuss cases with other team members throughout the day. The clinic also has a new surgical suite designed just for oncology patients. Many state-of-the-art technologies designed for human hospitals have been incorporated into it, like human-grade instruments and live-streaming web cams in surgical suites to teach tomorrow's vet oncologists.
Another thoughtful element of the new space is a lighting feature commonly known as tunable or Circadian Lighting, an LED system that replicates the position, angle, and color of natural sunlight throughout the day. This type of light is proven to boost the happiness and productivity level of employees who work long hours indoors, by feeding the human body's craving for sunlight. It was intended to help the patients as much as those who care for them.
The Lucy Oncology Center also has new comfort rooms to help pets and parents feel at ease. These beautiful retreats were built for difficult conversations and for patients and parents awaiting treatment. A calming environment with comfy furniture, soft lighting, slip resistant floors and soundproof walls is always ready for nervous patients. There's also gorgeous pet-centric artwork that adorns the walls, featuring works donated by celebrated CSU alum Jay Snellgrove, framer Brian Hart, and the world-famous nature photographer Thomas D. Mangelsen.
All of these great new design features are groundbreaking, but perhaps one of the biggest breakthroughs for the FACC is a new, dedicated space for CSU oncology clinical trials. Previously these clinical trials were conducted in different parts of the hospital and clinicians' workspaces were also scattered. Today's patients who participate in these important studies can now enjoy a consistent, familiar setting that helps them feel at ease during treatment. The new CSU clinical trials space also boosts the productivity and happiness of the oncology research team by giving them the room and organization needed to track and report on studies that improve cancer therapies. Ultimately the redesign makes it easier for clinicians to reach the ultimate goal of One Cure for cancer for pets and people alike.
A Winning Team Matters
When you find yourself faced with a pet cancer diagnosis, finding a great team matters. Not only will it give you peace of mind but a great, cohesive team also gives your pet a fighting chance at beating cancer. If you're able to work with the outstanding vets at Colorado State University's James L. Voss Veterinary Teaching Hospital, you'll find that pet cancer treatment doesn't get any better than at Flint Animal Cancer Center's beautiful new Lucy Oncology Clinic.