When we learned about the new seasonal brew Karbach Brewing Company launched last year, we wanted to learn more about Molly—the inspiration for Three Legged Lab.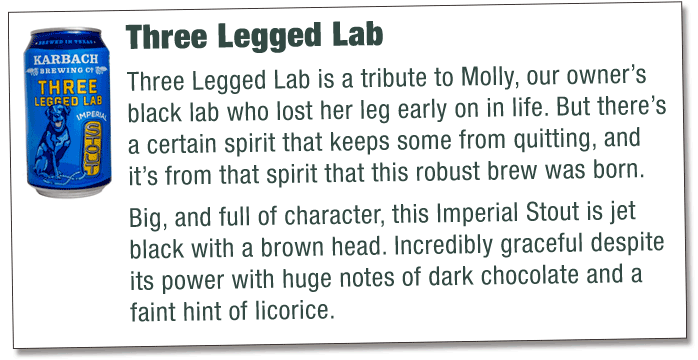 What is the story behind Three Legged Lab?
We asked owners Ken and Terry Goodman, and this is what they had to say…
It would be easy to tell stories of how special Molly was or the difference she made in our lives, but that could be said for any pet in any family. As our pet's humans, we are daily blessed with their unconditional love, companionship, and devotion and Molly was no different in the way that she went about making our lives something special in the lessons we learned from her and the way she went about living her life.

Molly

When we were faced with the prospects of what her life would be like with only three legs, we envisioned hardship and struggle for her. Our long time vet and the professionals at the Texas A&M Veterinary Hospital assured us that she would have a full and pain free life, so we all embarked on a life with our girl not expecting how well she would do so many things. She was not only capable but excelled at many things a lab loves to do – run, swim, chase (and catch) rabbits, and retrieve. She was the best dove hunting dog any in our circle of hunters ever encountered. On more than one occasion, it was only after she had retrieved a bird, and hopped back to her master, did someone realize that she was missing a leg. What they didn't know was that Molly actually flunked out of obedience training as a puppy. It was only after we realized that her strong will and refusal to do as told was not a function of what she couldn't do, but rather a matter of motivation. She would do nothing out of fear, but was totally motivated by her need to please her family and make them happy. She did everything out of love. She would do anything asked by us for praise and love and once she and we were in agreement on that small fact, she quickly became the center of every occasion.

Once while walking in the park (the only dog allowed to do so without a collar, as it often rubbed on her neck as she hopped) Molly found a friend in a special needs child with Down's Syndrome. Sometimes children would be fearful of her at first because she was such a big, black dog and walked funny, but once they met her they realized that all she wanted was your attention and a possible treat! Molly came back every day to meet the little boy and balance on her three legs for as long as he wanted to pet her. He stated that she was just like him – special! That truly defined how Molly lived her life – she never seemed to focus on what was different about herself or what she couldn't do, but on what she could do and how happy she could make us.

Molly was given all she needed to live her life – a huge heart and strong muscles to physically run and walk with three legs and a huge heart and strong muscles to be our loving companion.

We loved her so!
A strong dog with a huge heart…
Graceful, yet full of character. No wonder Karbach Brewing Company honored Molly by naming their new seasonal stout Three Legged Lab.
Speaking of huge hearts, and naming things…
Karbach Brewing Supports Tripawds Rescue
In case you haven't heard, the 2017 Tripawds Rescue Fund is made possible with a generous grant from Karbach Brewing. Three paws up to Ken and Terry for being such great guardians to Molly—and to the team at Karbach for keeping her memory alive and helping us to Help Tripawds Everywhere!!!