We're so hoppy! Last week's Tripawd Tuesday Call for Entries brought in three pawesome stories to share. Of course there is always room for more, so keep 'em coming Tripawds Nation! Meanwhile, we hope you enjoy this inspawrational story written by HoneyBear's Mom, Sheena. Get out your tissues, it's guaranteed to make your eyes watery (in a good way!).
Every Day is a Blessing: For the Love of HoneyBear
After a year of life struggles including job loss, house issues, loss of our diabetic cat (Jinx) to organ failure, and the most devastating loss of our beloved dog Chogan to Osteosarcoma; there was still bad news around the corner for my husband and I. On May 25th 2016 we received the devastating news that our sweet HoneyBear had Osteosarcoma.
We were beyond devastated and in complete shock. After everything else we have had to deal with, now this? Why? We didn't know what to do. We didn't proceed with treatment with Chogan because he was 11 1/2. Honeybear was 9 and the doctor confirmed it hadn't spread to her lungs yet.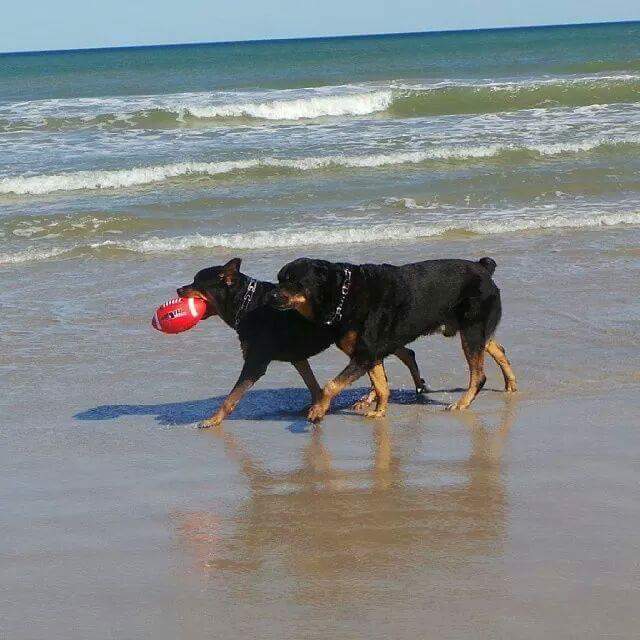 We left the clinic sobbing and felt as if our hearts had been ripped out of our chests. We love HoneyBear so much and were not ready to lose her! She always has a smile on her face and has an infectious love for life. She wasn't ready to give up either.
Discovering Tripawds: "We had to Fight!"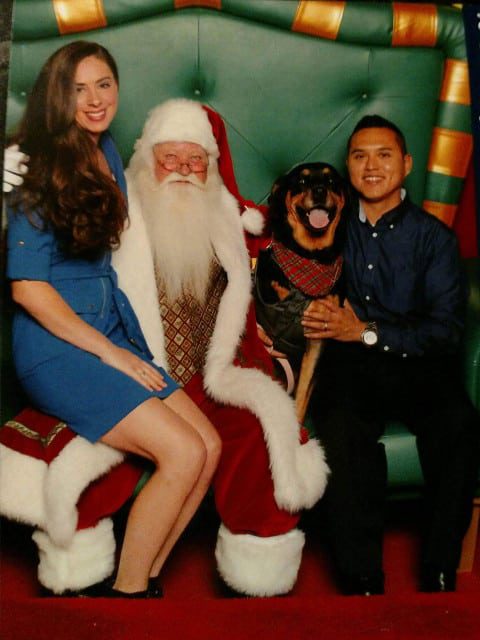 Of course that night we couldn't sleep so I got online and started researching anything that had to do with canine osteosarcoma. I just happened to stumble into a tripawds blog, which led me to the website, which kept me wide eyed and searching for more.
I found success stories! Dogs do great with amputation and even chemo! I had no idea! I saw video's of tripawd dogs running around happy! I got such a strong feeling of hope in my heart and knew exactly what we had to do. We had to fight! We already went down the road of "keeping him comfortable" and let me tell you it is not pretty. Watching our best friend who was strong physically and mentally deteriorate day after day from this awful disease was the hardest thing I have ever had to do.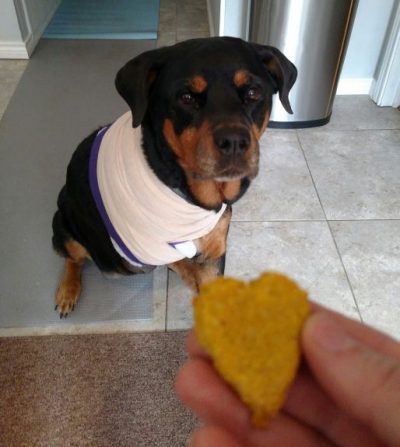 My husband had also done some research and we agreed we needed to do all we could for HoneyBear. We called the surgeon first thing in the morning and promptly scheduled her surgery. We didn't know at the time how we were going to pay for it or who was taking time off of work or how we would get the house ready in time but we made it happen.
Her surgery went perfect and we picked her up the next day. When she saw us she "hopped" straight to us with that same big smile on her face! I felt like I was taking home a newborn baby! There was so much post op meds and instructions! I had the clinics number memorized those first weeks! HoneyBear has done amazing adjusting to her new body and would actually get excited to go to her chemo appointments! I knew right away that we made the right decision.
Happy Six Month Ampuversary HoneyBear!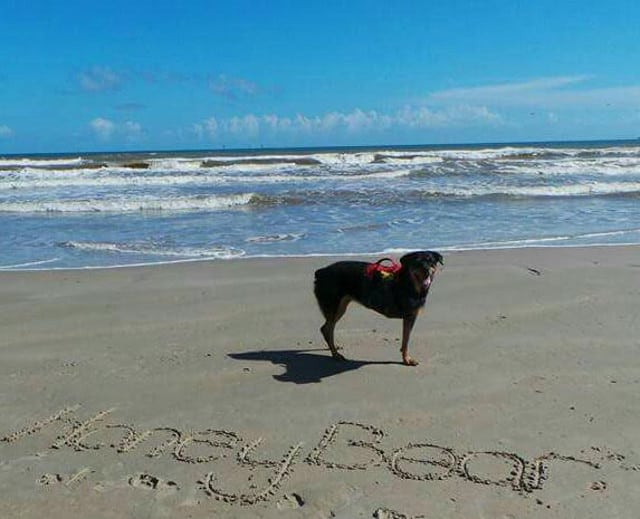 Today (Tuesday, December 6) is exactly HoneyBears 6 month "ampuversary!" I can't believe how fast time has gone by! I am loving and cherishing every second with her. If I could go back in time I would have definitely gone through the treatment with Chogan even at his age. I wish I knew then what I know now.
I am so thankful to Tripawds for creating this page of encouragement and support for anyone who is dealing with this situation. Unfortunately there isn't a cure for osteosarcoma but there are a lot of medications and supplements that can prolong metastasis. I also have a lot of faith and pray to God every day for a miracle!
Life is truly a gift and everyday is a blessing. We are loving life right now with our sweet HoneyBear and are forever grateful for this precious time with her.
You can read HoneyBear's continuing story at honeybear.tripawds.com
Send Your Tripawd Tuesday Story: It's Easy!
Each Tuesday, Tripawd dogs and cats from around the world can enter for a chance to be "Tripawd of the Week." Just share your Tripawd's story and you're entered to win! On every Tuesday of the week, tell us about your three-legged hero. Just follow these easy steps:
In a short paragraph or two (or longer if you'd like!), describe your three-legged hero's story.
Include photos and any YouTube or Vimeo video URLs.
Include a link to your Tripawds Forum topic and/or Tripawds blog, social media handles, etc.

Email your story and photos to us.
All entries must be received by Saturday at 11:59 pm. One Tripawd story will be selected at random to be featured the following Tuesday.
Save
Save
Save
Save