If your senior dog was diagnosed with cancer and you're struggling with the amputation decision, today's Tripawd Tuesday feature is a must-read. Dabny and her mom Cindy are sharing their story with the Tripawds Nation because they want everyone to know that even older dogs can do well on three-legs. Dabny tells more: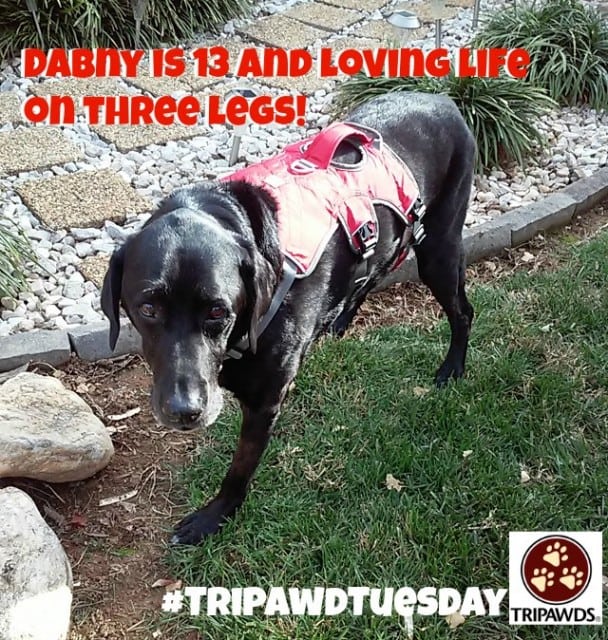 My name is Dabny and I'm almost 13 years old. I became a tripawd a couple of months ago due to a mass cell tumor.
My doctor didn't want to amputate my leg and I even got turned down for funding because they said that my quality of life wouldn't be good. Boy did I prove them wrong!
I'm jumping up on the furniture to using the steps and with my Webmaster Harness I can walk with Mommy's help across slick floors.
What I'm trying to say is don't give up!
If there's fur baby parents out there trying to make the decision because you're worried that your baby won't be the same it's going to be OK. With some work and patience you'll see that we bounce back and can live a normal life.
Thanks for letting me share my story!
Dabny
Share Your Tripawd Tuesday Tale!
Each Tuesday, Tripawds from around the world can enter for a chance to be "Tripawd of the Week." Just share your Tripawd's story and you're entered to win! On every Tuesday of the week, tell us about your three-legged hero here in the Tripawds Discussion Forums or on the Tripawds Facebook page. Just follow these easy steps:
In a few short sentences, describe your three-legged hero's story.
Include a photo or video.
Include a link to your Tripawds Facebook page, Forum topic and/or Tripawds blog (if applicable)
All entries must be received by Saturday at 11:59 pm. One Tripawd story will be selected at random to be featured the following Tuesday.