When a new three-legged cat joins the Tripawds Nation we are thrilled. Not because they lost a leg, of course, but because we have so much to learn from them and the best way is through their Trikitty blogs.
Today for Tripawd Tuesday we want to share the story of one of our most prolific cat bloggers, Alfredo or just "Fredo," an amputee cat who lost a leg to "complex adenocarcinoma."
TriCat Fredo Rocks Chemo
Most Tripawd cats here lose a leg to cancers that are stopped by amputation. But eight-year old Fredo was an exception: his cancer required chemotherapy to obliterate it. His blog, Fredo's Fight, shares every detail about what it's like to go through chemo with a cat.
One small inconvenience of course is the ongoing chemotherapy for the little guy.  It is increasingly terrible, mostly because of my guilt.  They said last week that he got a little upset with them, and I believe it because he sounded more angry than usual.  Once we brought him home, he avoided me like the plague (the picture below of him eating felt like daggers should be coming from his eyes–go away lady, let me eat in peace).  But now we're friends again, until the next (AND FINAL!) visit.
Later when Fredo graduated from chemo, his momma Jaime summarized it so perfectly:
I begrudgingly brought the kiddo to his "last" appointment.  I use quotes because it's obviously not his last appointment, but whatever.  I just feel so BAD.  Is this prepping me for parenthood?  Because ugh.  I know cats are resilient, but still.  He's gotta be SO OVER this.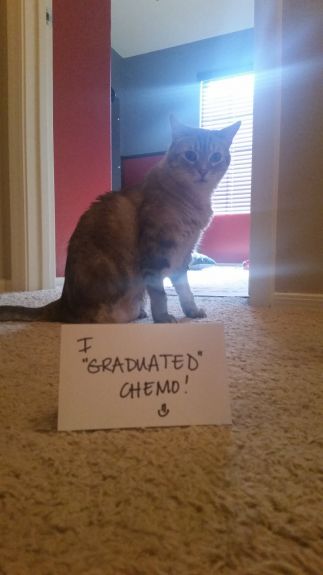 Oh, most importantly: all of the tests came back clear and the vet is comfortable saying that he is completely healthy at this point.  HOWEVER, we will return in three months for another terribly expensive appointment.  LOL.  Can you tell I'm a little overwhelmed by the cost of this?  At least it's becoming less frequent.  He'll have appointments every three months for the first year, then we'll scale back.  So for now, a little peace in Fredo's world.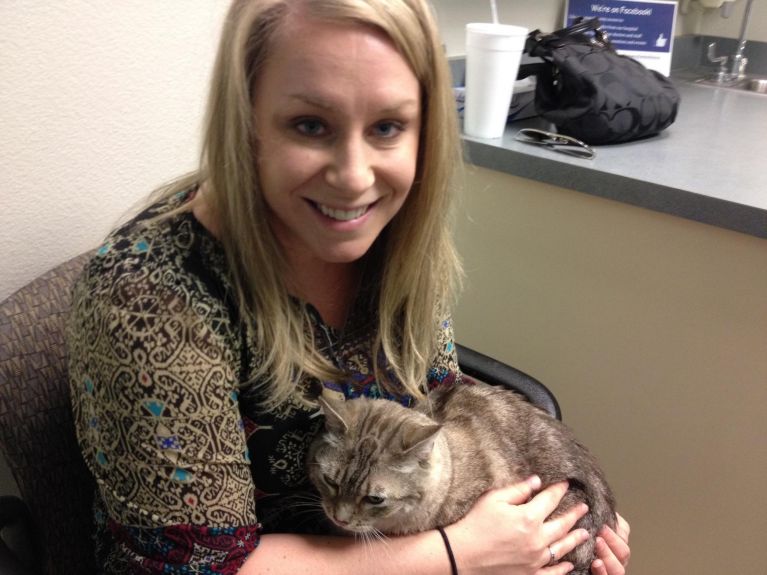 Getting to see the ups and downs of Fredo's chemotherapy sessions through his blog was so insightful. He's all done with it now, but if anyone who is about to undergo chemotherapy with their cat can learn so much from Fredo's Fight.
Share Your Tripawd Tuesday Tale!
Each Tuesday, Tripawds from around the world can enter for a chance to be "Tripawd of the Week." Just share your Tripawd's story and you're entered to win! On every Tuesday of the week, tell us about your three-legged hero here in the Tripawds Discussion Forums or on the Tripawds Facebook page. Just follow these easy steps:
In a few short sentences, describe your three-legged hero's story.
Include a photo or video.
Include a link to your Tripawds Facebook page, Forum topic and/or Tripawds blog (if applicable)
All entries must be received by Saturday at 11:59 pm. One Tripawd story will be selected at random to be featured the following Tuesday.