Today marks seven years since our Jerry put on a set of wings. The time has flown as fast as the wind but his presence is stronger than ever in our hearts and in the community he founded.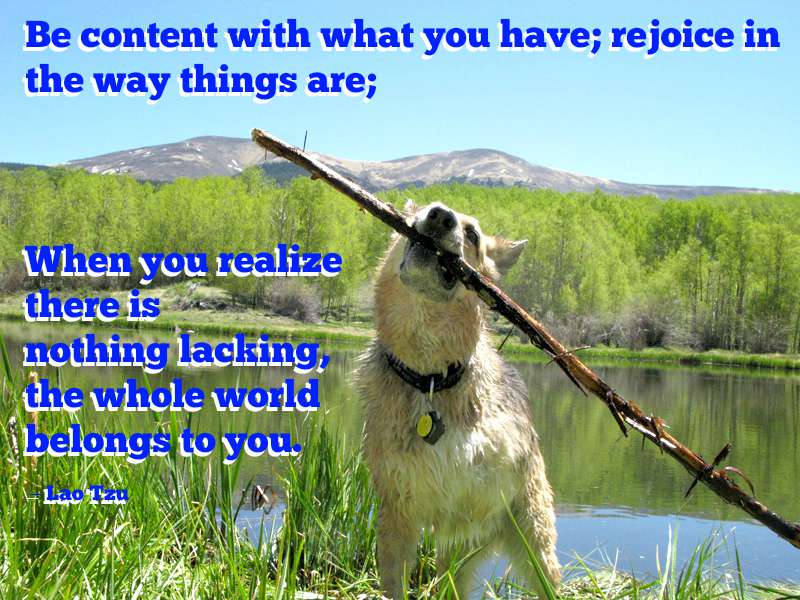 The first days, months and even years of living without Jerry's wise old soul left us feeling lost and uncertain about our path in this world. Life seemed so much easier when he was around. During tough times, we only needed to look into Jerry's concerned brown eyes to feel grounded and remember the foolishness of worrying about things beyond our control, like the future. With Jerry's leadership, we were continuously reminded that the only thing that matters is the Here and Now.
As a master of living in the Now, Jerry's greatest lesson was getting us to understand one major law of the Universe: embrace change with open arms and roll with it. Like the oceans, the galaxies and everything in-between, the Universe is continuously growing, changing and expanding. Because we are part of the fabric from which the Universe is created, it's our destiny to do the same. Dwelling on the past and worrying about the future is pointless. All we have is today, so make the most of it.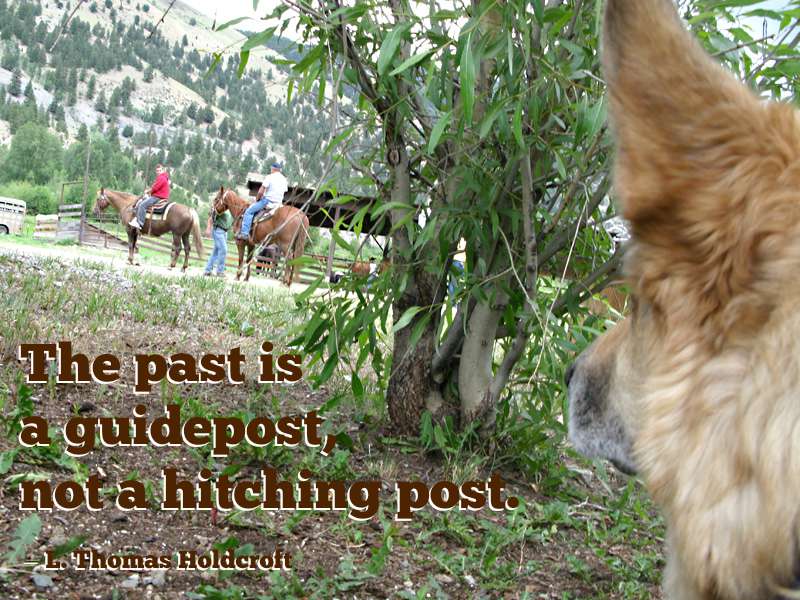 Our Tripawd Hero Rides Shotgun
(as told by Jerry's Mom, Rene).
Seven years after his passing, Jerry still sends us subtle reminders to reinforce this lesson. Like last summer when our pack was simultaneously bombarded with several stressful events, Jerry took it upon himself to reiterate all that he'd taught us in his ten years on this planet because we obviously weren't remembering it. While fretting over our tough times during a road trip across the West, he sent us a series of rapid-fire hints that were so perfectly timed and appropriate, we couldn't deny that he was still along for the ride.
While driving from Colorado to the West Coast for work and play, we:
hit some kind of big black bird with the RV
endured a trailer tire blowout
blew a gasket in our truck engine, which coated our rig in oil
had trailer brake issues that resulted in a worthless "repair"
experienced technical problems with our satellite Internet system
The expenses and stress were taking a toll as we approached a stretch of Wyoming highway that reminds us of our last precious weeks with Jerry. Seven years later, we found ourselves at the crossroads of a place in time when there was nothing more that could be done to fight the cancer that would separate our pack. The steel gray sky was as heavy as our hearts, our energy levels so low and our patience so thin, it felt like we had time-traveled back to those last uncertain days of Jerry's life.
As we drove along and listened to an audiobook of the Steven King novel "Doctor Sleep," we noticed that our little dashboard Jackelope was looking sad and broken. That's because after seven years of commanding our crew, the critter had had just lost his antlers somewhere between California and Utah. We wondered: were those magical Jerry days gone for good?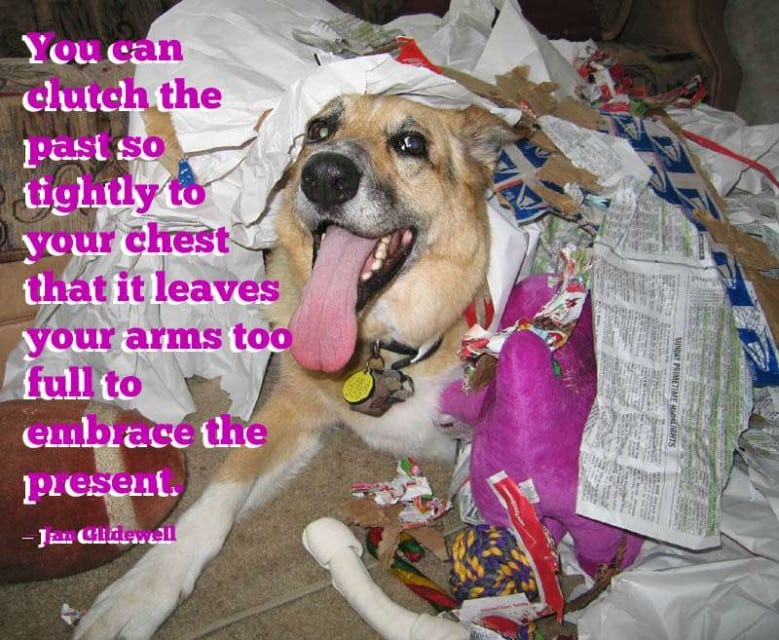 At that precise moment, a Subaru station wagon was accelerating past us. Studying the dark green car's license plate, I spotted the license plate. It read: "Dr. Dawg."
As in: Jerry. G. Dawg.
"Did you see that!" I yelled. But Jim didn't see the plate, his eyes were on the road. Then almost as quickly as he arrived on the scene, Dr. Dawg disappeared forever.
My spirits lifted a little as I smiled and pondered the crazy coincidence. I settled back into listening to Doctor Sleep at a point in the story when the main character is reflecting on his new clean and sober life. I looked out the window and there within the dark skies a huge rainbow was starting to emerge, with one of the most brilliant shades of purple on the spectrum.
As the rainbow got increasingly brilliant across the horizon, the Doctor Sleep narrator begins describing an Alcoholics Anonymous "sobriety chip" bestowed on the main character. These chips come in various colors to acknowledge certain sobriety milestones. The color of this sobriety chip? Purple. And according to the narrator, it's known in AA circles as "The Purple Barney Chip."
Purple. Like Barney, Jerry's favorite nemesis, the same little demon who posed on Stephen King's mansion gate when we visited Maine together.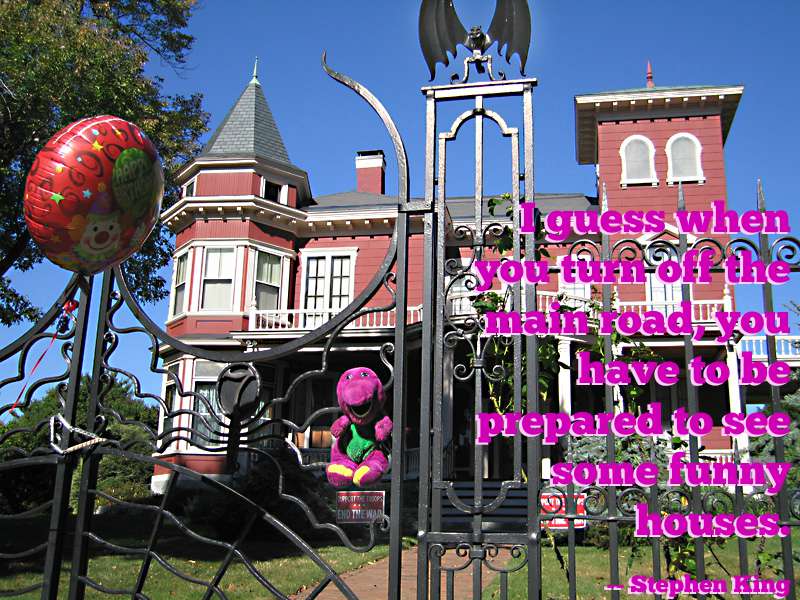 At that moment we knew for sure: Jerry was is still here, and isn't going anywhere. He was telling us "Look guys, you can get through this. You are stronger than you think, don't ever forget it."
Power of the Paw
Hard times like the ones we experienced always test our patience to the fullest. But Jerry taught us that reacting with strong, negative emotions is such a waste, because when we are angry or upset we become blinded to the Now.
In ten short years he taught us that even the tough times have gifts to unwrap, we just have to be willing to accept them. Do it, and we can have unlimited amounts of joyful times that fill our hearts and make us better human beings.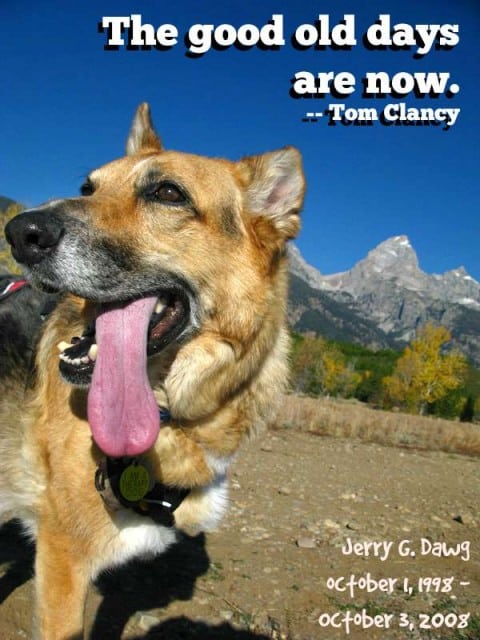 Thank you Jerry.
Every day is a great day. Live each day as if it were your last, because it very well may be.

Don't let adversity slow you down. Enjoy those things you can do, right now.

Take time to smell the roses. Observe the world around you, you never know what you might miss.

Go and Do. Get up, get out and seek adventures.

Simply be. No matter what's going on, where you are, be happy within.

Never give up. Do everything within your power to reach your highest aspirations.