Big news from our friends Luke Robinson and the PuppyUp Foundation: they just gave a $96,000 grant to Dr. Neil Christensen, Radiation Oncologist at the University of Wisconsin Madison, School of Veterinary Medicine for the study of analgesic and systemic immune response to stereotactic radiation therapy in canine osteosarcoma!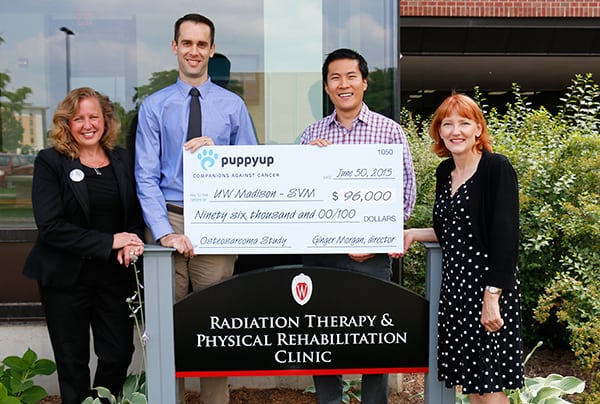 In a press released we received last week, Puppy Up's executive director Ginger Morgan announced:
"Osteosarcoma is a highly aggressive and painful bone cancer that affects both dogs and humans. With 10,000 new cases diagnosed in dogs each year, it is the most common form of canine bone tumor, and most dogs succumb to the disease within a year of diagnosis.
Oncologists at the University of Wisconsin School of Veterinary Medicine (SVM) have been investigating osteosarcoma for some time, looking to uncover its underlying causes and develop more effective therapies. And now, thanks to this $96,000 grant from the PuppyUp Foundation, the school will launch a new study aimed at improving mobility and quality of life for dogs afflicted by the disease.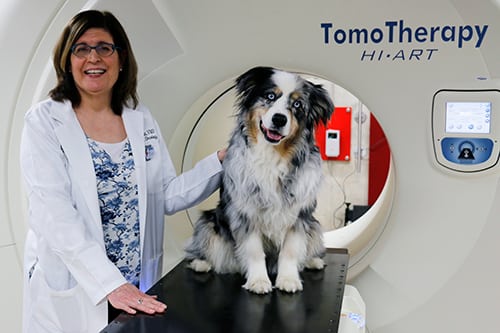 "Our hope is to help a lot of dogs affected by this disease in the future," says Christensen. "And the data we generate should be applicable to treating osteosarcoma in humans as well."
PuppyUp, one of the largest pet and people cancer foundations, was established to support comparative oncology and educate the public about common links between cancer in pets and people. PuppyUp mobilizes support and raises funds for translational cancer studies that benefit both humans and canines.
The organization was born in June 2010 when Luke Robinson concluded a 2000-mile walk with his dogs Murphy and Hudson to honor the loss of his dog Malcolm to cancer. They walked from town to town, sharing Malcolm's story and educating people about cancer in dogs, and a nationwide grassroots movement emerged. Today, the PuppyUp Foundation hosts annual events such as the national PuppyUp walks in which dogs and their people walk in their communities to raise awareness and funds for comparative oncology and to educate pet parents about the early warning signs of canine cancer."
Recommended Reading
Tripawd Talk: Advances in Comparative Oncology Research
Tripawd News: Walking the Final Mile with the Big Dog