Tripawd stories make your heart melt and River the Pit Bull is no exception. Last week we received this story from Darla, a Tripawd mom in Pennsylvania who adopted this very special pup. Read on and join us in a Tripawd Tuesday 3-paw salute!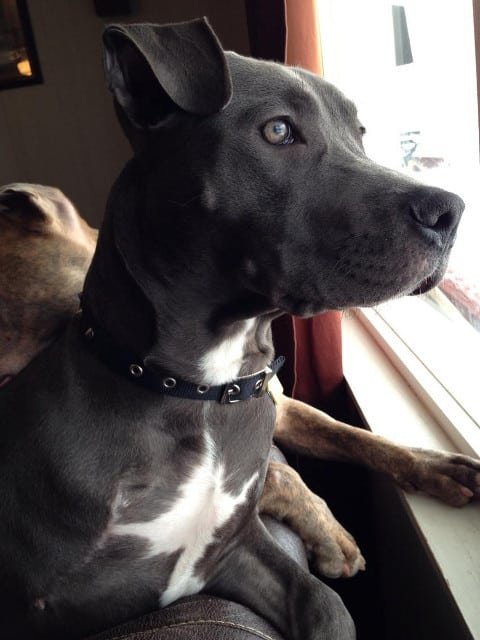 Tripawd River Has the Power to Heal
We had a Pitbull named Tiny whom we had to make the tough decision to put to sleep in July 2013 as he had an aggressive cancerous bone tumor/liver disease. An online facebook friend had followed our story and about 1/2 year after his posting when I had mentioned I was looking for another she put me in touch with a friend of hers in the state of Indiana (we live in Pennsylvania) who was fostering a Pitbull that looked a lot like our Tiny and was in need of an extra-special home.

I instantly fell in love with his pictures and his story pulled my heart strings so my friend who put us in touch said she knew our family was the one for him and offered to pay his adoption fee if we'd adopt him. We applied and were selected from tons of people who put in applications for him. Me and my middle son made the trip thru 3 states to adopt River, and he's been my shadow/love since who has helped our entire family heal. We couldn't of gotten luckier with him!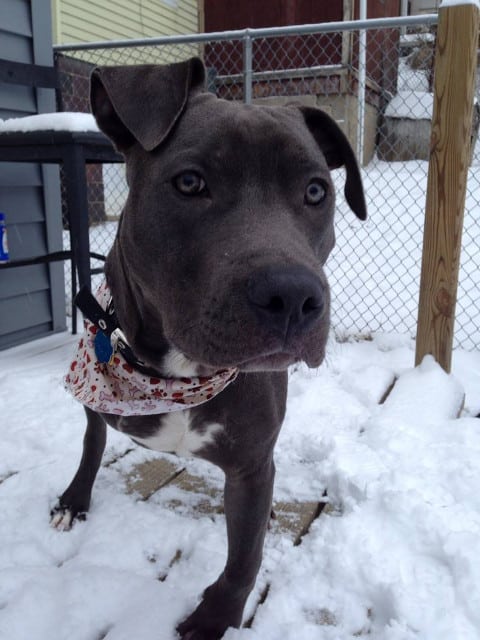 He was badly abused by his owner, so bad that it was his own brother who turned him in. Below was his posting on PAWS fb page sharing his story.
This is ZUES poor Zues was beaten and abused and now suffers from a leg that has healed badly and is of no use and looks like possibly causing deformity in his opposing wrist possibly bc he is compensating. We are looking for a foster home for him should he have a limb amputated, all costs of course covered. He is a LOVE of a dog and gets along with all he comes in contact with. Poor thing had been beaten and kicked on many occasions before the owners family turned their own brother in for the abuse.

Update on Zues:
Newly named River. New beginnings of love and healing for this little guy, starting with a new name.
He is happy as ever, melt on your lap baby, and as of current still has 4 legs. He has an injury in his left wrist (good leg) so amputating his right leg which is broken at the elbow and has fused for over a month now is out of the question. He has more care needed than expected. He is on medications and will be re-radiographed (x-ray) in 10 days

Happy River at his furever home.

River is a 7 month old neutered blue male pitbull. He is great with other dogs, OK with cats, and children. River came to PAWS as an abuse case, his elbow had been broken for sometime and he was in constant pain for a great while, his bone fused together before coming into the Muncie Animal Shelter where they reached out to us in order to fix his leg. It turned out that his only/best option was amputation but only after his "good/better" leg was healed with medications due to the inflammation of limping for so long. After a few weeks he was ready for surgery. Dr. Amy Smith amputated his leg on December the 6th and he has since recovered beautifully and is hop hoppin' along ready for his forever family.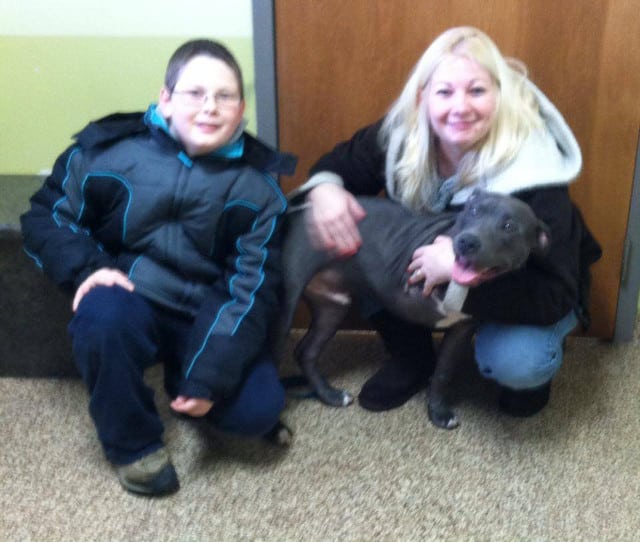 River started out in a bad way but now he's so lucky to have the love of a great family like Darla's! All dogs deserve a furever family like this.
Share Your Story on Tripawd Tuesday
Each Tuesday, Tripawds from around the world can enter for a chance to be "Tripawd of the Week." Just share your Tripawd's story and you're entered to win! On every Tuesday of the week, tell us about your three-legged hero here in the Tripawds Discussion Forums or on the Tripawds Facebook page. Just follow these easy steps:
In a few short sentences, describe your three-legged hero's story.
Include a photo or video.
Include a link to your Tripawds Facebook page, Forum topic and/or Tripawds blog (if applicable)
All entries must be received by Saturday at 11:59 pm. One Tripawd story will be selected at random to be featured the following Tuesday.