Ready to pawty at the Tripawd event of the year? A special celebration of the Tripawds Nation and Greyhounds Rock canine cancer campaign is happening in Fredericksburg, Virginia on Memorial Day weekend, and we want you to be there!
Honor Pet Cancer Heroes with Friends, Fur and Fun!

May is Pet Cancer Awareness Month and to honor our heroes, Greyhounds Rock and Tripawds communities are converging for a two-day pawty in Fredericksburg, just north of Richmond.
Make plans now to be there on Saturday May 23 and Sunday May 24 for two days of fun, friends and fur!
RSVP Required: Register at GreyhoundsRock.org!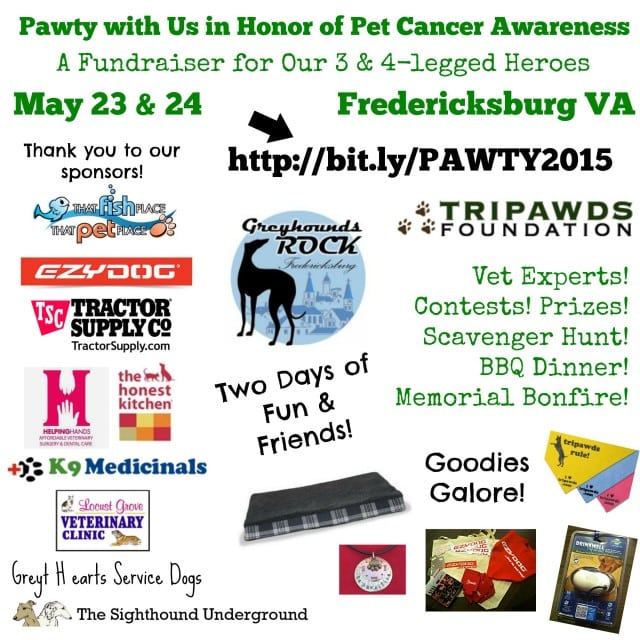 Whether you are owned by an animal with three or four legs, you are invited! Here's what you and your furry companions can expect:
Day 1: Hoppy Hour!
Saturday, May 23, 4-6pm
Location: Hartwood Manor, Hartwood, VA
Let's get to know each other over a wine and cheese during a fun-filled happy hour at Hartwood Manor, a pre-Civil War era home lovingly restored by Greyhounds Rock members Connie and Steve Hilker. Butt-sniffing is not required.
Day 2: The Main Event
Sunday, May 24, 2-7 pm
Location: Piney Branch Ranch Spotsylvania, VA
This day-long event will include non-stop fun, learning and friendship for pets and their people. We'll have a wild time with activities that include:
a doggie-centric scavenger hunt and walk
door prizes!
interactive pet health education with veterinary experts
memorial bonfire in honor of our beloved animals whose lives were lost to cancer.
fenced-in area for dogs to run.
wading pools galore!
a day in the country with your best friend
A casual but tasty old fashioned cookout will be served, along with refreshing beverages and plenty of healthy treats for the furkids.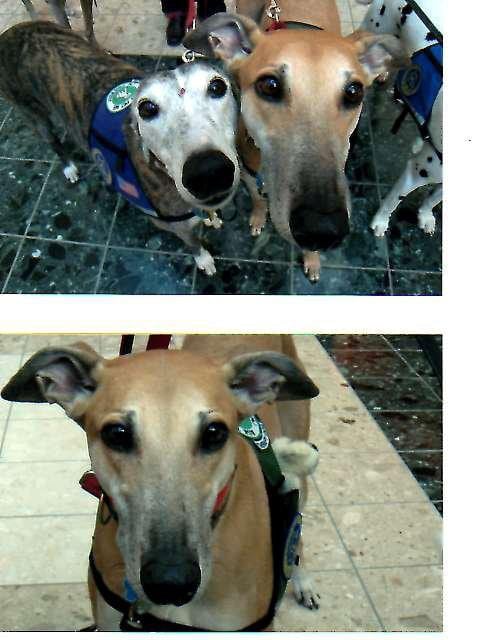 How to Reserve Your Spot:
Advance registration is required through Greyhounds ROCK Website. The event is a fundraiser for Greyhounds Rock and the new Tripawds Foundation. Cost is $20 per person. Any funds remaining after expenses will be divided among the two organizations.
Traveling from Out of Town?
Historic Fredericksburg is located approximately 50 miles from Richmond and 50 miles from Washington, D.C. If you're traveling from out of town, a block of rooms has been reserved for this event at the pet-friendly at Fredericksburg Hospitality House Hotel and Conference Center, located just a few miles from weekend activities, (room rates are $89 + a one time pet fee of $25 and taxes). Please reserve your room now and specify you're attending the "Greyhounds ROCK" event.
RSVP Required: Register at GreyhoundsRock.org!
What to Bring
All dogs must be leashed. We'll have plenty of water bowls but you can make sure your dog has access by bringing a water dish. Although we know our dogs would prefer hot dogs and hamburgers for dinner, please bring your dog's usual food to eat at dinnertime. For ultimate comfort, bring a doggie bed / blanket for lounging and there will be plenty of room to set up X-pens around the property.
Oh, and to ensure your own comfort, bring an outdoor chair, wear plenty of sunscreen and comfy clothing suitable for warmer weather.
Want to Help?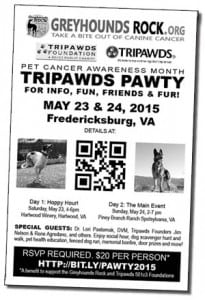 Volunteers are always wanted. If you want to donate door prizes or help set-up for the event, please contact us.
Download and Print This Flier! Please distribute this flier at pet stores and vet clinics up and down the East Coast!
For more information contact:
Kim Fraser, Greyhounds ROCK
Rene Agredano, Tripawds
And join the Tripawds Parties Discussion Forum topic!