We've often wondered if our three-legged feline friends need rehabilitation therapy and conditioning just like our canine friends do, so we asked this Sunday's Tripawd Talk Radio guest, Dr. Dicki L. Kennedy, DVM, CCRP, CVA, CVPP, CCMT and founder of Animal Rehab & Conditioning Center in Greenville, South Carolina.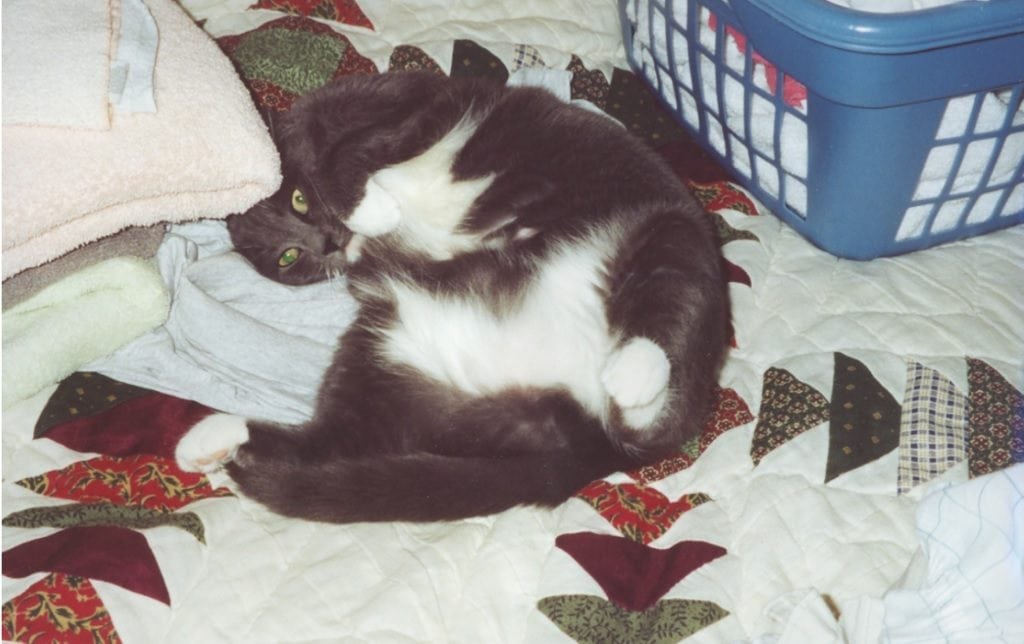 For the last 16 years, Dr. Kennedy has been a Tripawd mom to Icee, a three-legged cat. We asked her:
Your cat has been a Tripawd for 16 years?!
What kinds of physical changes have you seen with her through the years?
My cat has been a tripawd for 16 years and the physical changes I have seen are partially due to aging but also due to the arthritis that she is experiencing. Icee, like most senior pets, is losing muscle mass even though she is exercising and eating as she always did – age does cause us to lose muscle.

Icee is also a little more reluctant to do a lot of the jumping and running that she did as a younger pet. It is harder for her to get comfortable sometimes and you have to let her decide the position. Icee is missing her right front leg and the left front seems to be "stiffer" than I remember. She is not able to turn and clean herself as well as before so we do more brushing of her. Face cleaning was always a chore with just one hand but now she rarely cleans her own face but nudges the other cats to do it for her or me. We always laughed at how Icee looked like my grandmother walking but now it is really evident.
Can cats benefit from rehab therapy?
Cats can definitely benefit from rehab therapy but as a species they are harder to convince to do the exercises. Cats are very opinionated and they remember being gods so peons like me are beneath them.

I do have a Tripawd cat and she has been three-legged since she was a kitten; the sad part Is that I did not know enough in the beginning to rehab her. I have kept her weight down since she has to support more on the front than she should. I have stools to help her manage getting up and down on furniture and beds and when I am present I set her down on the floor. We give her cosequin in her food, she gets lots of flexion/extension exercises and massages.

Icee does a lot of core strengthening exercise on her own but it was something we kind of fell into – she is absolutely phenomenal at sit up and beg. Sit up and beg doesn't sound like a lot but it takes hind end muscles, abdominal and back muscles to maintain your balance along with shifting the weight when you reach that paw out delicately to smack me. A lot of warm lap time is also required for her comfort – hehe!

If my pet were now to become a Tripawd I would do a ton of balance work for strengthening of the core muscles which include the shoulder (front leg) muscles, the abdominal, the back and the hind leg muscles. I would also incorporate lots of flexion/extension exercises along with massage therapy.
Learn much more about amputee dogs and cats with Dr. Kennedy, this Sunday on Tripawd Talk Radio!
Tripawds discusses canine conditioning and pet rehab on Tripawd Talk Radio!
Guests: Dicki L. Kennedy, DVM, CCRP
Date: Sunday, November 9, 2014
Time: 6:00pm EST (3:00 Pacific)
Duration: 30 min.
Call In Number: (646) 716-5450*
Tune In Here: https://downloads.tripawds.com/2014/11/17/learn-rehab-and-fitness-tips-for-tripawd-cats-and-dogs-part-1/
Dr. L. Kennedy is Founder and President of ARCC: Animal Rehab & Conditioning Center in Greenville, South Carolina. www.animalrehabgreenville.com
She is a renowned veterinarian who is making the world a more pain-free place for pets as founder of Animal Rehab & Conditioning Center, a state of the art facility that emphasizes conditioning and pain management through life style changes.
She has worked with hundreds of pets in her career focusing on alleviating pain and allowing our pets to live longer, happier and healthier lives. Dr. Kennedy has helped pets with surgical, medical, and genetic problems along with helping competitive canine athletes return to their sport and achieve their long term goals.
Dr. Kennedy even has her own senior Tripawd kitty, and truly understands the needs of our three-legged heroes. Recently she has worked with Tripawds member Domino, which is documented in the Tripawds Downloads blog.
In this episode of Tripawd Talk Radio, we'll ask Dr. Kennedy her tips for Tripawds including:
Do dogs or cats make better Tripawds? Why?
When it comes to the long-term health of any Tripawd, what are some mobility issues to consider?
What are some recommended pain management steps to ask your vet to take both before and immediately after amputation surgery?
When is a good time to get started with rehab therapy? How can we find a qualified practitioner / center?
What's the best kind of exercise our Tripawd can get at home?
Call in with your questions or post them below no later than Friday, November 7.
Join us in the live Tripawds Chat room during the show!
*You do not need to call in to listen to the show. Only call if you have questions you would like answered live on the air.
The podcast will be posted here as soon as it is available. Hear all previous Tripawd Talk Radio podcasts in the Downloads blog, or see the program archives and schedule on BlogTalkRadio,